TechSpot PC Buying Guide (Mid 2016)
Page 5 :

The Luxury System By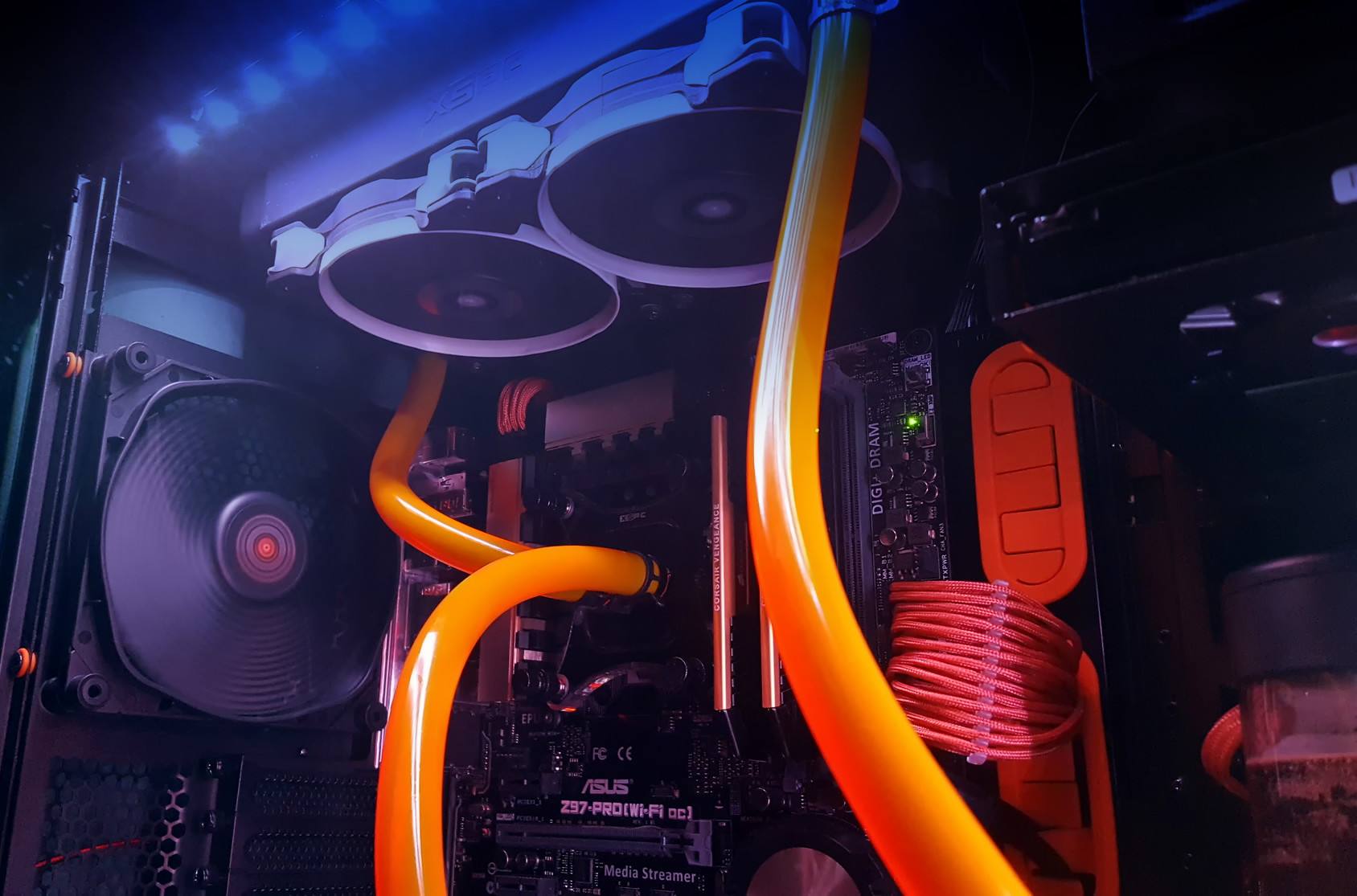 TechSpot is celebrating its 25th anniversary. TechSpot means tech analysis and advice
you can trust
.
When you buy through our links, we may earn a commission.
Learn more
.
The Luxury System
* High-end Performance
* Heavy Multi-tasking
* High-quality Gaming
Every component in the Luxury System guide is thoroughly vetted to ensure you get the most horsepower for your greenback. If a component's premium price can't be justified, it doesn't make the cut. In nearly all of our selections, we chose hardware that's either the best available or just a notch below, forcing less of an emphasis on value and more on screaming-edge performance.
Motherboard, Processor, Cooler, Memory
Intel's new Broadwell-E range is mighty impressive in terms of performance while the price leaves something to be desired. For that reason, we have chosen the Core i7-6800K which features 6-core/12-threads and operates at up to 3.8GHz out of the box, though it is fully unlocked for even greater operating frequencies.
There are tons of high-end X99 boards available and unless you're hunting for a particular feature, you'll probably be equally satisfied with anything you pick. With so many X99 motherboards from the likes of Asus, MSI and Gigabyte it's not always easy to pick the perfect one for your needs. For our build we went with the affordable Gigabyte X99-UD3P since we didn't require anything special when it came to audio as we are using a dedicated sound card and the board offers an Ultra M.2 slot to support our M.2 SSD.
Noctua's NH-D15 heatsink and fan combo is hard to beat and is one of the best if not the best air-cooler money can buy, offering the best combination of cooling capacity, noise levels and platform compatibility. That said, $100 is well within closed-loop liquid cooling territory and for that price we much prefer the Corsair Hydro Series H100i, so if you are willing to go the liquid route then we highly recommend this Corsair cooler.
Having 8GB of RAM is the current base for gamers and power users, but if you're building with Broadwell-E, you might as well go to town on the memory front. Considering we're talking about a fraction of the total system cost, we picked up a 32GB kit, the G.Skill Trident Z 32GB (4 x 8GB) DDR4-3200 for $160.
Graphics, Sound
If you're shopping for a $500+ graphics card, you're after one of the fastest cards available. The GeForce GTX 1080 is the obvious choice, delivering 60% more performance than its predecessor, the GTX 980, while consuming the same amount of power. It's also 22% faster than the previous king of the hill, the (Maxwell) Titan X.
The GTX 1080 is one of the few single GPU solutions capable to tackling 4K gaming, it won't have any issues running modern games at solid frame rates, though neither will the $400 GTX 1070 (our Enthusiast's PC pick), even if that includes playing the latest triple-A titles at more than 60fps on Ultra.
Having been so surprised by the Sound Blaster Z PCIe we've picked the Creative Sound Blaster Zx ($120) which for a little extra dough adds an audio control module with a beam-forming microphone built-in. It's a nifty little feature but if you don't require the control module then you might as well just buy the standard Sound Blaster Z for $40 less.
Storage
The M.2 SSD landscape is changing rapidly but the Samsung's SSD 960 Pro remains the gold standard in high-performance SSDs, especially when you consider the company's reputation for delivering quick and stable drives.
Without question, the SSD 960 Pro delivers the best M.2 NVMe performance we've seen to date and even though it does come at a premium, in terms of performance nothing in the consumer space can hold a candle to it.
This wouldn't be much of a Luxury computer without a Blu-ray burner, and at under $100 the LG drive we've chosen is among the most affordable you'll find.
Power, Case
EVGA's Supernova 850 P2 ought to supply your dream PC with enough juice. Noteworthy specifications include a 120mm, 18dBA (silent) fan, 70.8A on a single +12V rail, 80 Plus Platinum Certified, and lengthy cables with connectors for 10 SATA drives, six PCIe graphics cards, and four peripheral devices. What's more, the unit features a modular cable design, so you'll be able to keep your system free of unnecessary clutter.
In the past we have recommended massive (and user favorite) cases for the Luxury build such as the Corsair Obsidian Series 900D or Cooler Master Cosmos II. This time we are going with something a lot smaller and sleeker, the In Win 805, which houses this build very well and I recently built almost exactly this system in a red In Win 805 and it looks amazing. The case is also great value at just $170 given that it's wrapped in tempered glass.
Monitor(s)
Among the many great monitors available for less than $1,000, the one that stood out the most for us is the $680 Dell U3415W, a 34" curved display sporting a 3440 x 1440 resolution. It's an elegant, feature packed solution that won't break the bank.
If you are after a gaming monitor, then G-Sync should be part of that equation. The Acer Predator X34 curved monitor is more expensive but it's well regarded for its panel quality and gamer-friendly features, do note that there are two separate variants that will support either Nvidia's G-Sync or AMD's Freesync technology.
If you prefer to go 4K and go all-in with a top notch display, the new Dell UltraSharp UP3216Q is a 31.5" Ultra HD 3840x2160 monitor with an IPS panel featuring an anti-glare 3H surface. The UP3216Q is an attractive big monitor using relatively thin bezels, can pivot both clockwise and counter-clockwise, and features Dell PremierColor factory color calibration for professional work.
Speakers
There aren't as many 5.1 PC speaker systems as there used to, with the trend going toward studio monitor-style loudspeakers instead.
If you still want those 5.1 bad boys, the Logitech Z906 ($310) are by far the most popular with rave reviews accumulated over the past 5 years, plus they are considerably less expensive than they used to. On the other hand, audiophiles may be more interested in refined two-speaker systems like Bowers & Wilkins' MM-1 or Audioengine's 5+ speakers.
Meanwhile, headphones don't get much better than Audio-Technica's ATH-M50x unless you're going to spend hundreds or thousands more. Frankly, if you require better audio quality than these can provide, you probably already know what you're looking for.
Mouse & Keyboard
Between the number of possible keyboard and mouse combinations in the high-end price range, and the various uses you could be making of this system it's virtually impossible to recommend a single component.
We still swear by the Das Keyboard if you want a professional-looking peripheral with mechanical switches. Either the Das 4 or Prime 13 with brown switches are really good choices for most. On the mouse front, we think Logitech's G502 Proteus Core is one of the best gaming mice we've ever used and is only topped (maybe) by the Logitech G900 Chaos Spectrum that manages to do so wirelessly.
Our favorite overall mouse remains the Razer Deathadder, with the caveat that we've had some endurance issues as of late (and we're not alone). Razer is coming up with a new revision of the Deathadder soon that we hope will alleviate this.
At the TechSpot office we are fans of a number of devices which we end up renewing over and over including the aforementioned Razer Deathadder, Logitech G series mice, Microsoft Natural Ergonomic 4000 and Das Keyboard. Do note that if you're looking for a mechanical keyboard, the Das is far from your only option: Filco, Razer, Corsair, SteelSeries and others offer respected options, but the Code Keyboard is probably the Das' closest competitor. While the best gaming keyboard around might be Corsair's Gaming K70 RGB Rapidfire.