TechSpot PC Buying Guide (Mid 2016)
Page 6 :

The Extreme Machine By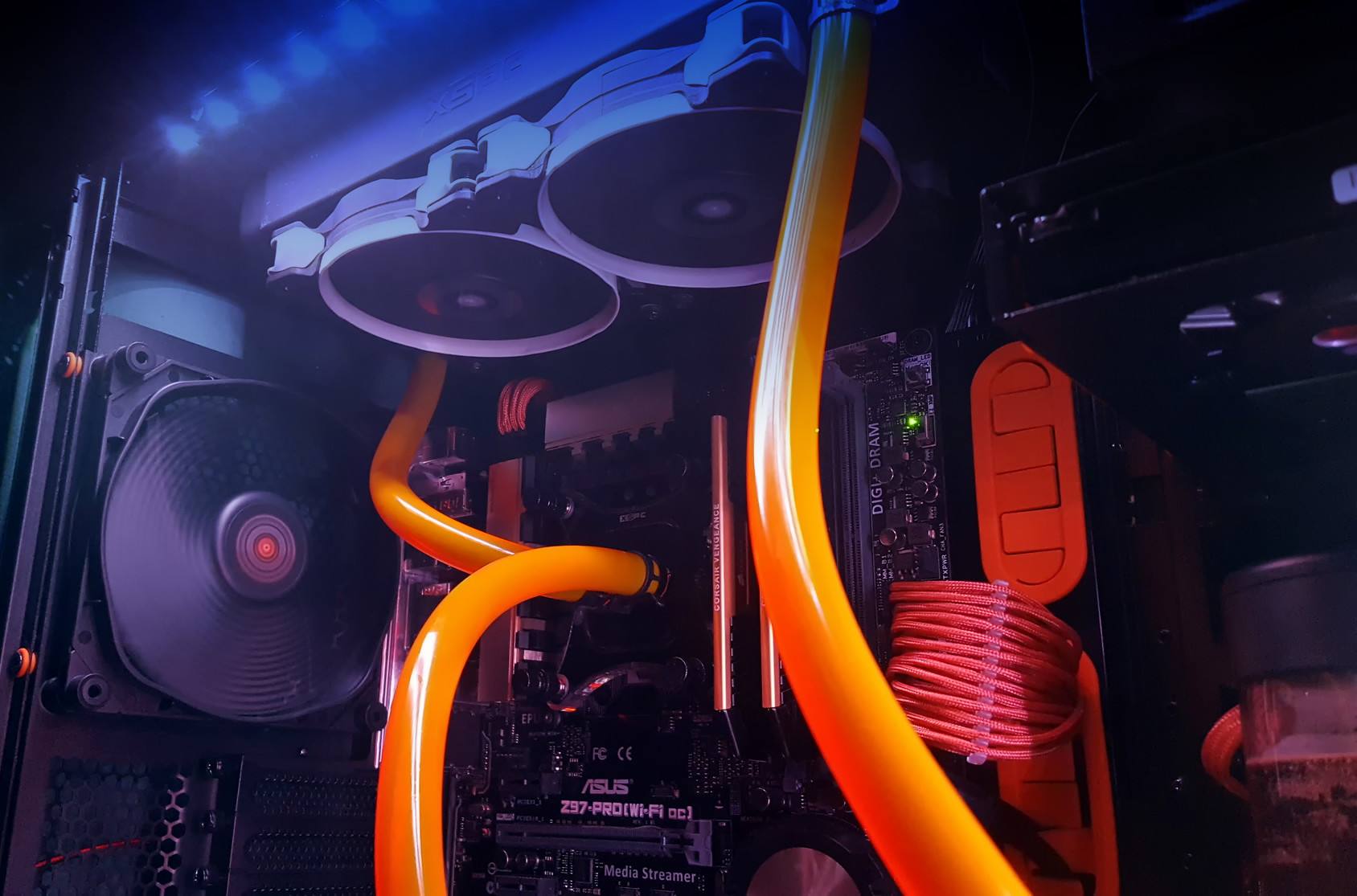 TechSpot is celebrating its 25th anniversary. TechSpot means tech analysis and advice
you can trust
.
When you buy through our links, we may earn a commission.
Learn more
.
The Extreme Machine
* Workstation-like Performance
* Extreme Multi-tasking
* Extreme Gaming
The Extreme Machine isn't governed by a budget as we simply pick the best hardware that makes sense and disregard the associated price premium. If it's excessive enough then you'll find it in this build.
Motherboard, Processor, Cooler, Memory
Even though the extreme build is meant to consist of the most extreme hardware, I can't in good conscience recommend the Intel Core i7-6950X, at $1650 it is just bonkers. Therefore, we are going with the Intel Core i7-6900K, which is more sensible in relation to the 6950X at $1,100. The 6900K affords 8-cores and 16-threads clocked at up to 4GHz depending on the workload but again these are unlocked cores so they can be pushed higher.
There is no shortage of expensive X99 motherboards, but the X99A GodLike Gaming Carbon sits a cut above the rest. It's an improvement on last year's awesome X99A GodLike Gaming motherboard, which was also an absolute beast in terms of features and overclocking performance.
The entire motherboard is wrapped in a matte black color with carbon fiber highlights on the heatsinks. There is a set of large 'armor' themed plates that run across the motherboard, protecting a dense array of heatpipes underneath. Expansion slots include five ideally placed PCIe 3.0 x16 slots. Storage connectors on the motherboard comprise of ten SATA 6Gb/s ports, two SATA Express ports and an Ultra M.2 slot.
Rather than go with a basic AIO liquid cooler we are recommending the awesome Thermaltake Pacific RL360 hard pipe DIY liquid cooling kit. This will look amazing inside the Be Quiet! Dark Base Pro 900.
Graphics, Sound
Instead of spending $2,400 on reference Titan X cards which appear to be next to impossible to purchase right now anyway, we decided on a pair of the beefy Gigabyte GTX 1080 Xtreme Gaming graphics cards for SLI. The Premium Pack includes a custom high-bandwidth SLI bridge which looks very impressive when connecting two of these monstrous Xtreme Gaming graphics cards.
When it comes to high-end discrete sound cards there are two giants: the Creative Sound Blaster ZxR and the Asus Essence STX II. Honestly we could go either way. That said, there is a bit more gear included in the Sound Blaster ZxR package and while budget is irrelevant here we should point out that Creative's solution is ~$50 cheaper.
Storage
We recommend the new Samsung SSD 960 Pro series which delivers insane read and write performance with capacities reaching 2TB. It's an uber-expensive, extreme drive which our Extreme Machine fully deserves.
Backing it up is the WD Red 8TB hard drive and we opted for the 5400-RPM model since this is just a secondary storage device. If you need more speed consider getting the 7200-RPM model though its availability appears to be spotty at best.
Power, Case
Corsair's AX1500i 1500w digital ATX power supply delivers enough juice to kick start a small planet. Noteworthy specifications include a 140mm silent Fluid Dynamic Bearing fan, 125A on a single +12V rail, 80 Plus Titanium Certified, C-Link Digital support, fanless mode, 20 SATA connectors, 10 PCIe connectors and a whopping seven-year warranty. What's more, the unit features a modular cabling, so you'll be able to keep your system free of unnecessary clutter.If you're an enthusiast PC builder, then only the best case will suffice.
Last year's winner was the marvelous Corsair Obsidian 900D, with the Cooler Master Cosmos II and Phanteks Enthoo Primo hot on its heels. This year, however, we have a new champion: the incredible Be Quiet! Dark Base Pro 900. When it comes to luxury builds, go big or go home we say, which is why we went for Be Quiet!'s jumbo-sized chassis, which is well worth its asking price of $250 for hardcore system builders.
Monitors
Dell recently launched the successor to our previous top choice for a 4K monitor. The new UltraSharp UP3216Q is a 31.5" Ultra HD 3840x2160 monitor with an IPS panel featuring an anti-glare 3H surface. The UP3216Q is an attractive big monitor sporting relatively thin bezels, a wide-gamut display with astounding image quality that'll surely be the envy of all who lay eyes on it.
The Dell UP3216Q is one hell of a monitor and with horsepower to spare, you will be able to play games (any game!) at 4K with all visual fidelity turned to the max.
With that said, diehard gamers may want to go a different route and pick up something that supports Nvidia's G-Sync for a higher/variable refresh rate. Acer's Predator X34 monitor remains a favorite in this category checking all the right boxes (IPS, WQHD, 100hz and G-Sync support) with strong performance and image quality. Triple Predator X34s would be just insane, too.
Speakers
There aren't as many 5.1 PC speaker systems as there used to, with the trend going toward studio monitor-style loudspeakers instead.
If you still want those 5.1 bad boys, the Logitech Z906 ($310) are by far the most popular with rave reviews accumulated over the past 5 years, plus they are considerably less expensive than they used to. On the other hand, audiophiles may be more interested in refined two-speaker systems like Bowers & Wilkins' MM-1 or Audioengine's 5+ speakers.
Meanwhile, headphones don't get much better than Audio-Technica's ATH-M50x unless you're going to spend hundreds or thousands more. Frankly, if you require better audio quality than these can provide, you probably already know what you're looking for.
Mouse & Keyboard
Between the number of possible keyboard and mouse combinations in the high-end price range, and the various uses you could be making of this system it's virtually impossible to recommend a single component.
We still swear by the Das Keyboard if you want a professional-looking peripheral with mechanical switches. Either the Das 4 or Prime 13 with brown switches are really good choices for most. On the mouse front, we think Logitech's G502 Proteus Core is one of the best gaming mice we've ever used and is only topped (maybe) by the Logitech G900 Chaos Spectrum that manages to do so wirelessly.
Our favorite overall mouse remains the Razer Deathadder, with the caveat that we've had some endurance issues as of late (and we're not alone). Razer is coming up with a new revision of the Deathadder soon that we hope will alleviate this.
At the TechSpot office we are fans of a number of devices which we end up renewing over and over including the aforementioned Razer Deathadder, Logitech G series mice, Microsoft Natural Ergonomic 4000 and Das Keyboard. Do note that if you're looking for a mechanical keyboard, the Das is far from your only option: Filco, Razer, Corsair, SteelSeries and others offer respected options, but the Code Keyboard is probably the Das' closest competitor. While the best gaming keyboard around might be Corsair's Gaming K70 RGB Rapidfire.