Verify your Windows 7 ISO
By
TechSpot is celebrating its 25th anniversary. TechSpot means tech analysis and advice
you can trust
.
When you buy through our links, we may earn a commission.
Learn more
.
With Windows 7 on the brink of completion, the RTM phase is expected to come before the end of the month - possibly even less than a week from now. Already proving to be both popular and successful, you can bet your bottom dollar that the RTM copy of Windows 7 will hit torrent sites instantaneously.
Now, we're not encouraging you to go and pirate the software, and we don't have to. A majority of the enthusiast community will download Windows 7 illegitimately. Some will have already pre-ordered Microsoft's latest OS, others will undoubtedly come into a legal copy at one point or another, and many will flat out steal 7 - you know who you are.
That out of the way, the bottom line is, nobody wants to wait until October 22 to get their hands on the final build of Windows 7. Unfortunately, by jumping the gun, you're going to have to trust an unofficial source. This certainly has its risks, as we've seen with past reports of infected torrents of Windows 7 creating botnets.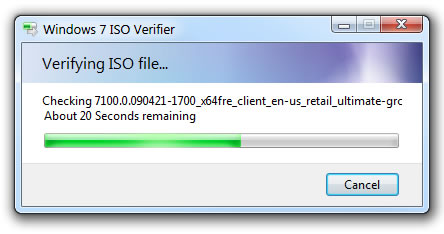 Recognizing this fact, Long Zheng and Sven Groot developed a handy application which generates and verifies the hash of your Windows 7 ISO. The program is very small at 253KB, and beyond easy to use. To check the validity of your ISO, download the free utility here. Run the program (Windows7IsoVerifier.exe) and you can browse to your ISO file (or just drag and drop it onto the executable).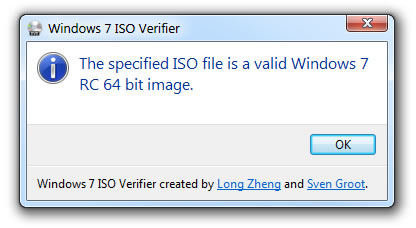 The process of downloading the program and verifying your copy of Windows 7 should take less than a minute if you have quick fingers and a modern system. At the time of writing, it only works with the English versions of Windows 7.
Did you know?
A new 'Tech Tip of the Week' is posted every Wednesday at TechSpot.
Previous Tech Tips