Apple Watch Series 9 brings higher performance and energy efficiency starting at $249
Same style and price with behind the scenes improvements
By Cal Jeffrey 7 comments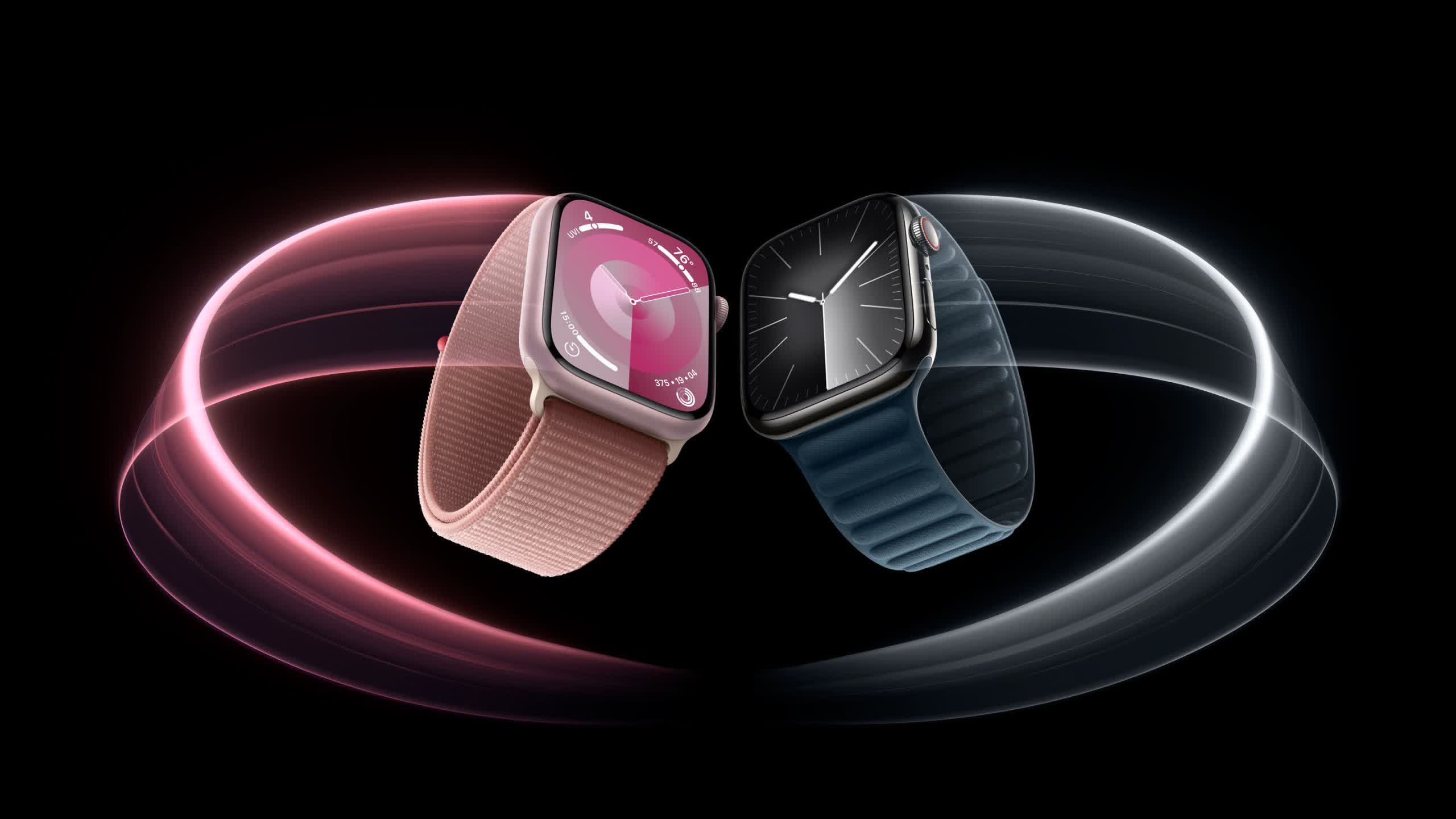 TechSpot is celebrating its 25th anniversary. TechSpot means tech analysis and advice
you can trust
.
Subtle changes that will mostly go unnoticed: Apple unveiled its newest watches – the Apple Watch SE, Apple Watch Series 9, and Apple Watch Ultra 2. In typical fashion, Cupertino was quick to overhype the product line. All three versions bring customers more of the same, which is not necessarily a bad thing.
From a hardware perspective, the Apple Watch got a new, more powerful chip called the S9 SiP (system in package). The S9 is an upgrade to the Series 8's S8 SiP, allowing it to perform faster and handle more complicated AI tasks. However, this is behind-the-scenes stuff that most users aren't even going to notice.
Apple Watches don't require a ton of processing power. However, with AI being incorporated increasingly into the company's products, more power is always a plus, even if it goes unnoticed. The Series 9 has a 4-core Neural Engine for processing machine-learning tasks twice as fast as the Series 8. The S9 SiP is also more energy efficient, delivering that power, with the same 18-hour battery life as the Series 8.
Gestures have always been a part of the Apple Watch operating system, but they have required using your free hand to touch the device. The Series 9 adds a new hands-free gesture called Double Tap. Tapping your thumb and index finger together can perform various functions that usually require touching the crown or screen.
By default, Double Tap functions as the primary button on any app. Users can play and pause music, snooze an alarm, answer and hang up calls, or snap a picture with the Camera Remote app, to name a few. The gesture will also open watchOS 10's Smart Stack on the watch face, while subsequent double taps scrolling through the widgets.
While the new gesture is part of watchOS 10, the faster Neural Engine makes it possible. So don't expect it to work with your older Apple Watch. Algorithms read data from the accelerometer, gyroscope, and heart sensor and feed it to the Neural Engine. The watch uses machine learning to detect subtle wrist movements and blood flow changes when the index and thumb come together.
A brighter screen is the only other hardware new to the Apple Watch. The Series 8's display was capable of 1,000 nits. This year's model inherited the original Ultra's screen, capable of 2,000 nits, while the new Ultra 2 received an upgraded display capable of 3,000. Apple hypes both screens as easier to read in bright sunlight, but from personal experience, 1,000 nits is sufficient for outdoor use. So, this is another new feature that users will likely not notice too much.
Speaking of the Apple Watch Ultra 2, it is also more of the same. It comes with all the features as last year's Ultra but has a broader range of altitudes it can sense, with a low of 500 meters below sea level to 9,000 meters above. Coupled with an upgraded diving app from Huish Outdoors, the Ultra 2 is excellent for tracking dives up to 40 meters.
A handy feature found in all Apple Watch models is Find My iPhone. I have used this feature more times than I care to admit, but pinpointing your phone's precise location can be a bit clunky. Usually, I end up just having it signal the phone to make an audible tone.
Thanks to the upgraded second-generation Ultra Wideband chip on the S9 SiP, the newest Apple Watches have vastly improved the precision of finding your iPhone. When you get within range, the display will show how far away it is and in which direction. Unfortunately, this functionality is only available when using it to find an iPhone 15 since it received the same upgraded UW chip.
The Apple Watch SE is still the entry-level stripped-down version of the Seris 9. It has all of the basic functionality of last year's model. Even Apple only devoted a paragraph to the SE.
"Apple Watch SE continues to deliver the core Apple Watch experience at a more affordable price point and is a great way for users to start their Apple Watch journey, use with Family Setup, or gift to their loved ones. Additionally, Apple Watch SE offers Activity tracking, high and low heart rate notifications, Fall Detection, Emergency SOS, Crash Detection, and watchOS 10."
Customers can begin ordering all models starting today, with shipments going out on September 22. Thankfully, this year's lineup did not fall victim to inflation, keeping the price points the same as last year. The Apple Watch SE is $249, the standard Series 9 is $399, and the Apple Watch Ultra is $799.