Apple, book publishers probed over e-book price fixing
By Jose Vilches
TechSpot is celebrating its 25th anniversary. TechSpot means tech analysis and advice
you can trust
.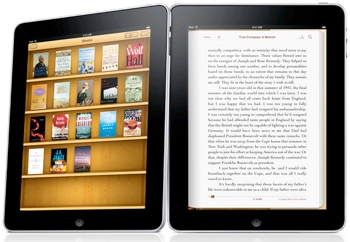 The U.S. Justice Department has warned Apple and five of the country's largest book publishers that it plans to file a lawsuit for their alleged price-fixing of electronic books unless the companies agree to change their business practices, the Wall Street Journal reported. The move follows a formal antitrust investigation on the same issue launched by the European Commission in December 2011.
The whole issue goes back to when Apple was getting ready to introduce the original iPad. Apparently, Apple encouraged publishers to adopt what's known as an "agency model", allowing them to set their own retail price in Apple's digital bookstore, so long as they gave Apple a 30% cut – the same deal app developers get.
Up until then, digital books sales had occurred through the same "wholesale model" that physical books have long used, where book publishers sell a certain number of books to a reseller (such as Amazon or Barnes & Noble) for a set price, then the reseller sets its own price on each book.
This arrangement allowed Amazon to price electronic versions of many new best sellers at $9.99, sometimes below what they actually paid for them, in an effort to build up its market share and increase sales of its Kindle readers. The Journal noted that publishers were uncomfortable with this strategy for fear it would condition customers to think of $9.99 as the price for all books, undercutting sales of pricier titles.
They wanted more control over pricing and Apple's model would give them just that. Once they came to an agreement, publishers were then able to impose the same model across to other sellers – including Amazon – threatening to pull their catalogs from their digital stores otherwise. Apple also reportedly stipulated that publishers couldn't let rival retailers sell the same book at a lower price.
The end result is that many e-book prices have gone up from the once-typical $9.99 to around $14.99.
The five publishers identified in the report include Simon and Schuster, Hachette Book Group, Penguin Group, Macmillan and HarperCollins. Accused of engaging in "a pattern of behavior that violates antitrust laws", the publishers have denied any wrongdoing and said that the shift to an "agency pricing model" actually enhanced competition in the industry by allowing more electronic booksellers to thrive.
Apple and several publishers are reportedly in ongoing settlement talks with Justice Department officials to avoid charges and a federal lawsuit. According to the Journal, One idea floated by publishers to settle the case is to preserve the agency model but allow some discounts by booksellers.