ARM unveils super-efficient 32-bit microprocessor
By Lee Kaelin
TechSpot is celebrating its 25th anniversary. TechSpot means tech analysis and advice
you can trust
.
ARM holdings announced a new microprocessor design based on the "Flycatcher" architecture yesterday, which the UK firm believes will pave the way for a wave of internet connected consumer devices. The self-titled "world's most energy efficient microprocessor" is expected to power billions of devices in the future, ranging from white goods, to medical equipment, energy meters as well as home and office lighting.
"It opens up all devices to the potential of being connected all the time," Freescale's Geoff Lees told the BBC. He continued, "It's allowing us to provide connectivity everywhere. So anything from consumer appliances, MP3-music audio docks, and kitchen equipment with displays right through to remote sensors in rain monitoring equipment or personal medical devices - an area where ultra-long battery life allied to high performance and safety is becoming more and more important."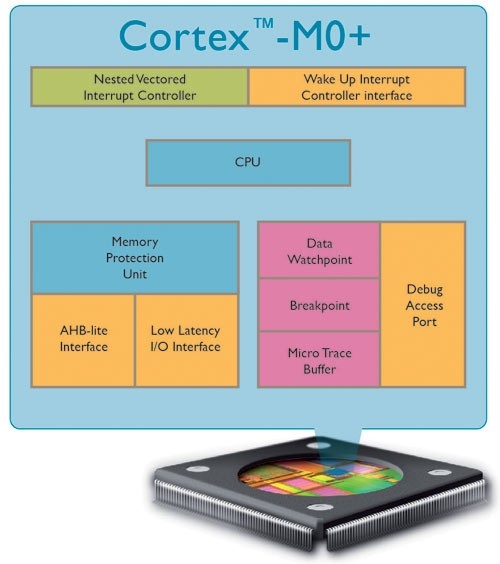 The new design is based on ARM's Cortex -M10+ architecture, and is ideal for electrical devices requiring ultra-low power microcontrollers capable of 32-bit processing. It measures a miniscule 1mm by 1mm in size, and draws a third of the energy of current solutions currently only capable of 8 and 16-bit instructions.
It will also be capable of providing wireless connectivity when coupled with Bluetooth or wireless radio equipment, and consumes no power when turned off, making it capable of lasting years when used with battery packs as opposed to months with current solutions.
"Every developed nation country has a graph showing electricity demand is going to outstrip supply at some point in the next 20 years unless we do something different," said Gary Atkinson, director of embedded marketing at ARM.
He continued, "what we need to do is something called energy response. [...] So you should add connectivity to things like fridges, washing machines, freezers and dishwashers. If the wider electricity network is being very heavily used and if the element in your dishwasher could go off for two or three minutes to alleviate that - well then that would make a big difference."
ARM expects the new microprocessors will sell at around 13-20 pence per device and will be licensed in the same fashion as it does with existing products. The Cambridge-based company will also charge 1-2% royalty fee on top of the licensing costs.
Currently, two firms have licensed the technology already; they are NXP Semiconductors and Freescale.