BlueStacks hits beta, runs Android apps on your Windows machine
By Matthew DeCarlo
TechSpot is celebrating its 25th anniversary. TechSpot means tech analysis and advice
you can trust
.
Following a three-month alpha phase and a well-received CES 2012 demo, BlueStacks has launched the beta version of its innovative Android emulator for Windows XP, Vista and 7. Using a patent-pending binary-translation technology, BlueStacks allows x86-based PC users to access the growing wealth of apps designed for devices powered by ARM's processing architecture and Google's mobile OS.
On the flip side, BlueStacks provides developers with a massive secondary install base without having to port their software. "A billion PCs is a huge potential market for any developer," said HandyGames CEO Markus Kassulke. "There is the potential to make good money from the additional app discovery and usage. The best part is, we don't have to do any work. Our apps run without any modifications."
During alpha, BlueStacks was downloaded more than a million times in over 100 countries. Users ran over 4.5 million apps with multi-protocol IM applications Kakao Talk and WhatsApp being the most popular in Korea and the US, while the multi-player game Wordfeud was the most used app in Germany. Games appear to be the beta's largest attraction, as they weren't widely available in the previous build.
The App Player's latest version has greater access to Android's 450,000-strong catalog via its proprietary Layercake technology, which enables hardware acceleration. "Layercake is a disruptive technology that enables PC manufacturers to bring the best of the Android ecosystem to their customers," said AMD, which contributed to the startup's second round of funding in October. BlueStacks has raised $14 million.
You can grab BlueStacks from our download section. Setup is easy enough with the only noteworthy requirement being Microsoft's .NET Framework 3.5, which you'll be prompted to install if it's missing. If you own an Android phone or tablet, you can "sync" your device with the desktop software. This doesn't actually sync all data and settings between platforms, but lets you download your handset's apps on your desktop.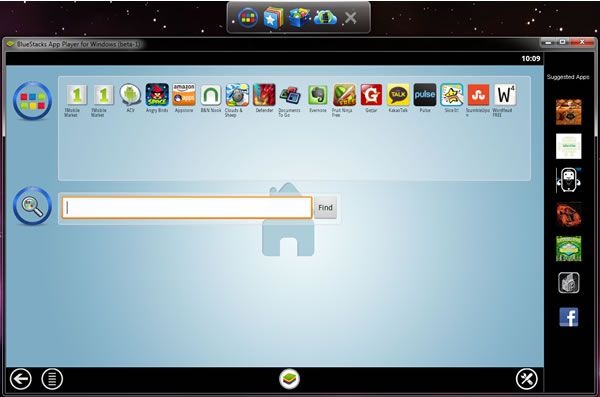 Once it's installed, you'll be presented with a 1120x640 window displaying your installed and recommended apps as well as a search bar. BlueStacks comes with Evernote, Documents To Go and other apps bundled. You'll also notice a dock-like feature fixed to the top of your display that offers quick access to your apps, popular downloads, app stores and Cloud Connect, the aforementioned quasi-"syncing" service.
The software is still a little rough around the edges, which is to be expected of pre-release code. The top dock can't be moved or closed – at least not intuitively, anyway. At best, it seems you can "hide" the feature, but it just collapses into a single unmovable icon that stays on top of your other windows. Searching for apps feels sluggish and so does in-app performance when advertisements appear or disappear.
Certain app features don't work well – or at all – because the emulator is missing hardware that would be present on a mobile device (such as GPS for location data or a camera for barcodes). All of that is easy to forgive, especially with free apps such as the new Angry Birds Space, which would otherwise cost PC users €5.95 (roughly $7.90). However, BlueStacks has bigger problems than unpolished beta software.
Maybe I'm not in the target audience, but I can't see why I'd want to use Android apps on my Windows machine, which already has a massive cache of desktop-optimized software. I just don't want to run an emulated mobile IM client when have Pidgin or Trillian, nor would I choose to use Android's Evernote over the full size native desktop version. I can acknowledge the cool factor. It's a neat proof of concept, but that's about all.
Perhaps this will change with the arrival of Windows 8, which will ship on more touch-based mobile devices than Windows 7. BlueStacks released a slick teaser earlier this year that showed Android apps as Metro tiles. If the integration is truly that seamless, it could only serve to make Windows 8 tablets more attractive among consumers and developers alike. In the meantime, go grab the program and tell us what you think.