Asus at Computex 2014: First look at Transformer Book V, Zenbook NX500, T300 Chi and more
By Tim Schiesser 8 comments
TechSpot is celebrating its 25th anniversary. TechSpot means tech analysis and advice
you can trust
.
Computex tends to be a main launch platform for a number of Asus' new products, and this year was no exception. The company took to the stage yesterday to announce a huge range of new products, including several new hybrid laptops, a new 4K monitor, new tablets and a crazy-looking router.
After the announcements were over I went and had a look and hands-on at some of the new things on show, and some of them certainly look cool. I'll start by discussing the craziest product Asus announced at Computex 2014.
Transformer Book V
If for some reason you were after a hybrid laptop-tablet-smartphone that runs both Android and Windows, you've come to the right place, because that's exactly what Asus has announced in the Transformer Book V (where the V is pronounced as "five"). Bringing together the ideas of their Transformer Book and Padfone lines, the Book V is one crazy and very ambitious device.
There are two devices that make up the Transformer Book V: an Android-based smartphone, and a Windows-based laptop. The smartphone docks into the tablet, which in turn docks into the keyboard base to turn it into a laptop.
There are five different usage modes for the device, hence the name. There's the standalone Android smartphone; the standalone Windows tablet; an Android tablet, created by docking the phone into the tablet; and both a Windows and Android notebook, from docking the tablet into the base.
The Android smartphone is powered by a 64-bit Intel Moorefield mobile SoC, and contains a 5-inch 720p display and LTE radios. Meanwhile the tablet is powered by the "latest Intel processor", which could either mean we're looking at Bay Trail's successor, Cherry Trail, or perhaps something from Intel's new Core M line. Either way, Asus isn't ready to fully detail the CPU and it seems like we won't see this product until Intel is ready to launch their new chips.
The tablet comes with a 12.5-inch 1366 x 768 display, 128 GB of NAND storage plus 1 TB in the keyboard dock, 4 GB of RAM, a 28 Wh battery and a total weight of 0.8 kg. Other specs for the phone include an 8-megapixel rear camera, 2 GB of RAM, up to 64 GB of internal storage, and a 2500 mAh battery.
Due to next-generation Intel parts inside the device, Asus didn't let anyone at the event have a direct hands-on with the unit. However from what I saw, it looks like a basic combination of a Transformer Book and Padfone. The software looks slick, but I'm not sure the combination of a phone, tablet and laptop in the one package is something that's hugely necessary.
Transformer Book T300 Chi
Undoubtedly the sleekest device Asus was showing off at Computex was the Transformer Book T300 Chi. The name might be a bit of a mouthful, but the laptop tablet hybrid is extremely impressive in a number of ways.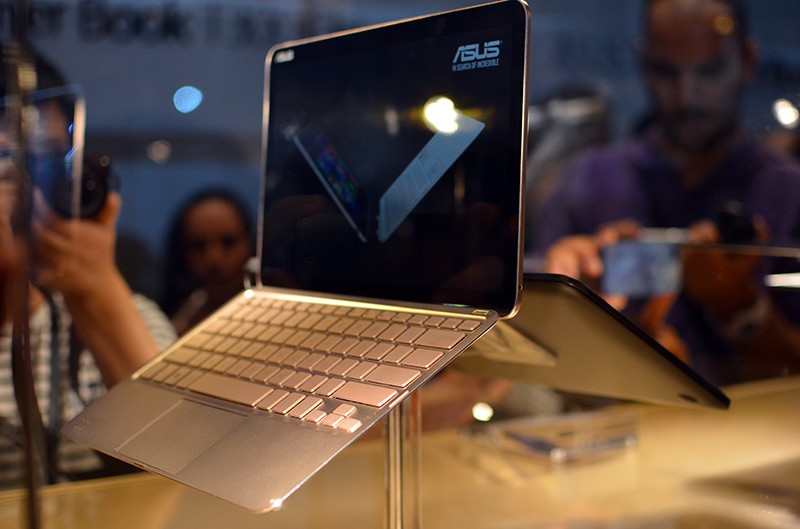 Firstly, it's a detachable tablet that runs full Windows 8.1 in a body that's just 7.3mm thick, which looks fantastic clad in what I can only assume is aluminium; again, Asus didn't let anyone at the event have hands-on time with the unit. The tablet docks into a slim keyboard base in the usual Transformer Book way, with no visible ports or connectors, indicating it's just a keyboard without any extra functionality.
Internally it's powered by an Intel Core M (or Broadwell Y) CPU, which is why Asus didn't let anyone have hands-on time with it. The display is a 12.5-inch WQHD IPS panel, which looked great when it was briefly shown off during the press event, but I didn't get to see it up close unfortunately. Combined with LTE radios and 4 GB of RAM, Asus is positioning the device as a premium detachable tablet, and I'm really looking forward to getting proper hands-on time with it when it becomes available later this year.
In fact I'd tentatively describe this as the most attractive, premium tablet-laptop hybrid announced so far, but again, I'll reserve proper judgement until I get a proper hands-on.
Zenbook NX500
Asus showed off a new high-end, high-performance Zenbook at Computex with one outstanding feature: the 15.6-inch 4K Ultra HD (3840 x 2160) IPS LCD display with support for a wide 100% NTSC color gamut. The NTSC color space is far larger than sRGB, which most displays use, and provided proper color management software is used with photos captured using NTSC colors, produces the most accurate, vibrant and realistic images.
At the Computex product demo Asus had two notebooks side-by-side, one that supported the NTSC color space, and the other used sRGB. The NTSC panel looked notably better, which of course could be down to some trickery, but it should on-paper provide a fantastic image.
The Ultra HD resolution also looked fantastic -- at a standard viewing distance it was essentially impossible to discern individual pixels.
Hardware-wise we're looking at an Intel Core i7 4712HQ Haswell-based CPU in the top-end model, plus dedicated Nvidia GeForce GTX 850M graphics with 2 GB of GDDR5 memory, up to 16 GB of DDR3L RAM, SSD options including a 512 GB PCIe x4 unit and dual SSDs, and Wi-FI 802.11ac networking. The Ultrabook body looks high-end, and fits into the Ultrabook specification with a thickness of 19mm and weight around 2.2 kg.
ProArt PA328Q Ultra HD Monitor
While the above three products impressed me the most, Asus announced a number of other things which they had on show. One of them is a new 32-inch 4K LCD monitor, called the ProArt PA328Q, which looked fantastic displaying a range of sample images. I believe it's a single-tile 4K monitor, and Asus confirmed it supports 60 Hz refresh rates over DisplayPort 1.2.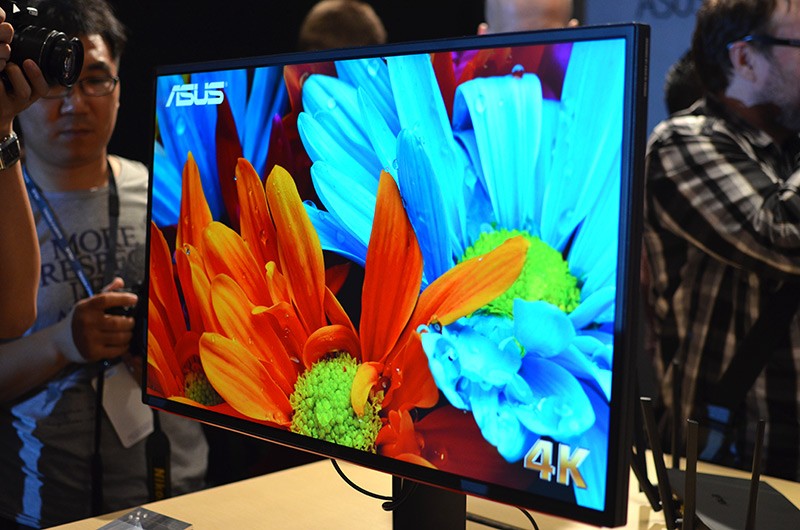 Other features of this display include the capability to display 1.07 billion colors with 100% sRGB coverage, 350 cd/m2 brightness, and four USB 3.0 ports. When I went hands-on with the product I had no trouble rotating the display into portrait mode, and generally it looks quite nice from a design perspective.
RT-AC3200 Router
Routers are never hugely exciting, but I wanted to talk about this particular one Asus showed off for two reasons. One, it supports tri-band 802.11ac capable of delivering 3.2 Gbps of throughput, and two, it has six antennas on the body. Simply put, the largish router looks like some sort of mutant insect with so many antennas on it.
Two Fonepads, Two MeMO Pads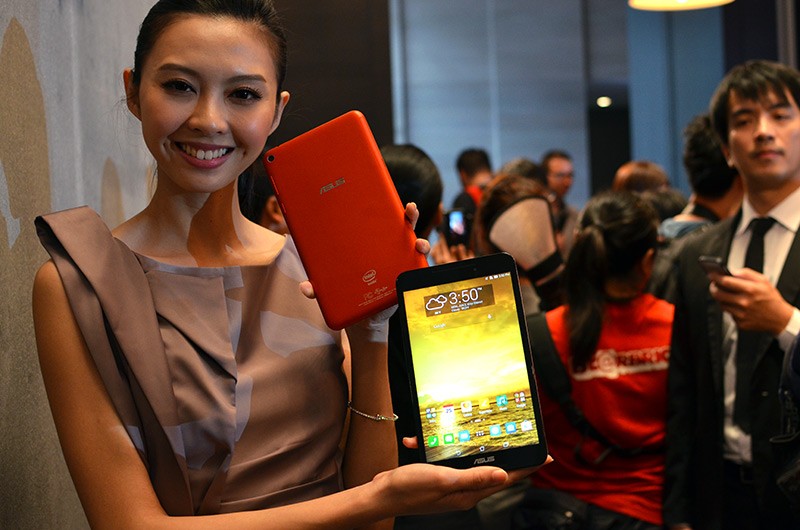 I'm not going to spend much time discussing the Fonepad 8, Fonepad 7, MeMO Pad 7 and MeMO Pad 8, because frankly they aren't too exciting. The Fonepad series allows you to make calls, which is ridiculous for a tablet, and all four tablets are very light. All the devices are powered by Intel Bay Trail Atom SoCs, and all of them have decent IPS LCD panels of either 7-inches or 8-inches in size.
Transformer Book Flip
Outside the main hall for the Asus press conference, the company was showcasing a few of their other products, some of which had already been announced. One of the new products that caught my eye was the Transformer Book Flip, a laptop that's similar to the Lenovo Yoga in that the display can flip in a 360-degree fashion, folding all the way back into a tablet configuration.
Unlike the Yoga, this Transformer Book Flip is more of a mainstream device, available as either a 15 or 13 inch model with 1080p displays and Haswell processors from Intel. When I got some hands-on time with the Book Flip it was immediately clear that it wasn't as slick as the Lenovo Yoga, but the flip functionality is certainly useful, and the entry price point of around US$550 is very attractive for price-conscious buyers.