GhostTunes is Garth Brooks' new digital music service
By Shawn Knight
TechSpot is celebrating its 25th anniversary. TechSpot means tech analysis and advice
you can trust
.
Country music superstar Garth Brooks has made his music available for purchase in a digital format for the first time ever. Instead of signing a licensing deal with an established player like iTunes, Rhapsody or Spotify, the iconic artist has launched his own download and streaming service called GhostTunes.
GhostTunes' strategy is to do away with disputes related to compensation and control over an artists' music by allowing them to sell their music any way they want. As such, artists working with GhostTunes have the freedom to sell their tracks individually or by album only as well as permit users to download them or limit them to streaming only.
Following a successful purchase, said music will instantly show up in the buyer's GhostTunes Locker (cloud-based storage). What's more, buyers will also have the opportunity to download said music to their computer or mobile device in a non-proprietary format (assuming the artists allows for it). Details regarding the digital format being used or possible DRM in place weren't provided.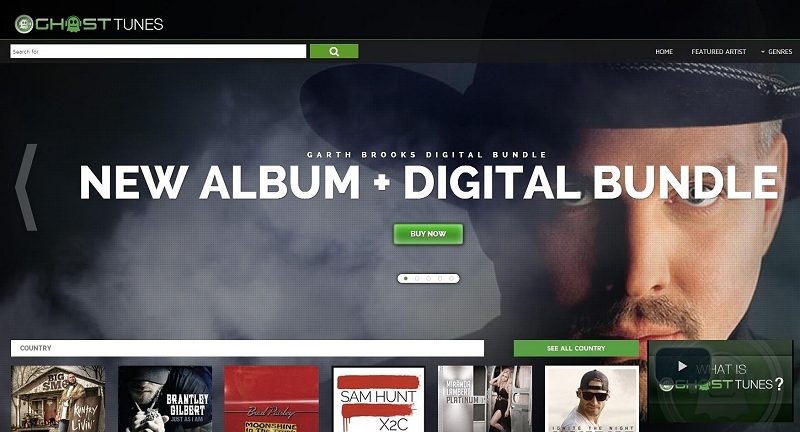 In Brooks' case, he's never been a fan of selling individual singles. It's his opinion that the album format is what keeps the business going as all songwriters on an album get paid when someone buys the full album. To help promote the launch of the service and jump-start his new world tour, he's offering a digital package that includes all eight of his studio albums, a pre-order for his next two albums as well as the 25th anniversary edition of his "Double Live" album - all for $29.99.
Brooks isn't the only high-profile artist on GhostTunes' roster. Users can purchase music from artists such as ColdPlay, Maroon 5, DeadMau5, Brad Paisley, Shakira and Miranda Lambert, just to name a few.
GhostTunes may not have the largest catalog of music with around seven million tracks (other services offer catalogs in the 20-30 million track range) but that's alright with Brooks. The legendary singer said he hopes the company remains small as they don't want corporations wagging the tail of the proverbial dog.
If other services decide to adopt a similar business model and put GhostTunes out of business, he'd be fine with that because then, "music wins."