Virtual reality has captivated imaginations for generations but only recently has technology caught up to our dreams. Products like the Oculus Rift and the Vive VR headset have gamers and technology enthusiasts licking their chops but Microsoft is quick to remind everyone that augmented reality is just as compelling (and in some situations, even preferred).
Some lucky members of the press got an opportunity to try out HoloLens following its announcement at Microsoft's Windows 10 event back in January. One of the demo experiences involved Minecraft, the game Microsoft bought from Mojang last September for a colossal $2.5 billion.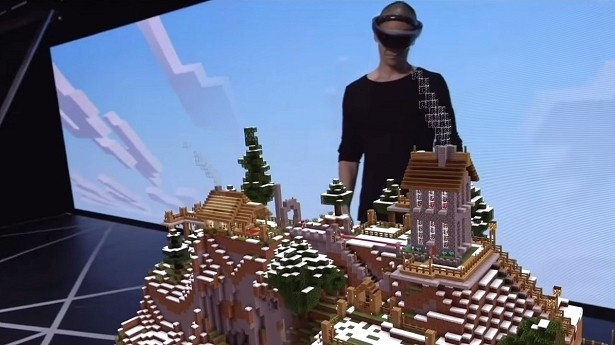 During Microsoft's E3 press conference, we finally got a good look at Minecraft running on HoloLens.
Minecraft for HoloLens is a completely different experience compared to the traditional game. Sure, you're basically doing the same thing (building stuff using virtual blocks) but with augmented reality, your room suddenly becomes the canvas. While Minecraft was featured during the January event, it didn't look this refined.
Truth be told, there probably aren't a ton of existing games that would work well in the augmented reality world; Minecraft is an exception. It's still early, but I'll go out on a limb here and say Minecraft could very well be the killer app for HoloLens.
Microsoft has yet to reveal how much HoloLens will cost or when it'll be available. All we've heard is that it'll launch "in the Windows 10 timeframe." Considering Windows 10 is the last version of Windows according to Microsoft, that could be… well, anytime at all.