Weekend tech reading: AMD Ryzen benchmarks leaked, Asus tinker board reviewed, Win10 vs Ubuntu GeForce gaming performance
By Matthew DeCarlo 12 comments
TechSpot is celebrating its 25th anniversary. TechSpot means tech analysis and advice
you can trust
.
AMD Ryzen 7 1800X 8-core CPU benchmarks leaked – giving Intel's $1000+ 8 cores a run for it Single and multithreaded benchmarks for AMD's top-end 8 core, 16 thread Ryzen 7 1800X CPU are here and they're impressive! The company's highly anticipated family of next generation enthusiast desktop Ryzen CPUs is less than two weeks away. The CPUs will official launch on March 2nd and their reviews will go live on February 28th. To date, we know of at least 17 different Ryzen SKUs. Which include 8, 6 and 4 core CPUs set to take on Intel's i7, i5 and i3 chips. The entire lineup has fully unlocked multipliers and is overclocking ready to boot. Wccftech (also, AMD Ryzen 1700X, 1600X & 1300 benchmarks leaked)
Editor's note: Leaked benchmarks and Ryzen data below. This is not official. TechSpot's official tests and information will come at a later date when AMD releases the processors.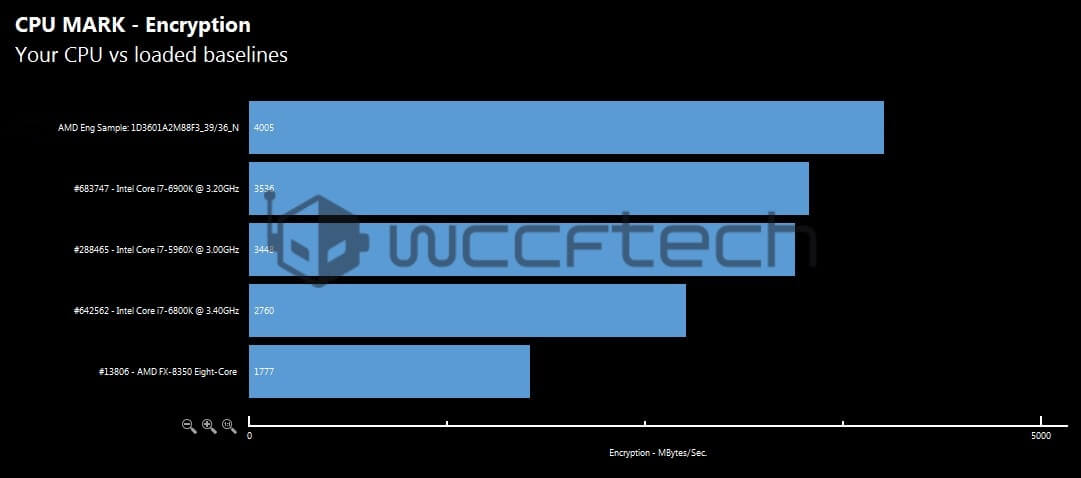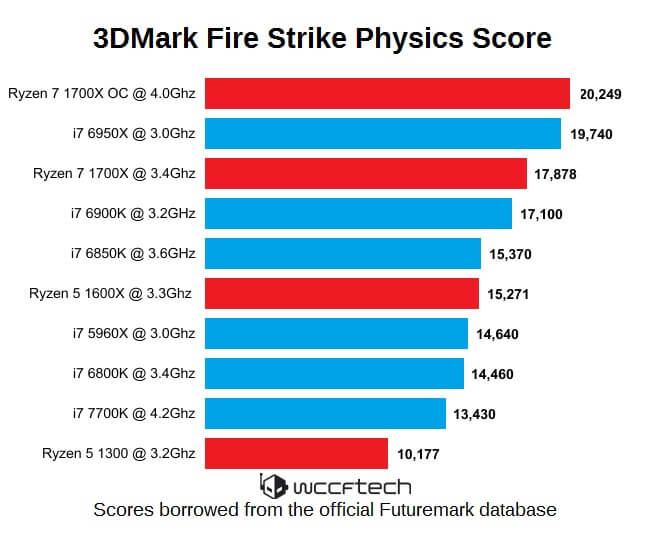 Note: The graph below is not an Anandtech benchmark, but a leaked Ryzen benchmark pasted into one of their graphs for the purpose of context.
Finally, unofficial Ryzen models and price points. Not official.
| AMD Ryzen CPU | Cores/Threads | L3 | TDP | Base | Turbo | XFR | Price |
| --- | --- | --- | --- | --- | --- | --- | --- |
| AMD Ryzen 7 1800X | 8/16 | 16MB | 95W | 3.6GHz | 4.0GHz | 4.0GHz+ | $499 |
| AMD Ryzen 7 1800 Pro | 8/16 | 16MB | 65W | TBA | TBA | N/A | TBA |
| AMD Ryzen 7 1700X | 8/16 | 16MB | 95W | 3.4GHz | 3.8GHz | 3.8GHz+ | $389 |
| AMD Ryzen 7 1700 | 8/16 | 16MB | 65W | 3.0GHz | 3.7GHz | N/A | $319 |
| AMD Ryzen 5 1600X | 6/12 | 16MB | 95W | 3.3GHz | 3.7GHz | 3.7GHz+ | $259 |
| AMD Ryzen 5 1600 | 6/12 | 16MB | 65W | TBA | TBA | N/A | TBA |
| AMD Ryzen 5 1500 | 6/12 | 16MB | 65W | 3.2GHz | 3.5GHz | N/A | $229 |
| AMD Ryzen 5 1400X | 4/8 | 8MB | 65W | 3.5GHz | 3.9GHz | 3.9GHz+ | $199 |
| AMD Ryzen 5 1400 | 4/8 | 8MB | 65W | TBA | TBA | N/A | TBA |
| AMD Ryzen 5 1300 | 4/8 | 8MB | 65W | 3.2GHz | 3.5GHz | N/A | $175 |
| AMD Ryzen 3 1200X | 4/4 | 8MB | 65W | TBA | 3.4GHz | 3.8GHz | $149 |
| AMD Ryzen 3 1200 | 4/4 | 8MB | 65W | TBA | TBA | N/A | TBA |
| AMD Ryzen 3 1100 | 4/4 | 8MB | 65W | 3.2GHz | 3.5GHz | N/A | $129 |
SNES preservation project "dead" after $10k of games lost in the post A Nintendo fan's project to digitally preserve every SNES game has ended in defeat after the US Postal Service (USPS) lost a package containing 100 cartridges. The parcel contained between $7500 and $10k worth of vintage games, which were en route to amateur archivist Byuu. The package made the journey from Frankfurt to Byuu's home state of New Jersey, but after this was lost by the USPS. It was the second of five planned shipments of games from a European collector, who has now been left without a large chunk of their collection. Eurogamer
Gabe Newell isn't really here Gabe Newell sits perfectly still, leans forward. His hands are laid on his lap. Only his eyes are moving. They shift rapidly from left to right and back again. He's physically here, he's sort of listening, but I'd say he's also somewhere else, mentally untangling the knots of the future. The way he talks bears this out. He's unscripted, exploratory. He ranges far from corporate dogma and empty visionary horseshit. He admits when he's been wrong in the past, or that he might be wrong right now about one of the biggest gambles of his career. Polygon
Review: The Asus tinker board (updated) In the years since the launch of the original Raspberry Pi we have seen the little British ARM-based board become one of the more popular single board computers in the hobbyist, maker, and hacker communities. It has retained that position despite the best efforts of other manufacturers, and we have seen a succession of competitor boards directly copying it by imitating its form factor. None of them have made a significant dent in the sales figures enjoyed by the Pi, yet they continue to appear on a regular basis. Hackaday
Nintendo is already repeating the Wii U's mistakes with Switch When Nintendo launched the Wii U in 2012, there were a lot of promises about what the platform meant. Now, less than five years later, the Wii U is an unmitigated failure, not just commercially but creatively, and Nintendo is going to take another crack at a tablet-based home console platform with the Nintendo Switch. And while Nintendo has a lot of 'splaining to do in general, there is no better litmus test for Nintendo's future success than how well it handles the console's online functionality. Polygon
Nokia lays key 5G foundation with world's first 5GTF connection Nokia has successfully carried out the world's first connection based on the 5GTF 'pre-standard', marking a further milestone in Nokia's momentum to make 5G a commercial reality. The test adds another key component to the development of 5G and the implementation of the first 5G applications, demonstrating the ability to provide fast pace implementation according to early standards including device interoperability. Nokia
Liquid battery could last for over 10 years Modern batteries aren't hampered so much by their capacity as their long-term lifespan – a lithium-ion pack can easily become useless after a few years of heavy use. That's bad enough for your phone, but it's worse for energy storage systems that may have to stick around for the long haul. If Harvard researchers have their way, you may not have to worry about replacing power backs quite so often. Engadget
Testing out snapshots in Apple's next-generation APFS file system Back in June, Apple announced its new upcoming file system: APFS, or Apple File System. There was no mention of it in the WWDC keynote, but devotees needed no encouragement. They picked over every scintilla of data from the documentation on Apple's developer site, extrapolating, interpolating, eager for whatever was about to come. Ars Technica
Windows 10 vs. Ubuntu Linux gaming performance with Nvidia GeForce GTX 1060/1080 It's been a while since last testing Windows 10 vs. Linux on different, newer Linux game ports with a variety of GPUs, but that changed this week. As mentioned this weekend, I've been working on a large, fresh Windows vs. Linux gaming performance comparison. The results available today are for Nvidia with testing a GeForce GTX 1060 and GTX 1080 on Windows 10 Pro x64 and Ubuntu 16.10 x86_64 with the latest drivers and using a variety of newer Direct3D 11/12 / OpenGL / Vulkan games. Phoronix
SRI's pioneering mobile robot Shakey honored as IEEE milestone A group of Silicon Valley roboticists who developed Shakey, a pioneer mobile robot project, gathered last night at the Computer History Museum in Mountain View, Calif., to dedicate the tall, wheeled machine as an IEEE Milestone. Joining the group were other robotics visionaries, IEEE officers and local IEEE section members, and fans of computing history. Shakey, developed at SRI International between 1966 and 1972, was honored as the world's first mobile, intelligent robot. IEEE Spectrum
How do you build a robot army? Depictions of the future in books and film are usually influenced by what's going on at the time, reflecting social malaise, impending armageddon, or economic anxieties. The robots in classic sci-fi usually resembled humans, as most authors assumed they would eventually assist us in the same tasks humans did. Ars Technica
Graphene could buttress next-gen computer chip wiring Most of the hand-wringing over the fate of Moore's Law focuses on the ever-shrinking silicon transistor. But increasingly researchers are concerned with another critical part of the infrastructure: the copper wires that connect individual transistors to form complex circuits. IEEE Spectrum