Disney's Star Wars attractions to open in 2019, fully themed resort coming later
Live as a Star Wars denizen for a few days
By Cal Jeffrey
TechSpot is celebrating its 25th anniversary. TechSpot means tech analysis and advice
you can trust
.
The Walt Disney Company held its biennial D23 Expo in Anaheim over the weekend. The event is a chance for the company to showcase upcoming attractions at its theme parks. This year, Disney Imagineering creative executive Scott Trowbridge and Bob Chapek, Disney's Parks and Resorts chairman, had some exciting news for Star Wars fans.
The Star Wars extensions to Disneyland finally have an official name other than "Star Wars lands." At D23 Chapek announced that the attractions would be called Star Wars: Galaxy's Edge. The projects are looking to create an immersive experience that will whisk visitors from Earth and transport them to a remote outpost in the Star Wars universe.
The lands will each have two major attractions that allow guests to experience the struggle between the Resistance and the First Order. One puts visitors on the deck of a Star Destroyer inside a hangar bay. "It's an attraction built on a scale we've never done before," said Chapek. The other will allow guests to team up and operate the Millennium Falcon.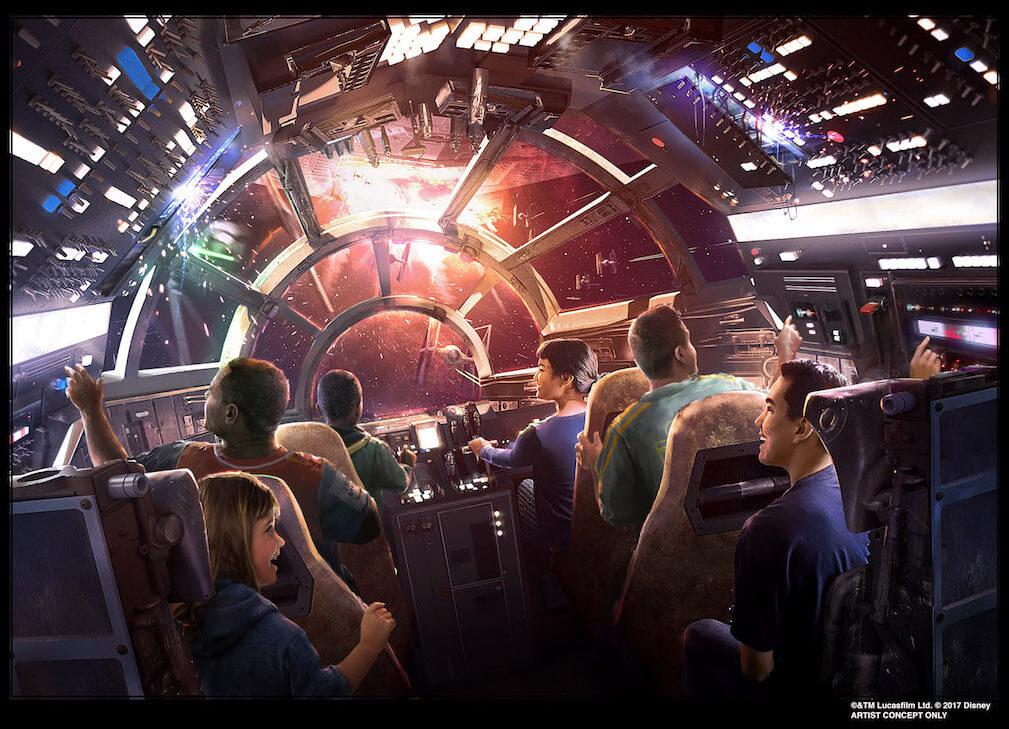 Although it's considered a ride, the Millennium Falcon attraction also has aspects of a game. Riders will cooperate in completing a mission that involves actively piloting the ship, shooting enemies, and making a jump to hyperspace. Scott Trowbridge also revealed that Chewbacca would be present to set up the Falcon ride's narrative.
"But how you perform on the mission holds even bigger stakes," said Trowbridge. "Perform with skill and you may earn extra galactic credits, while bringing the ship back banged up could put you on the list of a bounty hunter. End up on Harkos's list and you may face a problem if you show up at the local cantina [located elsewhere in the park]!" It sounds like it might be fun to do poorly on purpose just to see what happens.
Bob Chapek also announced that work was underway to create a Star Wars-themed resort as part of the Disney 360 vacation concept. It is planned to be a living adventure complete with aliens and droids that guests can interact with, and Star Wars themed clothing that visitors can wear to immerse themselves in the experience.
The stay at the resort/hotel will not be typical in any sense of the word. Aside from the whole thing appearing to be a giant starship with views of space out every window, Chapek revealed that guests would be a part of a living story during their stay.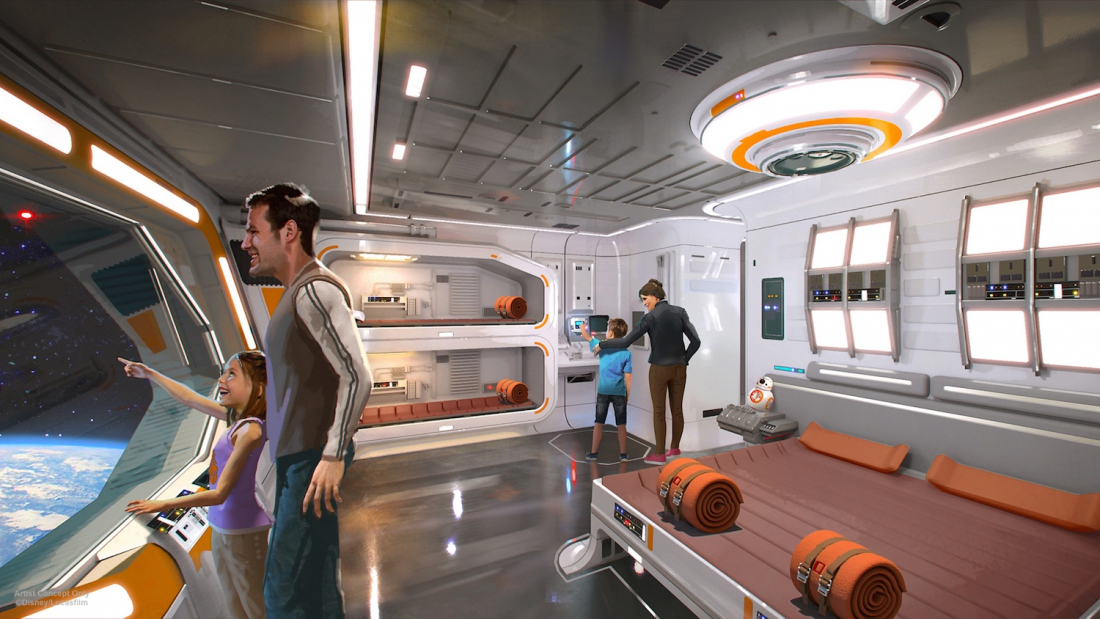 "It's unlike anything that exists today. From the second you arrive, you will become a part of a Star Wars story! You'll immediately become a citizen of the galaxy and experience all that entails, including dressing up in the proper attire. Once you leave Earth, you will discover a starship alive with characters, stories, and adventures that unfold all around you. It is 100% immersive, and the story will touch every single minute of your day, and it will culminate in a unique journey for every person who visits."
Both the Galaxy's Edge and the resort project remind me of Star Trek: The Experience, which ran between 1998 and 2008 at the Las Vegas Hilton. Everything was Star Trek themed, including the restrooms, which to my knowledge, was the first introduction to Star Trek toiletry. You could eat at Quark's Bar and even meet Quark, who would come up to your table, introduce himself, and ask how the service was. Then you could participate in the "ride," which transported you (via teleporter) from the Hilton to the deck of the Enterprise as it engaged in a deep-space conflict with Klingons. The experience culminates with a hectic escape in a shuttle which lands you back on the roof of the Hilton on Earth. Everything was very authentic and realistic.
Disney seems to be trying to create a similar experience but on a much more epic scale. How well it does is going to depend a lot on how enthusiastically Star Wars fans embrace the adventure. I imagine there will be more than a few people who want to visit the attraction but might not be so gung-ho to dress up, thus interrupting the immersion. The Star Wars resort does not have an opening date yet, but the Galaxy's Edge attractions will be opening in 2019.