Samsung Galaxy Note 8 review round-up
Here's what the experts are saying
By Shawn Knight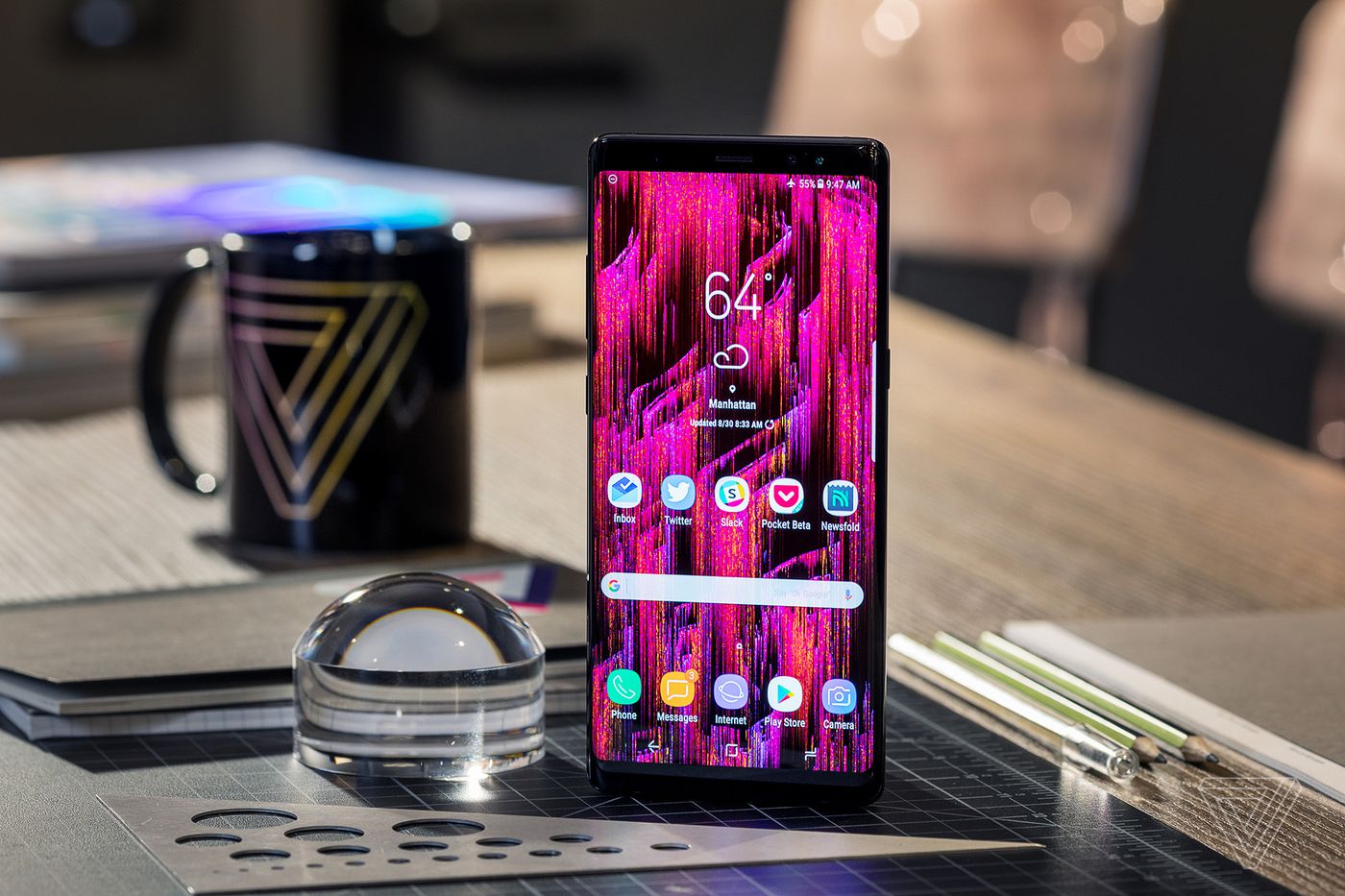 TechSpot is celebrating its 25th anniversary. TechSpot means tech analysis and advice
you can trust
.
(Image courtesy James Bareham, The Verge)
After Samsung's disastrous ending to 2016, the future of the Galaxy Note was uncertain. Fortunately for both Samsung and consumers, the company elected not to discontinue the line and instead focused on building the Note 7's successor.
That device, the Galaxy Note 8, is set to arrive on September 15 and now that early review embargos have lifted, we've got a pretty good idea of what to expect. Dan Seifert from The Verge immediately addresses one of the Note's strong points - the screen:
It starts with its 6.3-inch Infinity Display that stretches to the very edges of the phone's frame, leaving just a small bezel above and below the screen. This HDR-capable display is everything you'd expect from a high-end Samsung panel: it's crisp, vibrant, and super bright, so it's visible outdoors in direct sunlight. The sheer size of it sucks you in when watching video, and the 18.5:9 aspect ratio lets it display lots of content at once or easily run two apps at the same time in split-screen multitasking mode.

Samsung has done everything it can to make this giant screen fit in something that resembles a phone --- shrinking the bezels, elongating its shape, curving the sides --- but there's no avoiding the fact that the Note 8 is a giant phone that comes with giant phone problems. It's almost impossible to use in one hand and it doesn't fit comfortably in any of my pants pockets.
Aside from the display, is there really that much difference between the Note 8 and the Galaxy S8+? Gizmodo's Sam Rutherford:
The Note 8's 6.3-inch 2960 x 1440 super AMOLED display is insignificantly larger than the 6.2-inch screen on the S8 Plus (though that bezel-less design remains strikingly pretty), and its Qualcomm Snapdragon 835 processor, 64GB of storage and built-in microSD card reader aren't any different either. Aside from slightly boxier corners, the Note 8's luscious glass and aluminum body is pretty much the same too. You even get the same annoying Bixby Button below the volume rocker, which still can't be remapped to something useful.

The one small improvement is that Samsung has upped the Note 8's RAM from 4GB to 6GB, which is nice nod to the Galaxy Note's traditional fan base of power users. However, on a day-to-day basis, it's an improvement that isn't always that noticeable (despite benchmarks that put the Note 8 a tiny bit ahead of its smaller siblings). That means the decision really hedges on Samsung's signature S Pen stylus and the company's first-ever dual camera module.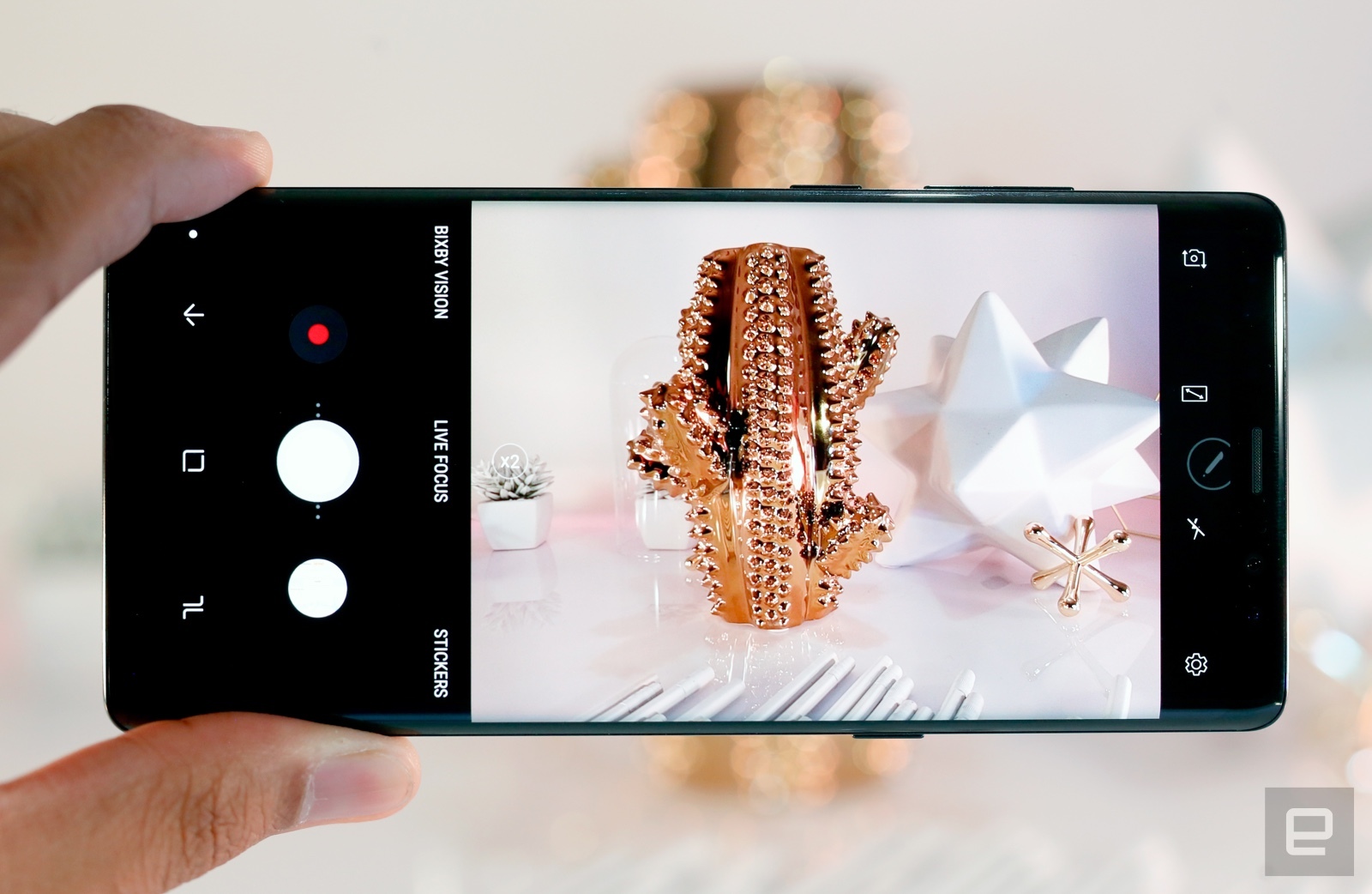 The Note 8's camera is a winner according to Brian X. Chen from The New York Times:
The Note 8 also has an exceptional camera. Similar to Apple's iPhone 7 Plus, the Note 8 has a dual-lens system. The two lenses work together to produce a so-called bokeh effect: You can show the photo's main subject clearly while gently blurring the background.

The Note 8 calls this feature Live Focus, which worked quickly and proficiently in my tests. In the end, the Note 8's photos looked clear and vibrant but oversaturated to me --- though some people prefer that their photos appear exaggerated.
More on the camera from PCWorld's Adam Patrick Murray:
Interface quirks aside, the Note 8 does have a couple nice tricks up its sleeve. First, you can adjust just how much bokeh is introduced into the scene. There's a handy slider to see, in real time, just how much you're affecting the shot. And to take it to another level, the same thing can be done after the photo is snapped! From the gallery app you can save as many different variations as you want since all the info is already embedded in the capture. The Note 8 also saves the photo from the main camera, just in case you want a different perspective of the scene you shot.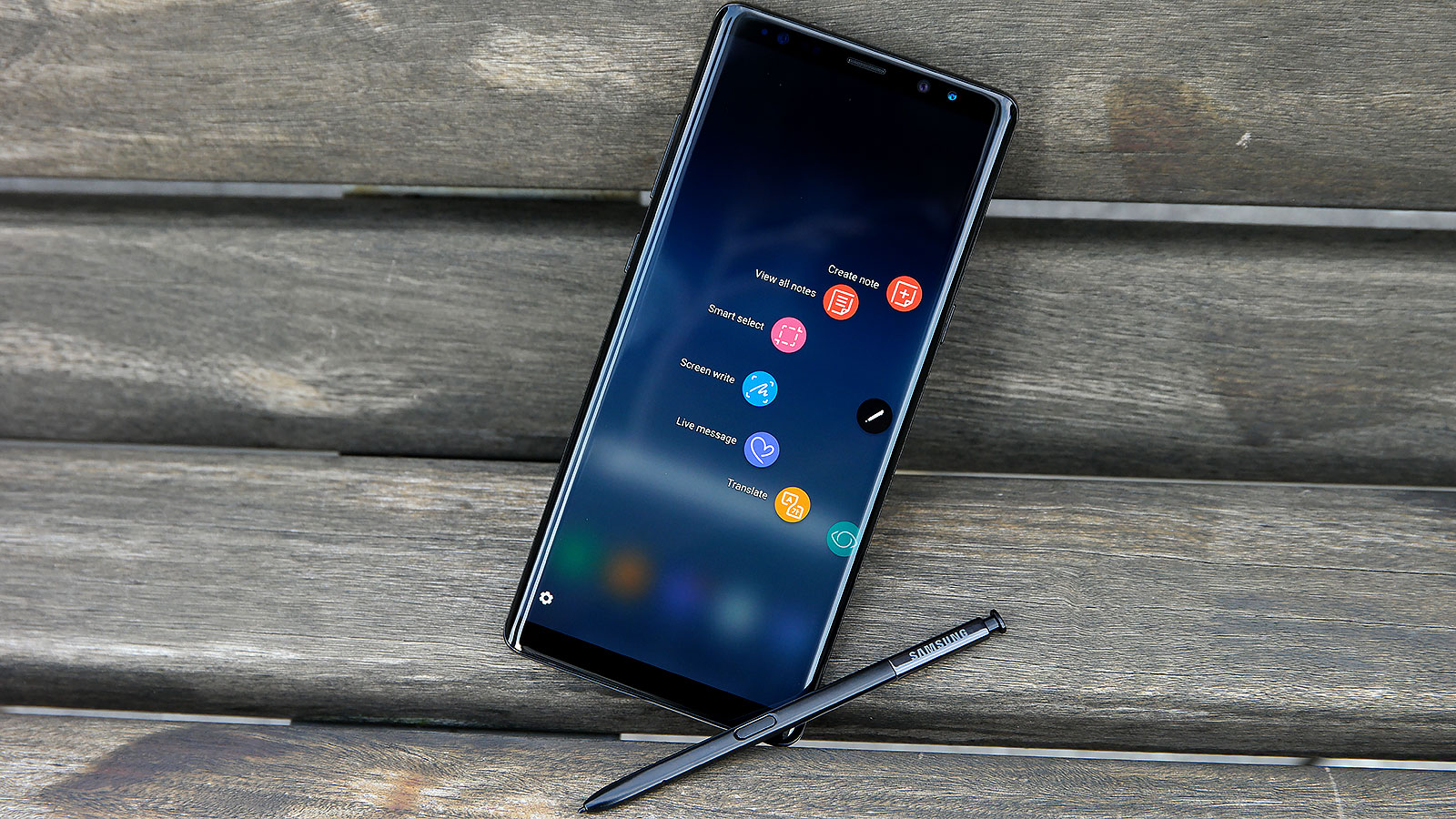 (Image courtesy Gizmodo)
TechCrunch's Brian Beater talks about the new S Pen:
I'll be honest, I still don't get it. I still find it tough to write legibly (to be fair, I have the same problem with pen and paper, as my third-grade teacher would tell you), and there are few scenarios in which I find it a superior input method to touchscreen typing. But it has plenty of fans, and it's back, slightly better than before. The tip is a bit thinner and the screen responds to more levels of pressure sensitivity. I didn't use the Note 7's S Pen with any regularity, so I can't claim to notice much of a difference here.

Samsung's added a couple of fun new tricks here, as well. The Screen Off Memo, which was introduced in an earlier version, now scrolls up to 100 pages, so you can pen that novella all without ever unlocking the phone. The phone also gets handwritten messages, which are essentially animated GIFs you create with the S Pen that can be shared over text or social message. It's a bit like the finger-drawn memos the iPhone has supported, but a bit more precise, thanks to the S Pen.
Battery life is discussed by David Ruddock from Android Police:
I've had quite a good experience with the Note 8 in regard to battery life, despite the fact that it has both a smaller battery and a larger screen than the S8+. 3300mAh and a 6.3" display sound like a recipe for range anxiety, but I've found the Note's battery life to be as good or even possibly better than the S8+ I tested earlier this year.

For me, six hours of screen time was readily achievable in a single day of heavy use with Wi-Fi. Off Wi-Fi, that number is going to decrease, especially if you're spending a lot of time with the phone at high brightness levels, but that's true of any device. The Snapdragon 835 really does seem to be quite an efficient chipset, and Samsung may have found the right balance of performance and power consumption to make the most of it. The Note 8's battery has not left me at all wanting during my test period, and I'm genuinely pleased with its staying power.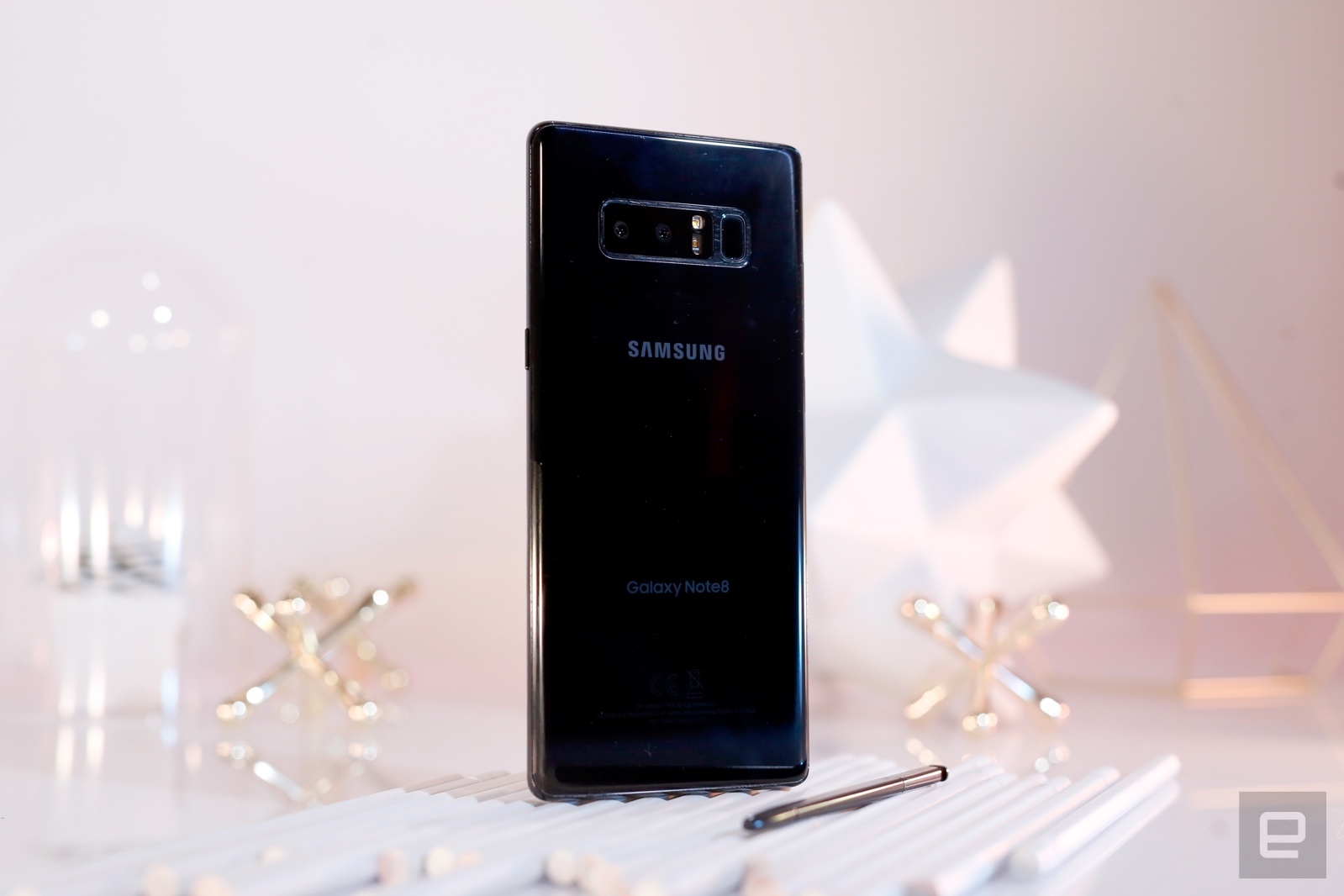 CNET's Jessica Dolcourt speaks to one of the Note 8's few shortcomings:
I need to also point out the Note 8's most grating imperfection. The placement of the fingerprint reader off to the side of those two rear cameras drives me bananas. It's plain inconvenient: too high and too off-centered. Even if muscle memory takes over and you get used to it, and even if you use the hit-or-miss iris scanner instead, there's no good reason it shouldn't be in the center of the Note's back like it is on so many other phones. There's no excuse for the world's dominating Android brand to falter on something the rest of the industry has already mastered.
Steve Kovach from Business Insider discusses software and Bixby:
When it comes to the software side of the Galaxy Note 8, it's the same story we've seen for the last few generations of Samsung phones. The company has perfected design and performance, but still struggles to pack in innovative software that rivals what you find from Apple and Google. It's not terrible, and it's definitely not a deal breaker. It's just a step behind the rest.

The latest example is Bixby, Samsung's new digital assistant that launched earlier this summer. Bixby is so ingrained in the Note 8 that it even has a dedicated launch button on the left side of the phone. But as I've written before, Bixby feels half baked compared to Google Assistant and Siri. There were many times it didn't understand what I said, and many of my queries just dumped me into a Google search instead of bringing me the answer I wanted. Even Siri is better than that.

Bixby should get better over time as more people use it and Samsung teaches it to do more. But for now, you're better off using Google Assistant, which also ships with the Note 8.
Engadget's Chris Velazco sums it up as follows:
Samsung had a lot to prove, and it mostly succeeded. There's no doubting that the Note 8 ($929) is a great smartphone --- it packs all the usual flagship amenities, not to mention a dual camera that works very, very well. The problem is, the Note 8 feels a little... by-the-book. Samsung, frankly, got so much right with its other huge phone, the Galaxy S8 Plus, that the Note 8 doesn't feel as triumphant an improvement as the Note 7 did in comparison with the S7 line. Don't get me wrong: The Note 8 is still Samsung's best smartphone, and one could even argue it's the best big phone out there. Just know that it's a pretty conservative update, and that it's going to cost you.