Apple HomePod review round-up: Expert opinions on Apple's new smart speaker
Apple's smart speaker excels as a speaker, not so much as a smart device
By Shawn Knight
TechSpot is celebrating its 25th anniversary. TechSpot means tech analysis and advice
you can trust
.
(Image courtesy James Bareham, The Verge)
It's taken more than eight months but Apple's HomePod smart speaker is finally hitting the market this Friday, February 9. In customary Apple fashion, the company sent out a handful of review units to select publications for evaluation ahead of launch. On Tuesday, the review embargo lifted so let's have a look at what the experts have to say about Apple's latest offering.
CNET on first impressions:
The fabric mesh-wrapped HomePod, available in either space gray or white, weighs a hefty 5.5 pounds (2.5 kg). It's 6.8 inches tall and 5.6 inches wide (170 by 140 mm) -- petite compared to the 11.7-pound (5.3 kg) and foot-wide Google Home Max. But the HomePod feels surprisingly dense when you lift it, as I learned while carrying it through the airport.

In true Apple form, the HomePod has a sleek, minimal design. It looks good, but not distractingly so, and I'm glad you get a couple color finishes to choose from. We got a white HomePod and while I like how it looks, I can easily imagine smudging it with repeat handling. The HomePod's mesh exterior isn't interchangeable like the Amazon Echo's removable shell. What you buy is what you get. You can, however, clean it with a dry or damp cloth.
Nilay Patel from The Verge dissects what's under the mesh covering:
The HomePod isn't just one speaker, it's actually eight of them, all controlled by Apple's own A8 processor and tons of custom software. There are seven tweeters that fire down and out from the bottom, and a single four-inch woofer pointing out of the top for low frequencies. There is also a total of seven microphones: six around the middle for Siri, and a seventh inside that measures the location of that woofer so Apple can precisely control the bass.

What's important to understand is that all of these speakers and software aren't trying to add anything to music; you're not getting 3D audio or wacky surround effects or anything like that. Apple's goal is to eliminate unwanted extra sounds you might get from reflections in the room the HomePod is sitting in. It's then trying to tune to the speaker to sound as neutral as possible in that room, and this process is very, very involved.
(Image courtesy Brooks Kraft, Apple)
Setup is a breeze as The Independent's David Phelan highlights:
This is blissfully simple, better than on rival smart speakers and, frankly, most consumer electronics in general.

Anyone who's used Apple's AirPods wireless headphones knows that just bringing the headphones near to your iPhone is enough to connect the two. Here, when you first plug the speaker in, you hold an iPhone, iPad or iPod touch that's running the latest version of software (iOS 11.2.5) next to it and, well, that's it.

It will transfer your Apple ID to the speaker, along with elements such as naming the room you're going to place it in. If you've already set up the Home app on your iPhone, for instance, and have named rooms there, these appear as options for you to choose from.

A bonging noise tells you that your account settings are being transferred, such as your iTunes account, Apple Music account - if you have one - and so on.
Matthew Panzarino from TechCrunch on sound quality:
In an apartment, the HomePod could not be louder and more room filling. But at home, in a 20×30′ great room with carpet on the floor, I did find myself wishing for it to be louder. This should be solved once Apple ships FullRoom — its support for two HomePods to be used in tandem but not in stereo. That's coming soon, followed at a later date by the "multi room" function which lets a bunch of HomePods synchronize to play the same audio everywhere. But for now, small- to medium-sized rooms are fine, big rooms you may find the HomePod a smidge under powered.

Only the HomePod and the Echo provided true unidirectionality of sound, and the Echo is at the absolute back of the pack for audio quality. Walking around the HomePod from one corner of a room to another or around it in a circle is a really incredible experience. The sound does not fall off at any angle, and the characteristics of the audio don't change. This just works.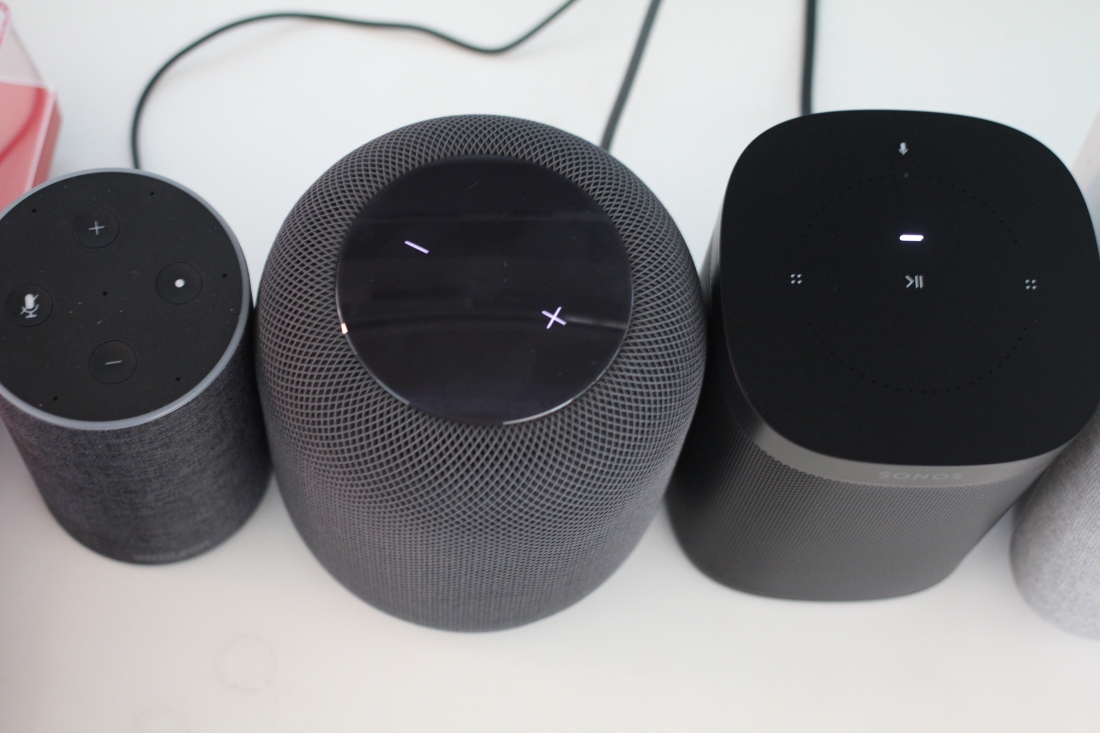 (Image courtesy TechCrunch)
Another opinion on sound quality, this time from Jim Dalrymple with The Loop:
It's hard to explain the sound of HomePod, but you get a feeling that the sound is enveloping you, even when using just one speaker. There is a sense that this is how the songwriter and producer wanted the song to be heard when they recorded it.

The other speakers gave the feeling that music was just being blasted straight at me and not allowing me to become part of the experience. HomePod sounds great wherever you are in the room—there really is no particular sweet spot to hear the music, it just sounds great everywhere.
What Hi-Fi talks directional audio:
What's more, Apple's promise of 360-degree sound is, unlike many similar promises made by other brands in the past, pretty darn accurate. With the HomePod standing in free space, the sound you hear is very consistent regardless of where you are in relation to it.

Yes, there are slight variances as you walk slowly in a circle around it – a small drop in treble, for example, presumably as you step between the beams of two tweeters – but every part of (and person in) a room will get more-or-less the same excellent audio quality.

Even when the HomePod is placed close to a back wall, the sound around the room is pretty consistent right until you're essentially standing at a right-angle to it. This is our preferred positioning of the speaker, as the reflection of ambient effects on the surface behind creates a slightly bigger, more spacious and more three-dimensional presentation.
(Image courtesy James Bareham, The Verge)
Siri isn't all that great, as Brian X. Chen from The New York Times shares:
On my second day with Apple's new HomePod, I asked the artificially intelligent speaker to play some music. Siri, the virtual assistant that powers HomePod, enthusiastically replied, "O.K., let's get going with some Dashboard Confessional."

I cringed. "Hey Siri," I said. "Nobody likes Dashboard Confessional."

Siri replied, "Sorry, I couldn't find the song 'Nobody Likes Dashboard Confessional.'" Then to my horror, HomePod continued playing a track by the emo rock band.

At the time, I gave Siri a pass. After all, Apple's HomePod, a rival to smart speakers from Amazon and Google, is supposed to study your music preferences over time to create special playlists just for you. I had had only one day with HomePod.

But after a week — during which I asked HomePod to play my favorite tunes from artists like Beck, The Talking Heads and David Bowie — the smart speaker still did not learn. Instead, like a stubborn D.J., Siri kept playing music by artists outside my music palette: Taylor Swift and Leroy Frances, to name just two.
USA Today's Edward C. Baig also dishes on Siri:
At the same time, the new speaker can be an exercise in frustration at times, especially when you request something of Siri that Apple's digital assistant can't deliver on HomePod. In answering to your "Hey Siri" vocal commands, Apple's assistant can perform many of the same table-stakes tasks as Amazon's Alexa on Echos or the Google Assistant on Google Home speakers — from setting timers and reminders to informing you of the weather and traffic, turning on smart lights or solving math.

But Siri on HomePod cannot currently hail you a ride through Lyft or Uber, launch a trivia game or arrange for an audiobook to be played.

And while you can use HomePod as a speakerphone, Siri on the new speaker cannot initiate the call.
BuzzFeed doesn't beat around the bush:
I've been living with, listening to, and shouting at the $349 plump music machine for a week — I've found that the HomePod is a good-sounding speaker with killer features for iPhone users, but it has flawed "smart" functionality that falls short of its closest competitors, and for a much steeper price.

Android users beware: If you don't have an Apple Music subscription, an extensive iTunes library, or an iPhone, you shouldn't get the HomePod.

You need an iPhone or iPad to set the HomePod up. Furthermore, the only streaming service you can control with your voice on the HomePod is Apple Music. (A subscription costs $10 per month for individuals and $15 per month for a six-person family.) Voice control also works with purchased iTunes music, free podcasts, and Beats 1 radio, which doesn't require an Apple Music subscription.

You can play Spotify and other audio from your iPhone or Mac via AirPlay, but you won't be able to use your voice — and voice control is the main appeal of a smart speaker like the HomePod.
(Image courtesy James Bareham, The Verge)
The general consensus regarding the Apple HomePod seems to be exactly what we've expected all along: it sounds great as a speaker but falls a bit short as a smart speaker. It's also tightly integrated with Apple's ecosystem, making it far less attractive to Android users.