Intel 'Hades Canyon' gaming NUC with built-in Radeon graphics: first reviews are out
Loads of power in a small form factor
By Shawn Knight
TechSpot is celebrating its 25th anniversary. TechSpot means tech analysis and advice
you can trust
.
Intel's Skull Canyon NUC was the chipmaker's first real attempt to cater to enthusiasts with its NUC line. While impressive for its size, the miniature barebones machine never really caught on with hardcore users and especially gamers due to its lackluster integrated graphics and high price tag.
That was nearly two years ago and things have changed significantly for Intel. Specifically, the company inked a deal with AMD in late 2017 to pair its CPUs with AMD's graphics solutions. How will that impact Intel's new NUC? Today, we aim to find out.
Reviews for Intel's upcoming Hades Canyon NUC are just now hitting the web and if you're at all interested in small form factor computing, you'll want to see how Intel's new machine fares. Let's dive right in!
Ken Addison with PC Perspective covers aesthetics:
Taking a look at the exterior design of the Hades Canyon NUC shows a somewhat subdued gaming aesthetic. While the hexagonal holes and power button on the front of the device reference the design language of "gamer" products, the overall design is stealthy enough to not be too out of place on any desk or in an AV cabinet.

However, this subtlety disappears when you first turn on the unit and are greeted by the illuminated Skull logo emanating from the top of the enclosure.

While you can disable or change the color of any of the LEDs on the NUC in the BIOS, I think this was a nice touch and shows that Intel isn't afraid to go out of their comfort zone.

This Skull logo has long been the symbol used by Intel for enthusiast-focused products, starting with the dual CPU socket Skulltrail platform and being used on various products over the years (including the previous Skull Canyon NUC).
Matt Smith from Digital Trends talks ports:
Despite its size, the Hades Canyon NUC wants to prove itself equal to a big tower desktop, and not just in performance. It also brings an impressive array of connectivity. That includes front and rear HDMI 2.0a ports, two Mini-DisplayPort, two Thunderbolt 3, two gigabit Ethernet, front-mounted USB-C 3.1 Gen2, and five total USB 3.0 Type-A. There's an SDXC slot, stereo jacks, TOSLINK, and even a far-field microphone. But wait, it gets even better! There's also a VESA mounting plate, so you can attach the device to the back of a VESA-compatible monitor or television.

Oh, and it can handle up to six displays at once. That's nuts. Most tower PCs can't do that.
Alaina Yee over at PCWorld covers hardware:
Hades Canyon comes in two configurations---one marketed as an overclockable gaming machine (the NUC8i7HVK), and the other as a content-creation system (the NUC8i7HNK). We received the gaming version for review, which is the higher-end option and costs $1,000 for just the bare-bones kit.

Adding storage, memory, and an operating system will raise the price by at least a few hundred dollars, given today's inflated prices for SSDs and RAM.

Inside the NUC8i7HVK is the 100W Core i7-8809G, which houses a quad-core, eight-thread mobile CPU and Radeon RX Vega M GH graphics.

The processor is equivalent to Intel's 45W H-series mobile CPUs (complete with active integrated graphics that can handle video playback and other basic tasks), though its power requirements differ slightly. The actual power consumed varies depending on CPU and GPU loads, as Intel designed the package with a shared power budget and uses what it calls dynamic tuning to allow each component a greater ability to reach its max boost. As mentioned previously, it's overclockable, with stock settings of a 3.1GHz base clock and 4.2GHz Turbo. Intel says that it's gotten up to 4.7GHz when overclocking.

Linked to the processor by eight PCIe lanes is the Vega M GH, which runs at a 1,063MHz base clock and 1,190MHz boost clock. The GH variant of Vega M comes with 24 compute units and 4GB of HBM2 memory, along with a slightly faster memory bandwidth of 204.8GB per second. It also supports output to six 4K displays simultaneously, with up to five at 60Hz and the sixth at 30Hz. Like the CPU, you can overclock the Vega M GH and the HBM2 memory.
Michael Andronico at Tom's Guide on gaming performance:
This design is meant to provide desktop-gaming-grade performance within a mobile-size CPU, and if our time with NUC is any indication, it succeeds strongly on that front. Our NUC turned in comparable performance to what you'd get out of an entry-level, Nvidia GTX 1050 Ti-powered gaming tower, and it even handled a bit of VR.

Intel's PC ran our Hitman benchmark (1080p, max settings) at an impressive 59 frames per second, besting Lenovo's compact Legion Y720 Cube desktop (52, Nvidia GTX 1050 Ti) but falling short of our 87-fps gaming desktop average.

The NUC tied the Legion on our Grand Theft Auto V test (1080p, max settings), with both PCs turning in a highly playable 33 fps while trailing our 82-fps average.

Intel's tiny desktop can handle virtual reality, but don't expect an optimal experience. The NUC scored a 4.6 out of 11 on the SteamVR Performance Test, netting it a "medium" grade. This means it's capable of churning out VR, but not recommended for the highest-fidelity experience.

In synthetic tests, the NUC scored a 8,451 on the 3DMark Fire Strike benchmark. That puts the NUC above the Legion (6,166), but way below our 14,070 average.
Marco Chiappetta with Hot Hardware has the skinny on overall system performance:
The Intel NUC NUC8i7HVK put up some surprisingly good numbers in the SiSoft SANDRA tests that we ran. In the CPU Arithmetic test, the Core i7-8809G at the heart of the machine performed very much like a full-power desktop Core i7-6700K. The in Multi-Media test, the NUC's CPU fared a bit better, and in the Cache and Memory benchmark performance was strong as well. In the Memory Bandwidth test, the NUC8i7HVK offered up over 30GB/s of bandwidth, which is right up there with Intel's HEDT processors.

The Intel NUC NUC8i7HVK performed well in the PCMark 8 Home benchmark, finishing in the upper-third versus our assortment of reference systems. In the Work benchmark, however, the machine put up some strong numbers and trailed only the Core i7-8700K. Note that the Radeon RX Vega M GH graphics core has an impact on these results, which helps boost the NUC's score over and above what its 8th Gen Core processor can muster.
Ganesh T S from AnandTech identifies one shortcoming:
While Hades Canyon has its strengths, it does fall a bit short of perfection due to its disappointing performance in our evaluation of it as a 4K HTPC.

Intel's decision to route all six display outputs to the vastly faster and generally more capable Radeon RX Vega M GPU makes perfect sense for a desktop. But the one area where AMD's latest GPU still trails Intel is in the media decode block. The Vega GPU can't decode VP9 Profile 2 - so no YouTube HDR support - and more importantly it doesn't support the Protected Audio Video Path technology required for UHD Blu-ray playback. The latter unfortunately came as a bit of a surprise to even some at Intel, as the company was claiming as recently as CES 2018 that the Hades Canyon platform would support UHD Blu-ray playback.

I've also been encountering some strange stability issues with the new NUC on video playback. Hardware-accelerated decoding with both Kodi 17.6 and VLC 3.0.1 triggered random freezing, something that I never encountered in doing the same tests elsewhere. As a result while Hades Canyon is still a decent enough HTPC option with its 4K Netflix HDR support - and hopefully one that can get a bit better with software updates - dedicated HTPC enthusiasts will find that it doesn't quite scratch that itch as it should, and that there are better options out there.
Kevin Lee at TechRadar shares his final verdict:
The Intel Hades Canyon NUC is the company's most impressive mini PC yet, capable of playing most modern games with ease and offering plenty of performance for everyday computing. And, that's all without the help of an external GPU, unlike the previous Skull Canyon NUC.

This is true high-end desktop computing on a single, standalone chip. Beyond this one device, it represents a turning point for thin-and-light laptops like HP Spectre x360 15 and Dell XPS 15 2-in-1 to be just as powerful as full-on gaming laptops

Although the Hades Canyon NUC might be expensive and require additional parts, you won't find another mini PC as powerful as this. The expansive array of ports and support for high-end internal components is equally as amazing. Thanks to its small size, it's also the perfect home theater PC.

All in all, Intel has produced an incredibly tiny and VR-capable gaming PC worthy of your attention and consideration.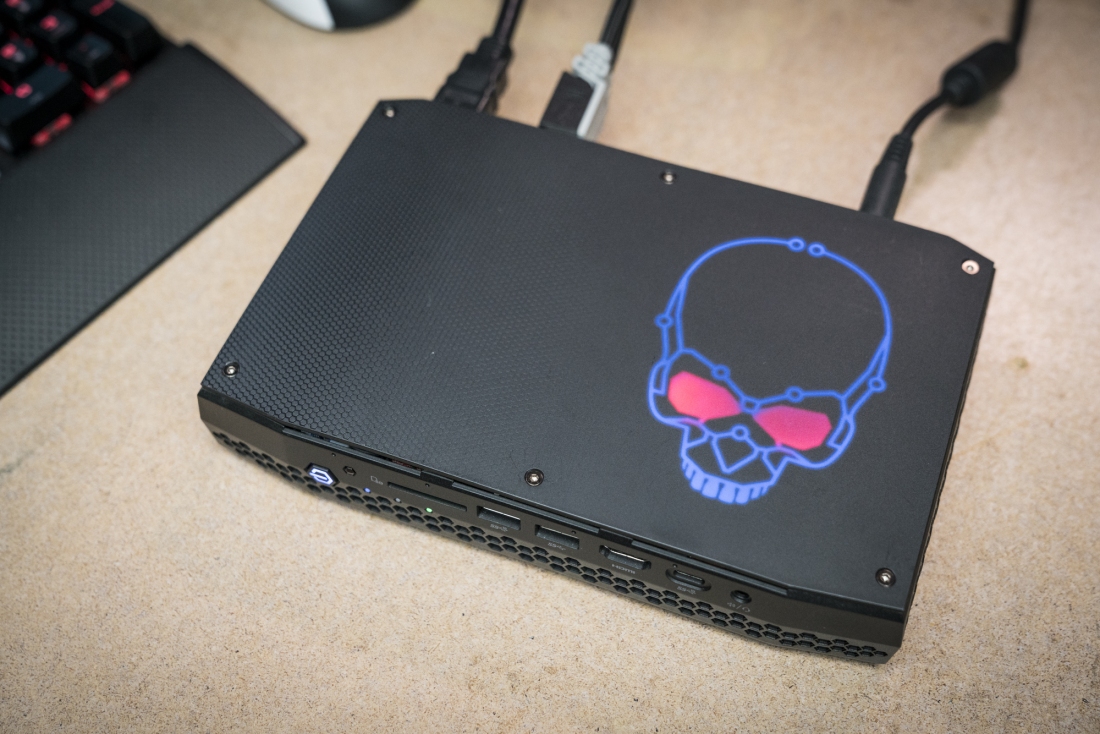 Steven Bassiri with TweakTown also shares his final thoughts:
The NUC8i7HVK might be the first review sample I have been really excited about this year. The new Hades Canyon NUC is superior to its predecessor in many ways. Not only is its performance much better, but it also offers many new features. Added video outputs, improved cooling, and highlighted aesthetics are just some of the major improvements Hades Canyon brings to the table.

The build quality of the device is top notch, and we are pleased with its cooling system. Overclocking through the UEFI or through Windows was pretty easy, but we only really saw gaming improvements from the GPU core frequency increase, which points to the GPU as the bottleneck in the system. Power allocation in the NUC is also dynamic, and while it could hinder your overclocking potential, temperatures will do you in far sooner.

We really enjoyed the ability to tweak the NUC to our liking, and we are sure tinkers will figure out ways to squeeze out every last bit of performance out of the new gaming NUC. The Hades Canyon NUC will replace the Skull Canyon as my main office PC. I had used the Skull Canyon NUC for a long time, and I was very happy with it, but when I wanted to play newer games like Ashes of the Singularity or even GTA:V at 720P, performance and silence were lacking.

That's exactly where the Hades Canyon NUC outshines its predecessor; it's an impressive specimen. If you want a gaming capable NUC, that can handle most games at 1080P with playable FPS, give the Hades Canyon NUC a look.