Arm wants a throw-down with Intel: surpassing Core i5 mobile performance by 2019
Arm says its Cortex-A76 is already giving Intel a run for its money, for one-third the power
By Paul Taylor 12 comments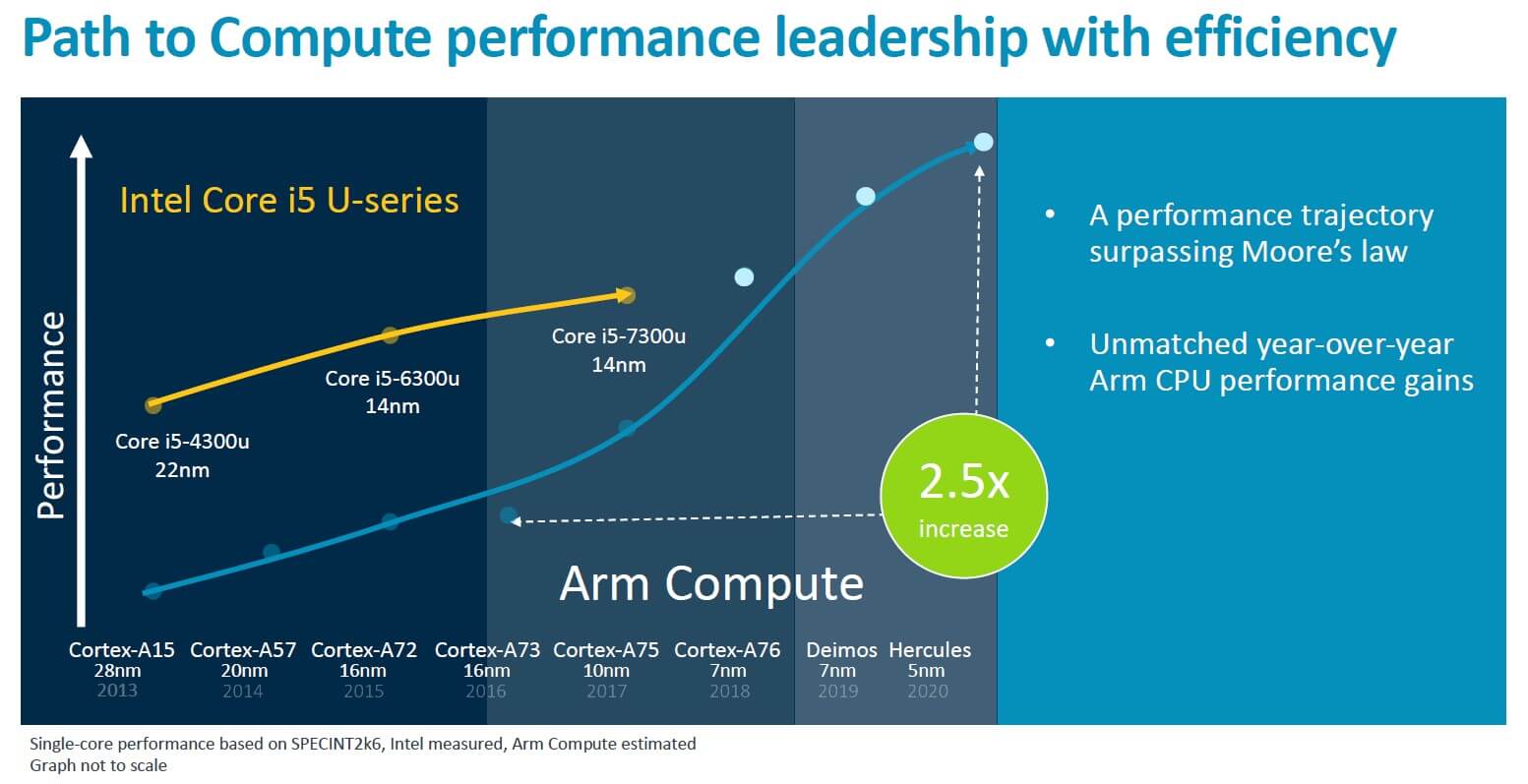 TechSpot is celebrating its 25th anniversary. TechSpot means tech analysis and advice
you can trust
.
Forward-looking: Arm is talking all-day computing at x86 performance levels, just around the corner, at a fraction of the power. It's also saying it's got the industry behind it and implying putting all your eggs in one basket is not the way to go. So far it's garnered the support of heavy hitters Asus, HP, Lenovo and Samsung. With those falling in line, it'll be a matter of time until Arm-powered notebooks have their own, significant, share of the market.
It seems the change of ownership at ARM has resulted in a dramatic change of public discourse. In what is an Arm first, the company behind the highest-sold CPU design in the world is talking openly about challenging Intel's dominance of (laptop/notebook) mobile computing.
This is quite a surprise. Arm is typically very low-key about its roadmaps and research, and that is what allowed it to achieve the position of dominance in low-power, high-performance SoCs. Now, it seems, there is a new PR narrative going on at Arm.
In a lengthy announcement, Arm has made public its plans for the next two generations of chip architectures - Deimos and Hercules - and how it plans to wrestle away market share from Intel. Leveraging its gains over the past five years, it says, it has been able to deliver double-digit IPC gains year-on-year, culminating in the launch of the Cortex-A76 CPU design and a claimed 35% performance gain over its predecessor.
According to the roadmap, Cortex-A76 will be produced both in 10nm and 7nm, this year. Clearly flexing its partners' manufacturing muscle and rubbing salt in Intel's wound, Arm says the 7nm Cortex-A76 will already provide the same performance as Intel's mobile chips, at a third of the design power.
The Arm roadmap shows us the follow up the Cortex-A76 in 2019 with 'Deimos', also built on a 7nm LP process node. And when Deimos arrives, Arm is making it clear there should be no doubt in partners' minds which is the best chip. 'Deimos', claims Arm, "is expected to deliver a 15+ percent increase in compute performance".
Come end of 2019, Arm partners are enticed to play around with 'Hercules', a new CPU design which Arm says will deliver around 10 percent gains in performance and die size (and more, once it is shrunk to 5nm). So by the time Intel gets its first mature 10nm design out of the door, Arm, by way of TSMC, will be debuting its 5nm process node.
Ironically, the Arm roadmap almost reads like an old-school Intel tick-tock roadmap.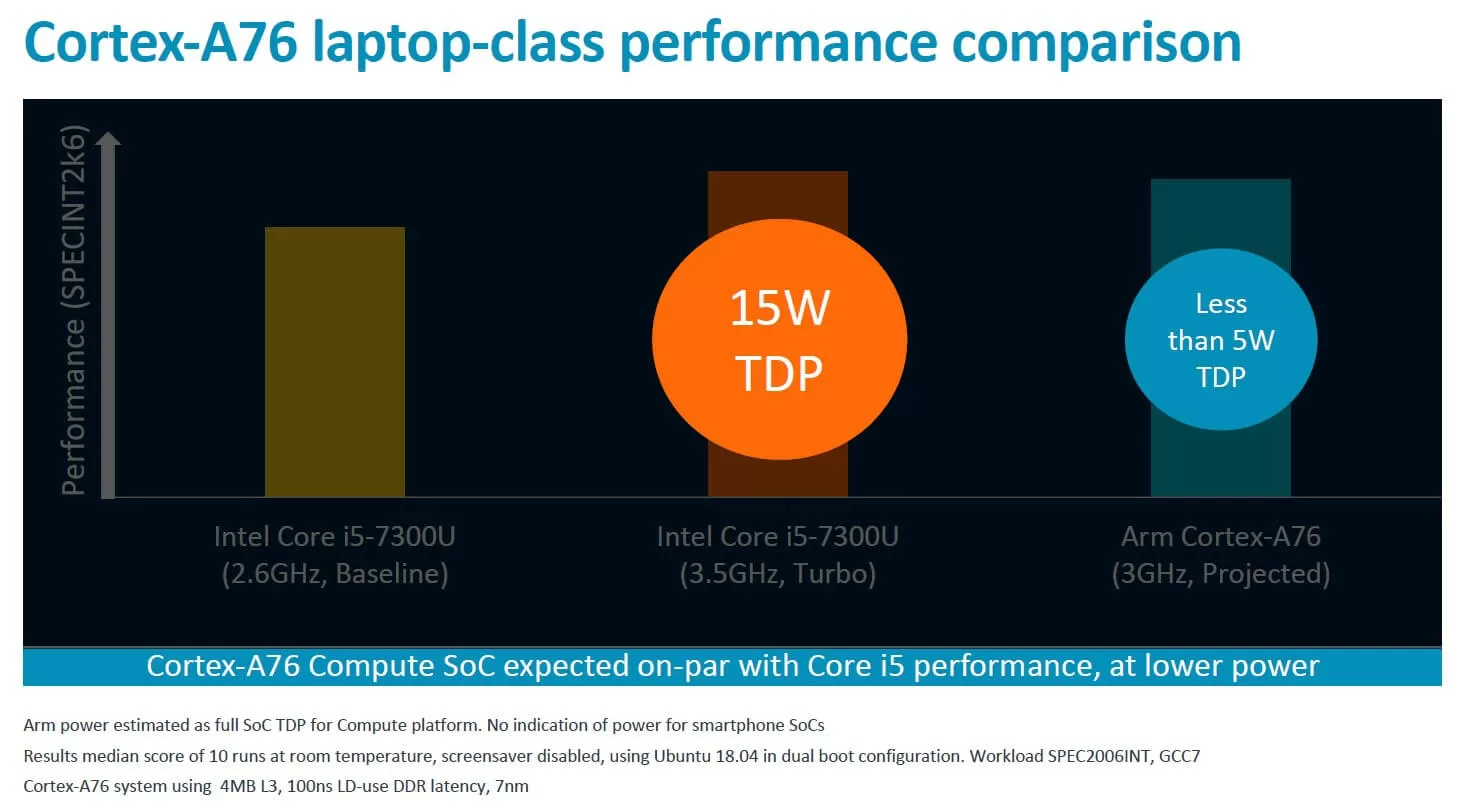 "The CPU roadmap Arm has laid out coupled with Qualcomm's heterogenous approach to computing across our various IP block and integrated connectivity, will allow for new advancements in the always-on, always-connected PC experience offered by the Qualcomm Snapdragon Mobile Compute Platform," said Alex Katouzian, senior vice president and general manager, mobile, Qualcomm Technologies, Inc.
Arm's position couldn't be stronger. Windows 10 on ARM is a fact, Intel is held up with a broken node and AMD is stealing market share on desktop and server. With 5G arriving in a few months, we're looking at a roadwarrior's dream come true. If Intel wasn't looking troubled enough, this probably hits home with the force of an A-bomb.
Arm promises more will be revealed come October 16th, when it holds its Arm TechCon in San Jose. Interesting times await us, no doubt about that.