AMD adds more labels to its new (and somewhat confusing) laptop CPU naming system
As if CPU naming conventions weren't confusing enough
By Daniel Sims 10 comments
TechSpot is celebrating its 25th anniversary. TechSpot means tech analysis and advice
you can trust
.
In a nutshell: Team Red unveiled a new naming scheme for laptop processors last year to reduce ambiguity and imbed more information in its CPU numbering. New documentation indicates that AMD needs more signage to ensure customers can identify the processor architecture they're purchasing.
As laptops with AMD's latest Zen 4 CPU architecture launch this year, the company's labeling system might confuse customers because it differs from the desktop naming scheme. The company hopes to remedy the problem with orange stickers signifying Zen 4 mobile processors (above).
Processor naming conventions can confuse casual or less-experienced PC users, but understanding AMD's Ryzen desktop processor labels shouldn't take long. All desktop 7000 series CPUs use the company's Zen 4 architecture, succeeding the 5000 series, which uses Zen 3.
However, AMD's 7000 series notebook processors aren't Zen 4. Some are Zen 3 or even Zen 2, which gets confusing. Although, the company adopted a new designation system late last year intended to make more sense, whereby each digit in a mobile CPU's name has a different meaning.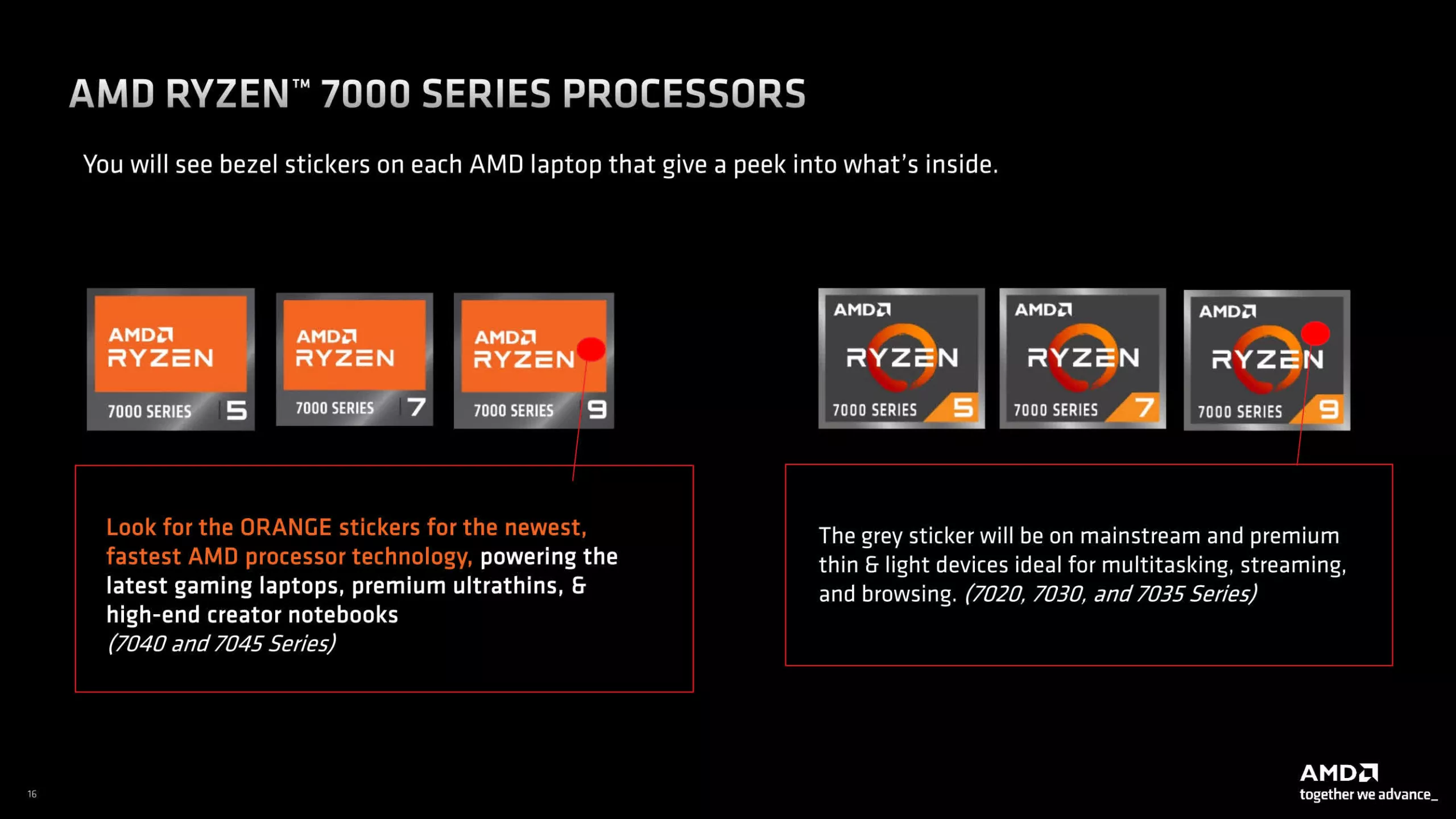 The first digit only represents the year of release. All laptop processors released in 2023 carry a number in the 7000s regardless of the architecture. Customers specifically checking the CPU generation must look at the third digit: 7X4X processors are Zen 4, 7X3X represents Zen 3, and so on.
However, the Santa Clara firm can't fit a complete guide to the naming system on a laptop chassis, so it is resorting to orange stickers to highlight the latest architecture. Laptops with CPUs ranging from the Ryzen 5 7640HS to the Ryzen 9 7945HX will feature orange stickers next to the screen or on the keyboard top cover. Notebooks with earlier processors will have grey stickers, from the Ryzen 3 7320U (Zen 2) to the Ryzen 7 7735HS (Zen 3).
It's unclear where AMD will explain the meaning of the colored logos to unaware customers. A guide appeared in the company's internal training deck intro, and Notebookcheck spotted a sticker on the 2023 Asus ROG Zephyrus Duo 16. An explanation may appear on the box or signs near retail kiosks. The ROG laptop's Amazon page and official website don't mention or show the logos. It's also unclear what the orange sticker will denote after the 8000 series mobile CPUs ship in 2024. Perhaps Team Red will switch to a different color.
Anyone knowledgeable enough to know they want a Zen 4 processor will likely find information on AMD's naming system. However, discrepancies between the desktop and laptop labeling schemes could also fool them.