Street Fighter 6 tournament livestream host accidentally left his Chun-Li "nude mod" on during a match
Flesh-colored catsuit? Me-ow!
By Cal Jeffrey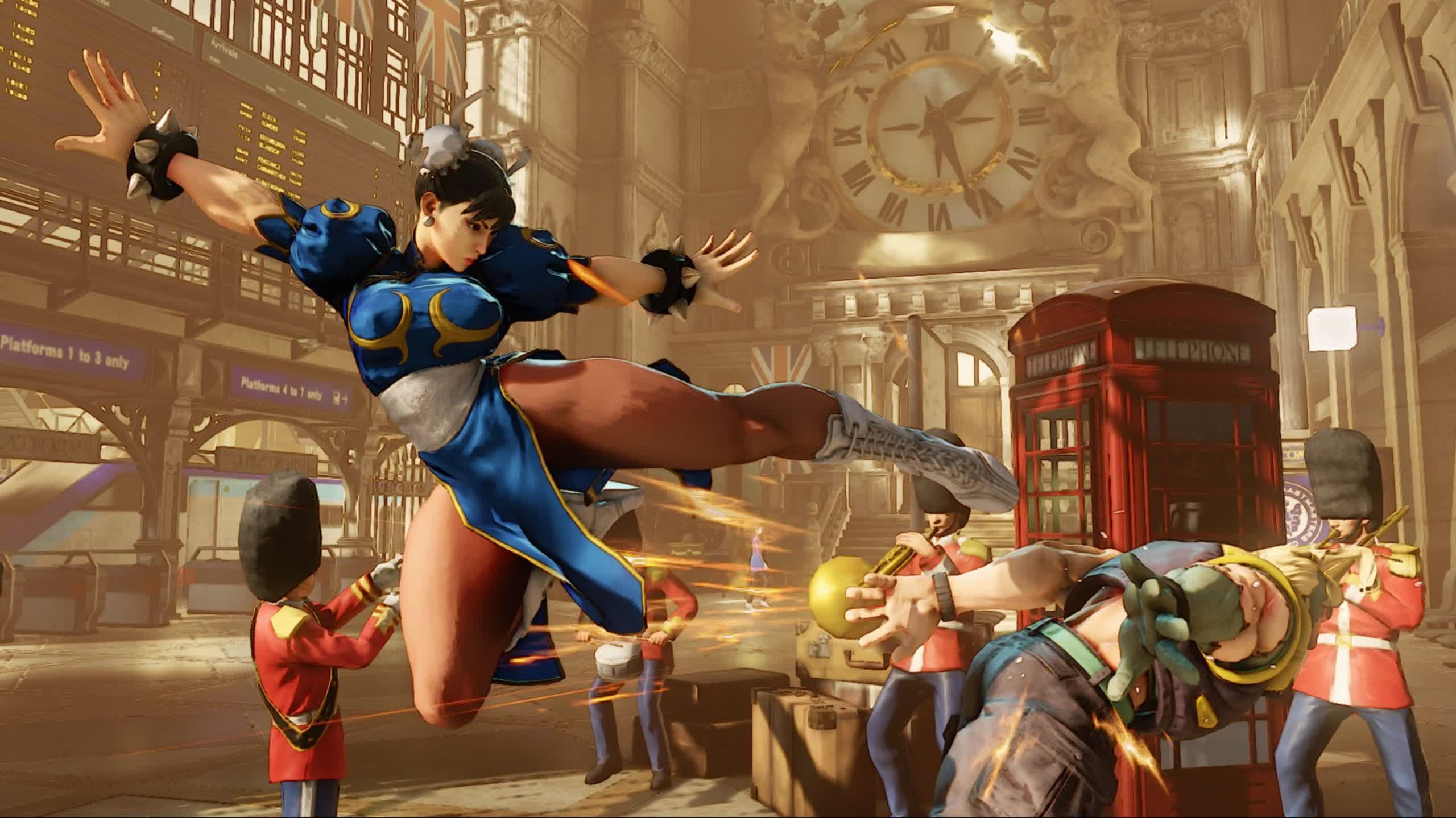 TechSpot is celebrating its 25th anniversary. TechSpot means tech analysis and advice
you can trust
.
Facepalm: Live television has been a great source of bloopers for decades. It only takes one mistake to send the planned banter off the rails. So producers, actors, hosts, and everyone involved in a live production must be ready for the occasional mishap. With the rise of live streaming, this has never been more true.
On Tuesday, the Twitch channel Corner2Corner apologized for a major faux pas during a recent Street Fighter tournament it hosted. According to Corner2Corner, the host announcing one of the matches inadvertently left a "graphical mod" on, leaving Chun-Li naked for several seconds.
"Corner2Corner wish to address a recent mistake made on stream in which a graphical mod was accidentally left on for a few seconds in our recent tournament," the C2C tweeted. "We hugely regret that this happened."
The Twitter thread goes on to apologize for the error and clarify that the host's computer had the mod turned on (no pun intended) and that it was not the fault of the match participant. The team said the mod is now disabled and that nothing like this will ever happen again.
We hugely regret that this happened, Corner2Corner is a project run for no profit, everyone working free week in week out to support the FGC. Any negativity towards any players as a result of this genuine mistake is unacceptable and that is why we are making this statement.

– Corner2Corner (@corner2_corner) August 1, 2023
Since the broadcast was live, there was no way to edit or censor the blunder. Of course, as with everything on the internet, the mistake was almost immediately tweeted out for anyone not watching the tournament to see.
Fortunately, for nude mods, this one was not really that revealing. It looked more like Chun-Li was wearing a flesh-tone body suit. No nipples or genitalia were visible on the model. If seeing a computer character without clothing textures does not offend you, accept the Twitter warning and see for yourself (below).
If anything, the incident was more funny than it was offensive. The match starts after a transition from the bracket screen. Even though it was immediately apparent that the Chun-Li model was nude, the announcers didn't seem to notice at first.
Eventually, one of them sees the naked fighter, chuckles, and says, "Ummm. Yeah, that's a very interesting Chun-Li costume there."
Street Fighter tournament host forgets to turn off his nude mod... pic.twitter.com/87Hz0TP7Vz

– �*��-��-��-��-"�-'�-��-� �*��-��*��--�-��-" (@nicholasdeorio) July 31, 2023
Both announcers timidly laughed to mask their embarrassment as they cut back to the bracket board. They then briefly paused to remove the mod and had the players restart the match.
The subsequent apology was obligatory, but that's live television for you. "Accidental" mishaps have occurred on numerous occasions since the inception of live broadcasting. Arguably the most famous was Janet Jackson's Super Bowl XXXVIII "wardrobe malfunction."
Sports announcers, in particular, frequently have to think fast to cover up or apologize for something that the cameraman just happened to catch on-screen. While I could not find the video, I recall watching a San Francisco Giants game in the 90s where the pitcher struck out Barry Bonds. The cameraman thinking he could get a good shot of Bond's disgust, zoomed in tight on his face as he walked off to the dugout and clearly said, "mother f***er."
Without missing a beat, the broadcast announcer interjected, "There's Barry Bonds saying, 'Where'd that pitch come from?'"