TechSpot is celebrating its 25th anniversary. TechSpot means tech analysis and advice
you can trust
.
When you buy through our links, we may earn a commission.
Learn more
.
Enter the "Sandy Bridge" 32nm architecture, which marks the introduction of the 2nd generation Intel Core processors. Sandy Bridge is designed to be a two-chip platform consisting of a processor and Platform Controller Hub (PCH). It incorporates an Integrated Display Engine, Processor Graphics, and Integrated Memory Controller. However with Sandy Bridge we are not just getting new processors, but an entirely new platform that will be backed up by new chipsets (P67, H67, H61) using the new LGA1155 socket.
After numerous rumors and even formal announcements throughout 2010, we all knew Intel was launching their next-gen CPUs in time for CES 2011, meaning it was slated to happen the first week of the New Year. But before we delve deeper into Sandy Bridge details and performance, let's step back to 2006, the year in which Intel transitioned from the Pentium branding for its flagship desktop CPUs and turned to the "Core" processors.
The Core series started with the Core 2 Duo which was manufactured using a 65nm process. The Core 2 Duo E6700 laid waste to all that came before it, making high-end Pentium 4 and Pentium D processors look pokey, while the Athlon 64 range that at the time was topping Intel's best offerings was also left well behind. In fact, it took several years for AMD to recover and show us something really worthy of contention, the Phenom II X4 range didn't debut until early 2009.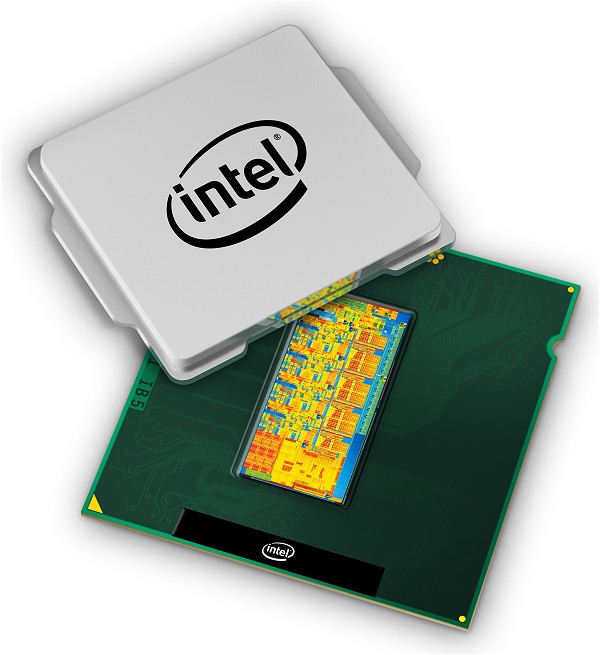 The launch of the Core architecture set the pace for the years to come with a nearly impeccable execution on Intel's side and its "tick-tock" strategy. By the time AMD was able to hold its number against Core 2 Duo processors, Intel was ready to unleash the Core 2 Quad family. Some of the early models in this range were on the expensive side, which had AMD targeting the budget and mainstream sectors to attract consumers.
Later on came Nehalem, the predecessor to today's Sandy Bridge. The first "Bloomfield" 45nm processors from the infamous Core i7 series made light work of the Phenom II X4, but with prices starting at $284 per chip, the more affordable AMD quad-core processors still provided a viable alternative.
Needless to say that AMD has been traveling through rough seas for the past few years and unfortunately for them things were about to get a whole lot tougher. On late 2009, the Core i5 series made its debut with a single model known as the 750, which quickly became the #1 mainstream choice. At just $200 it provided Core i7-like performance but on a more affordable platform. At this price there was no Phenom II X4 model that could touch it and as a result all AMD CPUs were forced to sell below that threshold making them an incredibly good value. The current Phenom II X4 flagship, the 970 Black Edition costs just $185.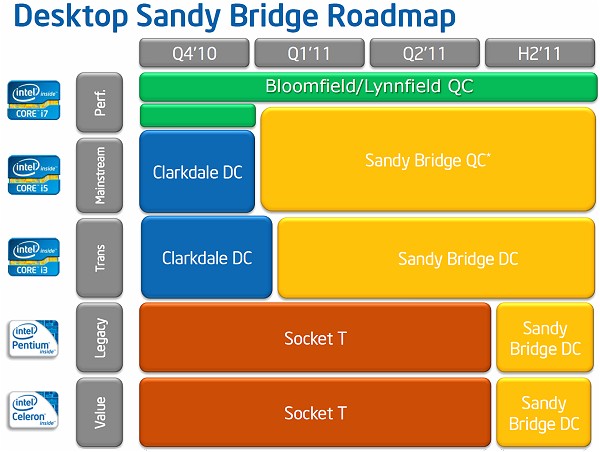 Currently competing against this AMD range as well as its smaller and budget-minded X3 and X2 siblings are the Intel "Clarkdale" 32nm CPUs, better known as the Core i5 6xx and Core i3 5xx series. These relatively new processors boasted a few new features, most notable of which was the die shrink and the integrated HD Graphics engine.
Which brings us to today. The debut of Sandy Bridge will result in the replacement of almost the entire Intel desktop CPU lineup and an important segment of their mobile line as well.
All in all, 14 new desktop CPUs are being launched today spanning the Core i7, i5 and i3 series, in addition to 15 mobile processors and several more supporting chipsets. Although we will focus on the desktop side of things on this review, there's still a lot to cover. Before jumping into performance benchmarks we will detail the inner workings of the Sandy Bridge architecture and how it differs to its predecessors. We are also putting special emphasis on the improved integrated graphics logic, Turbo Boost and the new 6 series chipsets. Read on!