TechSpot is celebrating its 25th anniversary. TechSpot means tech analysis and advice
you can trust
.
When you buy through our links, we may earn a commission.
Learn more
.
It's been four years since Cooler Master unveiled its "CM Storm" sub-brand, which is now home to a strong lineup of enthusiast-oriented products including keyboards, mice, mouse pads, headsets and, of course, cases. Currently, the CM Storm chassis family includes the Sniper, Scout, Stryker, Enforcer and Trooper – the last two of which we've found to be a tremendous value, especially the $80 Enforcer.
Updating one of its existing designs, Cooler Master recently launched yet another enthusiast-friendly CM Storm chassis, the Scout 2, which is priced at just $90 – slightly less than the venerable HAF 922. Despite its relatively low price, the Scout 2 has plenty to offer, including ergonomic steel-reinforced carrying handles, USB 3.0 support and room for up to two SSDs, nine fans and any graphics card around.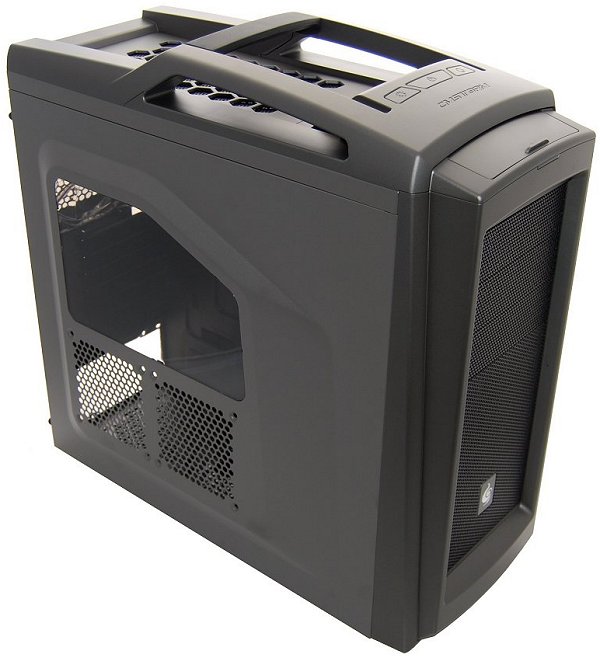 Although we reviewed several Cooler Master enclosures in 2012, it's been a year since we laid hands on a new CM Storm-branded case. Even so, that was the CM Storm Trooper, which is a full tower chassis that runs about twice the price of the mid-tower Scout 2 we'll be looking at today, so it'll be interesting to see how Cooler Master's latest offering holds up in the increasingly competitive sub-$100 territory.
External Design
Cooler Master is shipping two $90 versions of the CM Storm Scout 2: a standard black one and another that's gunmetal grey – we have the latter in house. The case is constructed from a combination of steel, plastic and mesh, and features an interior paint job along with a case window to enjoy it.
We're not sure how to describe the Scout 2's design. It's clean yet aggressive, much like other CM Storm cases we've reviewed. We can also say that despite using different materials, it all comes together in a cohesive design, which is something Cooler Master has been good about doing in the past.
Cooler Master has managed to blend the steel and plastic together as car manufacturers do, so that you can't really tell what's what. Compared to the original Scout, Cooler Master says the Scout 2 follows a more "round futuristic theme" and we agree with that perspective for the most part.
It's worth noting that we didn't really care for the looks of the original Scout, possibly because it seemed cheap – and to be fair, at $80, it was pretty cheap in the grand scheme of enthusiast chassis. Thankfully, its predecessor looks more lavish than its $90 price tag would have you believe.
Being a mid-tower, the Scout 2 measures 9.1" wide, 20.2" tall and 20.5" long (230 x 513 x 517.5mm), making it slightly bigger than the original, yet it's a bit lighter at a manageable 18.3lb (8.3kg). We're not sure how Cooler Master pulled that off, but the case still feels plenty sturdy, so no worries there.
From the front perspective, the Scout 2's façade is unique. It hints at the original design, though in our opinion, it's greatly improved. Whereas the original looked rather boxy with an exposed I/O panel at the top, the Scout 2 has a curvier, cleaner appearance that seems to have required more thought.

The I/O panel is on top of the case again, but this time it's covered by a door that can be slid backward to expose four USB ports (two USB 3.0) and a pair of audio jacks. Notably missing is eSATA, which was present on the original, while the power, reset and LED buttons have been molded into the top of the case behind the I/O panel and the power light is just below the I/O panel on the front of the case.

Looking at the top of the Scout 2 also reveals a well-integrated handle system that features reinforced steel with a rubber coating for easy transportation of rigs weighing up to 66.1lbs (30kg).

Under the center handle is a large dual honeycomb grill (a grill with large holes on top of a grill with small holes) and it makes for a cool visual effect. The dual honeycomb grill is removable and doing so will let you install a pair of top-mounted 120mm fans.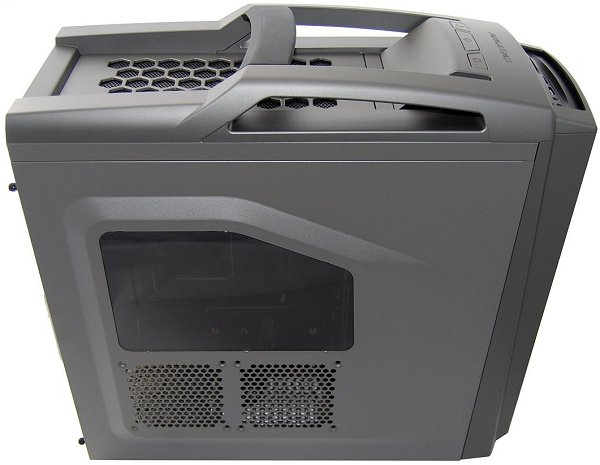 The left door has soft curves used to create a large raised section with a tinted case window and room for a pair of 120mm fans, which would sit behind two honeycomb grills. The opposite side door is virtually identical with the obvious exception of the window and fan grills.
Around back, we find that the power supply is to be mounted in the bottom. There is a 7 + 1 expansion card configuration and we like that Cooler Master has provided that extra slot for I/O expansion brackets.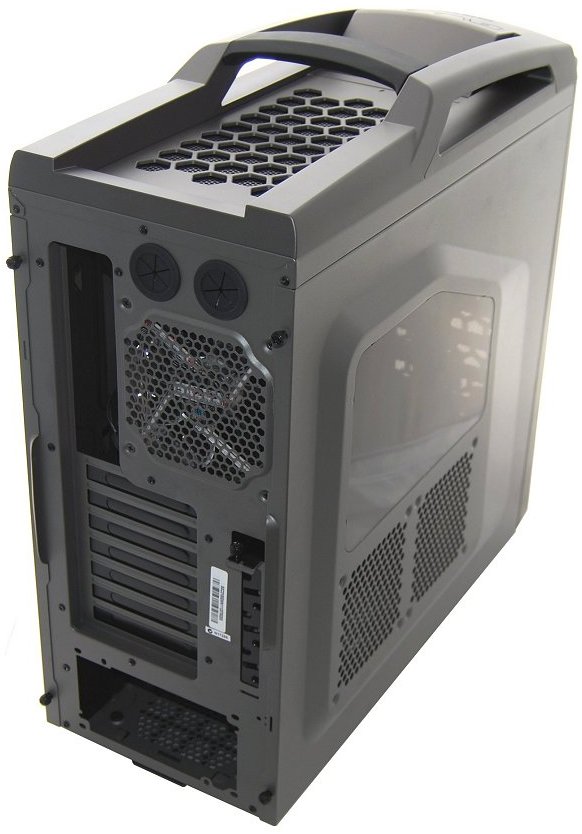 Above the expansion slots is another 120mm fan grill and this one comes with a pre-installed 120mm exhaust fan. Up higher are two one-inch water-cooling holes with rubber grommets.


Throwing the Scout 2 on its side reveals four fairly standard case feet along with a pair of 120mm fan grills. Although it is possible to install dual 120mm fans here, as the necessary mounting holes are provided, gamers will only ever install a fan in the center as the grill to the left is designed as an intake for the power supply.