TechSpot is celebrating its 25th anniversary. TechSpot means tech analysis and advice
you can trust
.
When you buy through our links, we may earn a commission.
Learn more
.
Synthetic Benchmarks
Using Cinebench R11.5 to measure single and multi-threaded performance produced some interesting results. Despite being quad-core parts, the Athlon 5350, 5150 and Sempron 3850 all scored below Intel's desktop dual-core Celeron G1820 and G3220 parts because the single thread performance of those Intel CPUs was considerably greater. In fact, in this test the Celeron G1820 was almost as fast using one core as the Sempron 3850 was using all four.
That being said, the Celeron J1900 didn't fair too well at all and was even out scored by the A4-4000.
Futuremark's 3DMark Cloud Gate benchmark measures GPU and CPU performance by combining graphics and physics performance. The Core i3-4130 came out on top with a score of 6401pts while the A8-7600 came in second with 4943pts. Beyond that, the scores decline rapidly. The A4-4000 was matched by the Athlon 5350 which scored 2581pts, while the Celeron J1900 managed just 1501pts – slower than the Sempron 3850.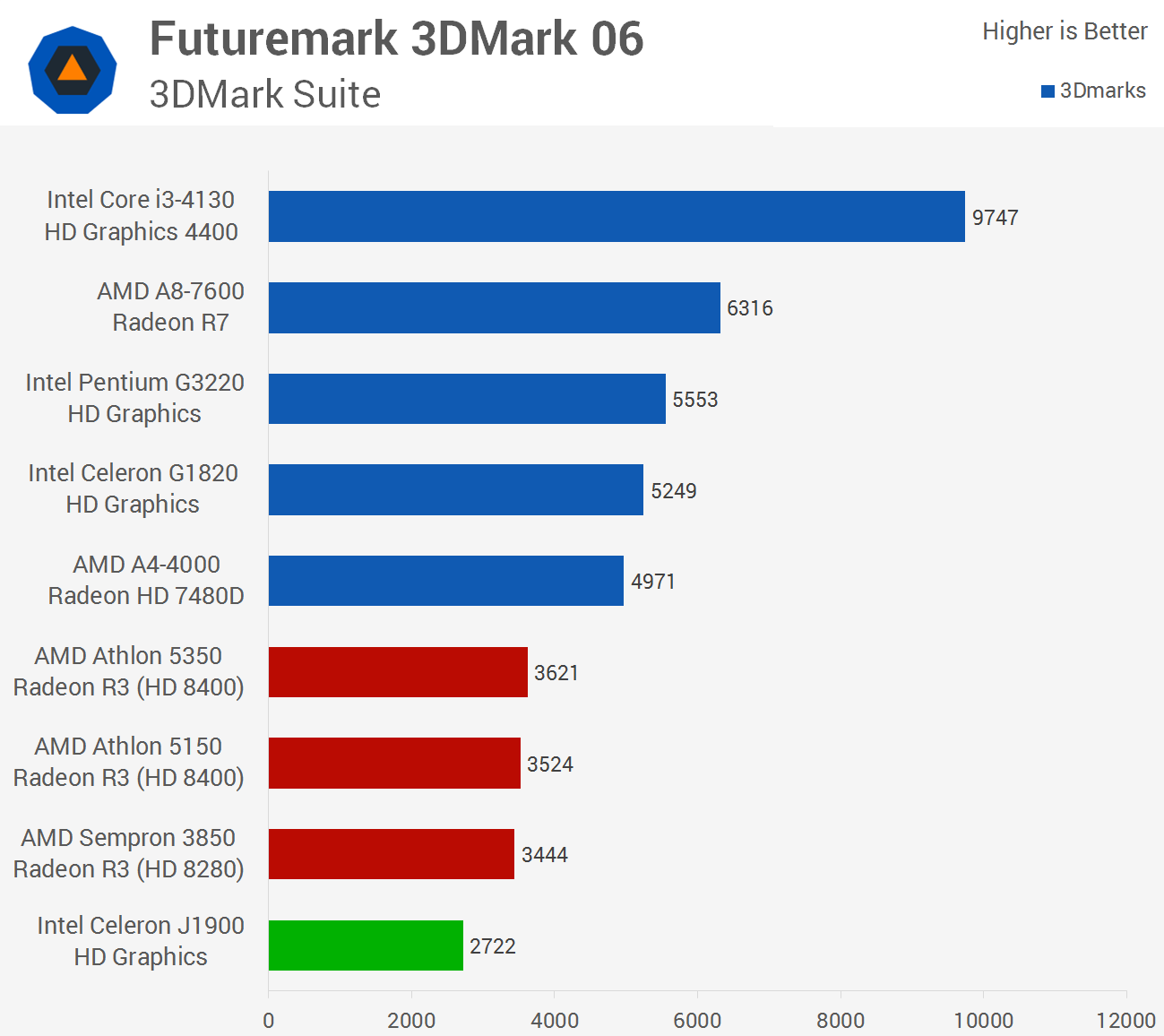 The older 3DMark 06 benchmark provides similar performance trends to what were seen in the latest 3DMark. The Celeron J1900 provided the weakest performance with a score of just 2722pts, while the AM1 processors scored between 3400 and 3600pts. This meant that the Athlon 5350 was much slower than the A4-4000 which scored 4971pts to just fall short of the Celeron G1820.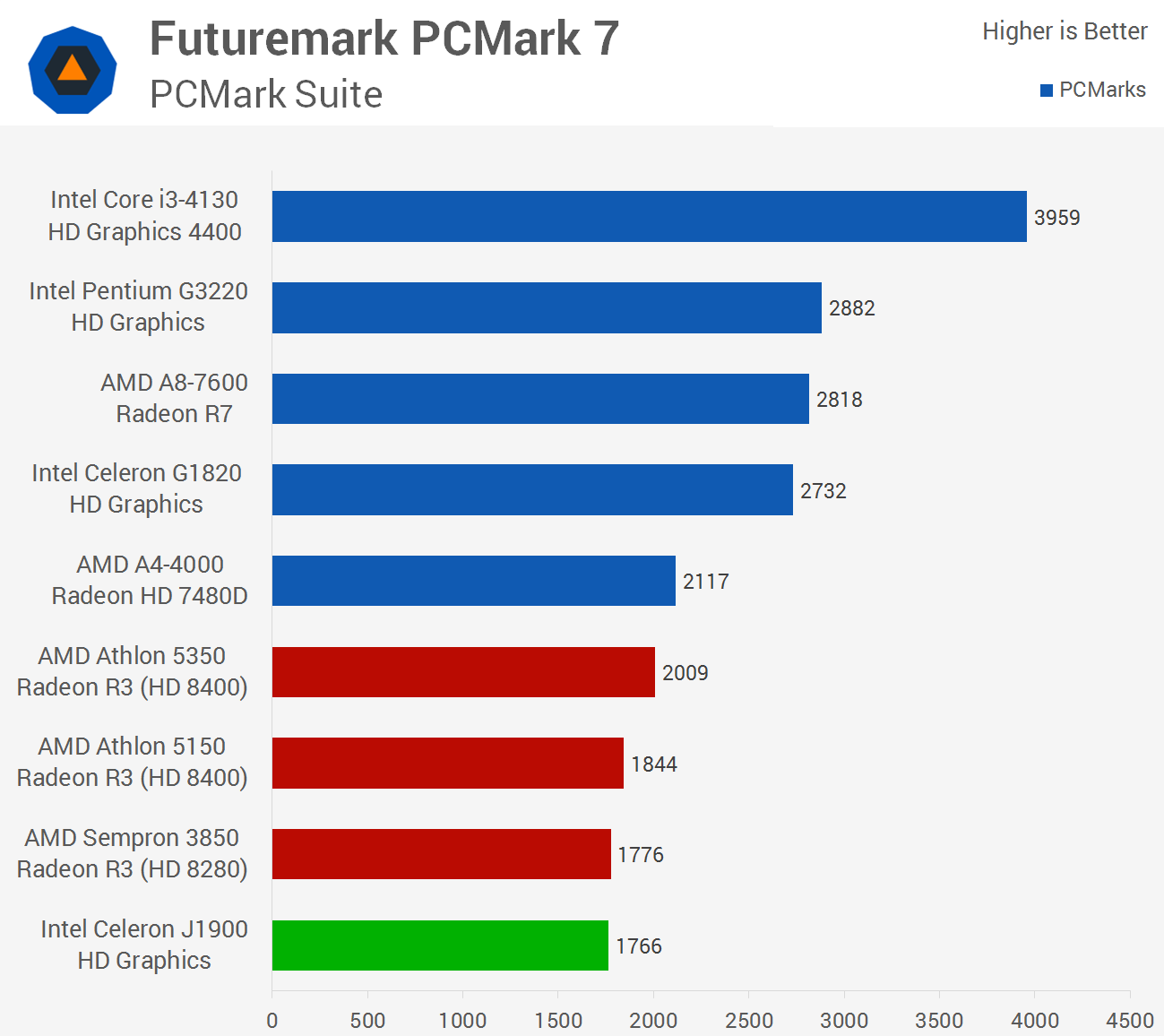 The 3DMark benchmarks showed us that when GPU and GPU performance is measured the Celeron J1900 loses to the AM1 APUs. Now we have PCMark 7 and here we see that the Celeron J1900 and Sempron 3850 are quite evenly matched. It's worth noting that they are both around 35% slower than the Celeron G1820.
The PCMark 8 home suite has some interesting results for us as the Athlon 5350 scored an impressive 2905pts, only slightly slower than the Core i3-4130 and A8-7600. Meanwhile, the Athlon 5150 matched the Pentium G3220. The Celeron J1900 didn't fair too well with a score of 1366pts, making it a little over 30% slower than the Sempron 3850.
The Celeron J1900 performed much better in the PCMark 8 work suite with a score of 2276pts and although this made it the slowest processor tested, it was less than 100pts slower than the Sempron 3850. This time the Athlon 5350 fell well short of the A8-7600 and Core i3-4130 processors with a score of just 2778pts.
The Celeron J1900 made a slight comeback in the PCMark 8 office application suite scoring 997pts, making it slightly faster than the Athlon 5150 and Sempron 3850, though it was 128pts slower than the Athlon 5350. Speaking of, the Athlon 5350 was slightly slower than the A4-4000 and 216pts slower than the Celeron G1820.