Best Android Smartphone Battery Life
500+ Hours of Testing
By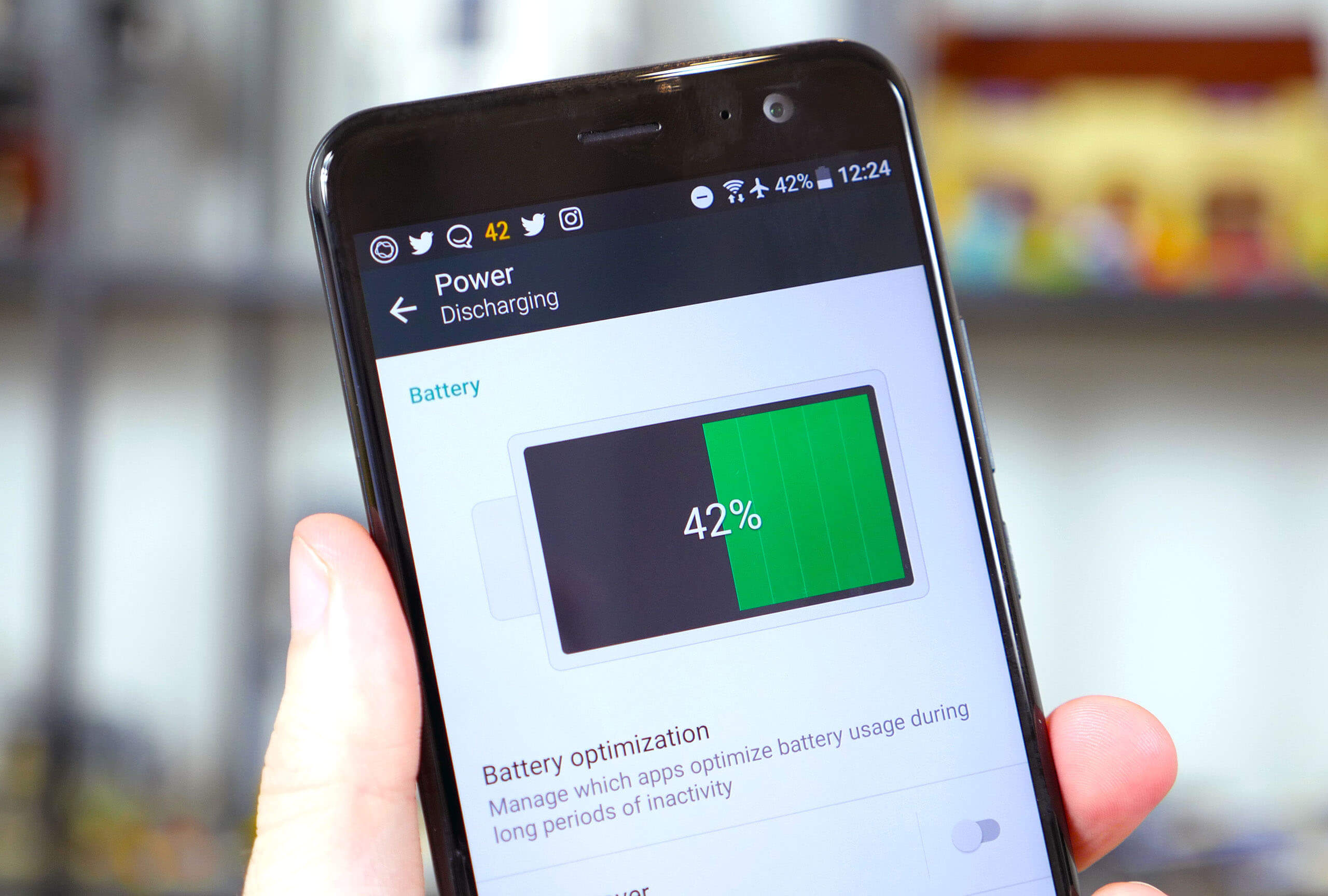 TechSpot is celebrating its 25th anniversary. TechSpot means tech analysis and advice
you can trust
.
When you buy through our links, we may earn a commission.
Learn more
.
Battery life is one of the key features that most consumers want to see upgraded in their new phone, even ahead of slimmer designs and faster processors. Ironically, having the longest battery life doesn't really sell more phones, while other more visible features certainly do. To be fair, from the dozens of phones we've tested in the past couple of years, very few have had terrible battery performance. But what's great and what's not in today's market?
For this article, we'll be looking at over 500 hours of battery life testing across 12 tests, to ensure we have the best possible picture of how current generation phones perform. On the test bench today is basically every high-end Android phone we've reviewed in the last 12+ months. We haven't been able to test every single phone on the market, but we are covering all the big guns, including the Samsung Galaxy S8+, LG G6, HTC U11, Huawei P10, OnePlus 5, Google Pixel XL and more. Every phone we are testing is currently available to purchase, with prices ranging from $400 upwards.
Along with camera quality, one of the most important aspects to any smartphone is its battery life
It's worth mentioning that every phone has been tested in the same way, under the same conditions. There's no subjectivity or usage opinions here; we ran every phone through repeatable tests, collected the numbers, and put them into easy-to-read charts for your viewing pleasure.
| | | |
| --- | --- | --- |
| Phone | Battery Capacity | Display Size |
| Google Pixel XL | 3,450 mAh | 5.5-inch |
| HTC U Ultra | 3,000 mAh | 5.7-inch |
| HTC U11 | 3,000 mAh | 5.5-inch |
| Huawei P10 | 3,200 mAh | 5.1-inch |
| Huawei Mate 9 | 4,000 mAh | 5.9-inch |
| LG G6 | 3,300 mAh | 5.7-inch (18:9) |
| Motorola Moto Z2 Play | 3,000 mAh | 5.5-inch |
| OnePlus 5 | 3,300 mAh | 5.5-inch |
| Samsung Galaxy S8+ (Exynos) | 3,500 mAh | 6.2-inch (18.5:9) |
| Xiaomi Mi 6 | 3,350 mAh | 5.15-inch |
Let's get on with the benchmarks!
We have two web browsing tests that we have performed on Wi-Fi, the results above belong to the more intensive of the two.
There seems to be a performance floor of around five hours, where phones like the OnePlus 5 and LG G6 sit. Like most tests, this one does favor large batteries and smaller displays, which is why the Xiaomi Mi 6 performs very well.
Larger phones - those with 5.5-inch or larger displays - that don't opt for larger-than-average batteries tend to perform down the bottom. The end result is opting for something like the Xiaomi Mi 6 over the OnePlus 5 could give you 85% more battery life.
Our second Wi-Fi browsing test is less intensive and more closely reflects "real-world" web browsing scenarios. There is a bit of a shuffle at the top end, with the Mate 9 taking the lead over the Mi 6, however devices like the LG G6 and HTC U11 still fall at the bottom. The median result on this test is around eight hours, so phones like the G6 don't hold up well.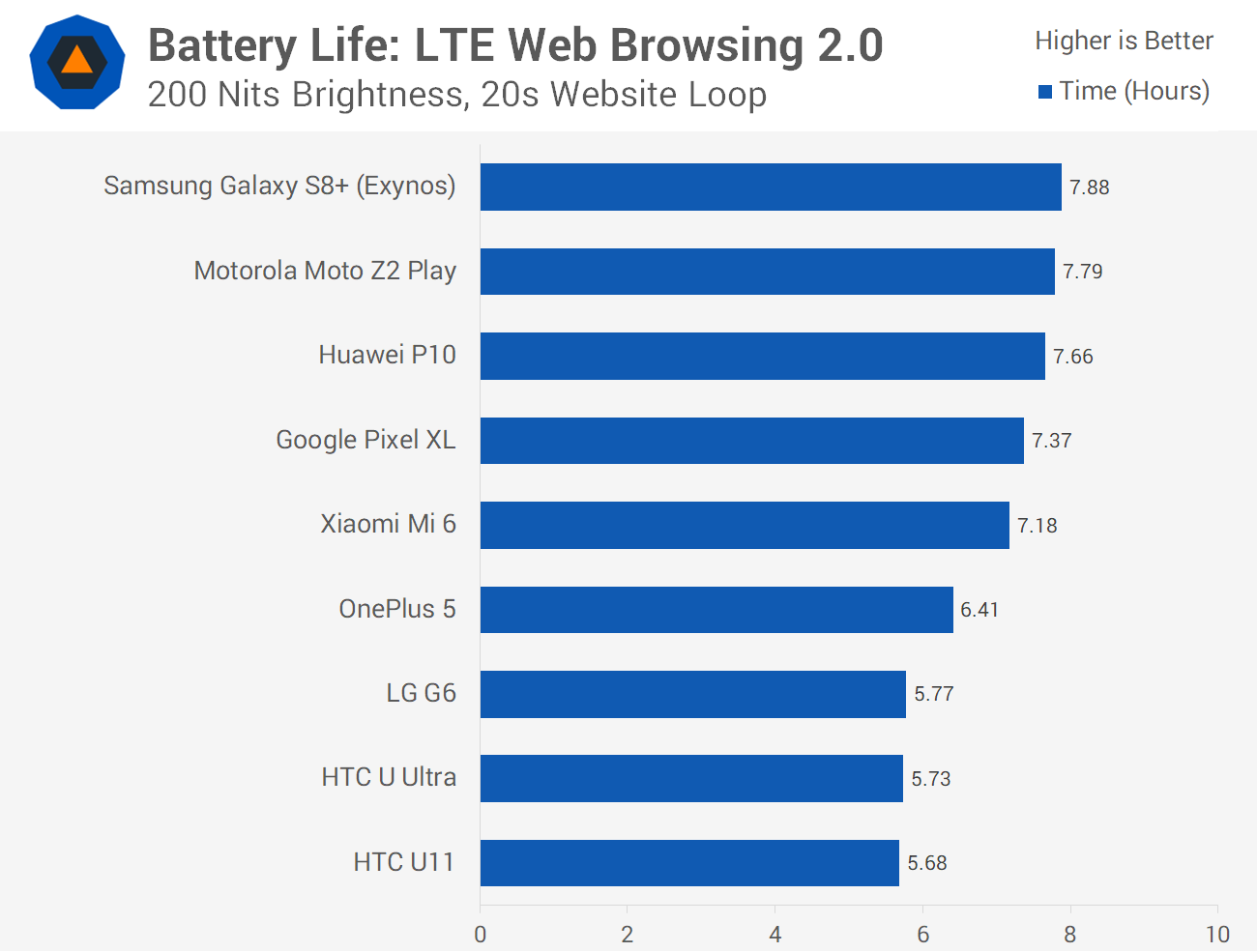 Switching from Wi-Fi to 4G LTE in the same test negatively impacts the battery life of every single phone in our testing group, except for the Huawei P10, which remains on-par with its Wi-Fi result. The general order of phone's performance is similar though.
On average, battery life is reduced by 16% when switching from Wi-Fi to LTE. If you thought you were saving battery by disabling Wi-Fi for transferring data, think again.
On average, battery life is reduced by 16% when switching from Wi-Fi to LTE
The Exynos Galaxy S8+ dropped the most, at 27%, while Snapdragon flagships tended to fall consistently in the 19 to 24 percent decrease range. This supports most reports that suggest the integrated modem in Snapdragon SoCs is more efficient than their Exynos counterpart, though only marginally.
The last browser test we performed is Basemark Web 3.0, which is a processor-intensive workload that pushes phones to their limits, both on the CPU and GPU fronts. The Moto Z2 Play succeeds here because it doesn't have a top end SoC, despite costing $500; the Snapdragon 626 instead uses its lower performance and therefore lower power consumption to its advantage, more than doubling the battery life of some other phones.
Here you can appreciate the efficiency advantage of Qualcomm's high-end Snapdragon SoCs relative to its Exynos and Kirin competition. The Galaxy S8+, for example, has a 3,500 mAh battery but is beaten by the roughly 3,300 mAh batteries in the LG G6 and Xiaomi Mi 6.
The Huawei Mate 9, despite having a 4,000 mAh battery, gets crushed.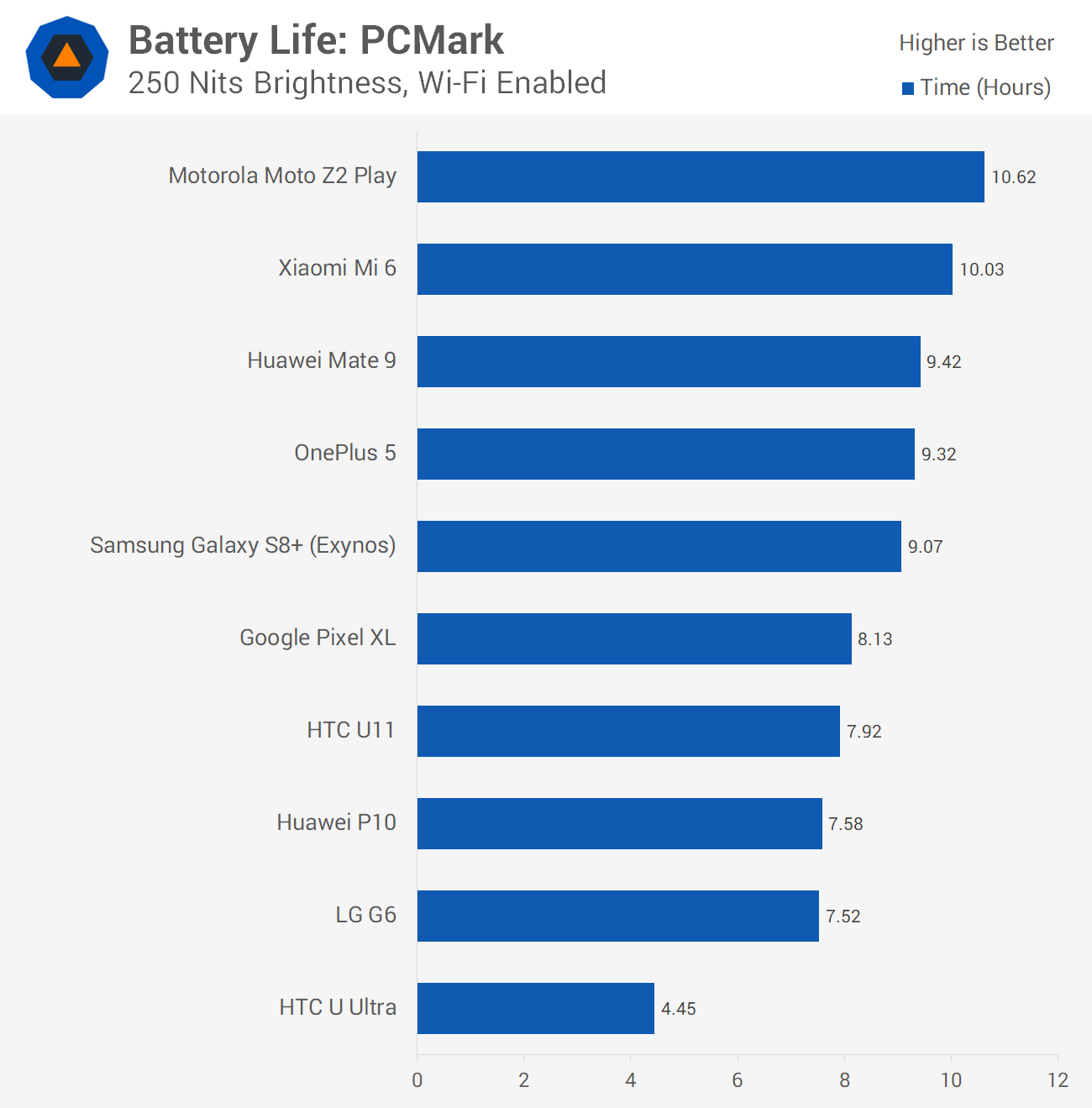 PCMark is one of my favorite tests because it represents a wide variety of typical smartphone tasks. Phones that score well in this battery test tend to have the best "real world" battery life throughout a day of typical use.
Once again we see a strong result from the 5.15-inch Xiaomi Mi 6, and weaker results from better known flagships like the LG G6 and HTC U11. The Galaxy S8+ sits in the middle of the pack with a respectable result.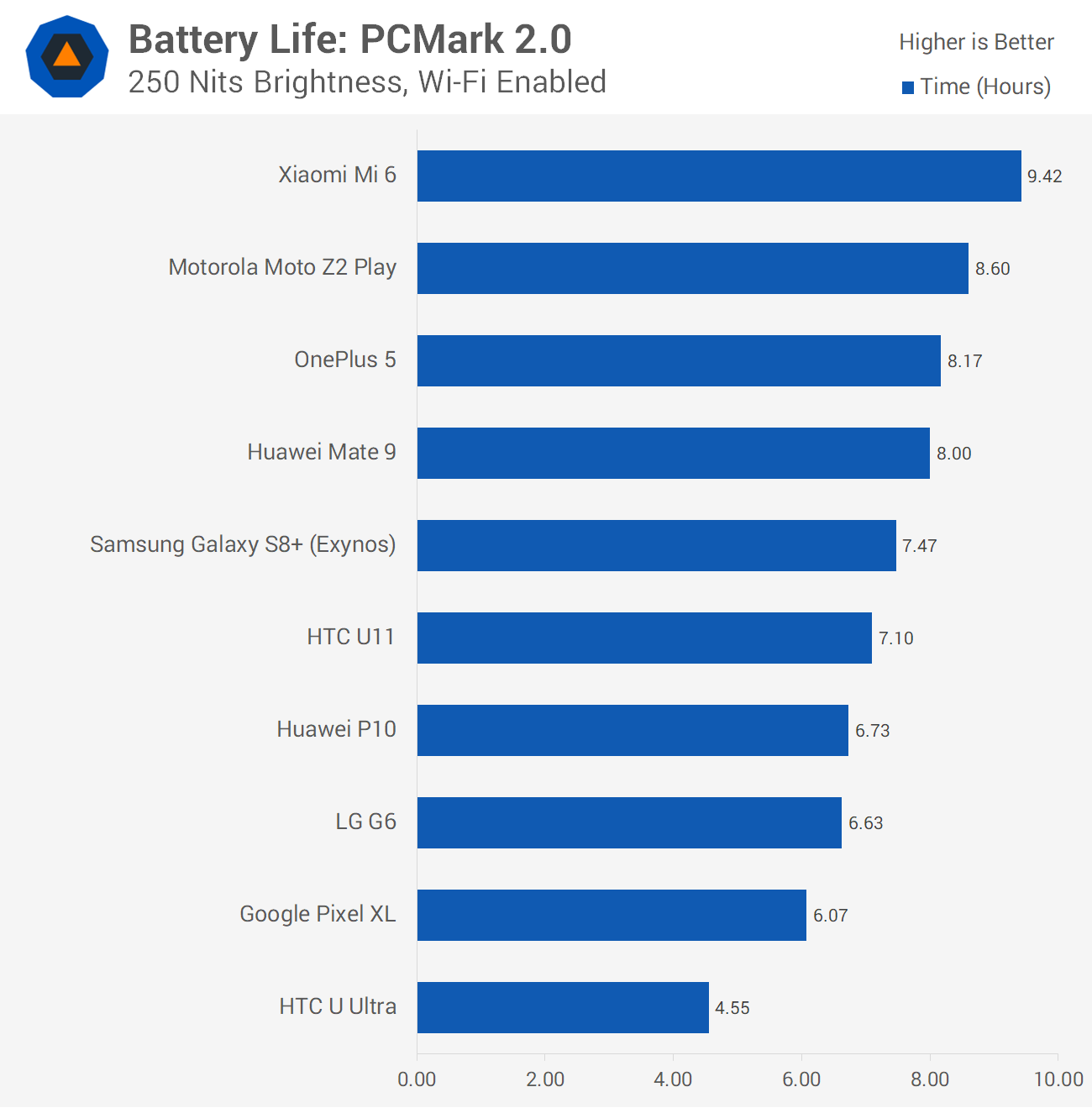 There's another PCMark battery test available, which uses the newer and more intensive Work 2.0 workload. The general order of phones remains very similar, although the Pixel XL slips down a few places.
How long can you game on these flagship phones? GFXBench will give us a good idea, starting with the older and less intensive T-Rex test. Results here are varied, with some odd outliers like the OnePlus 5 significantly outperforming other handsets.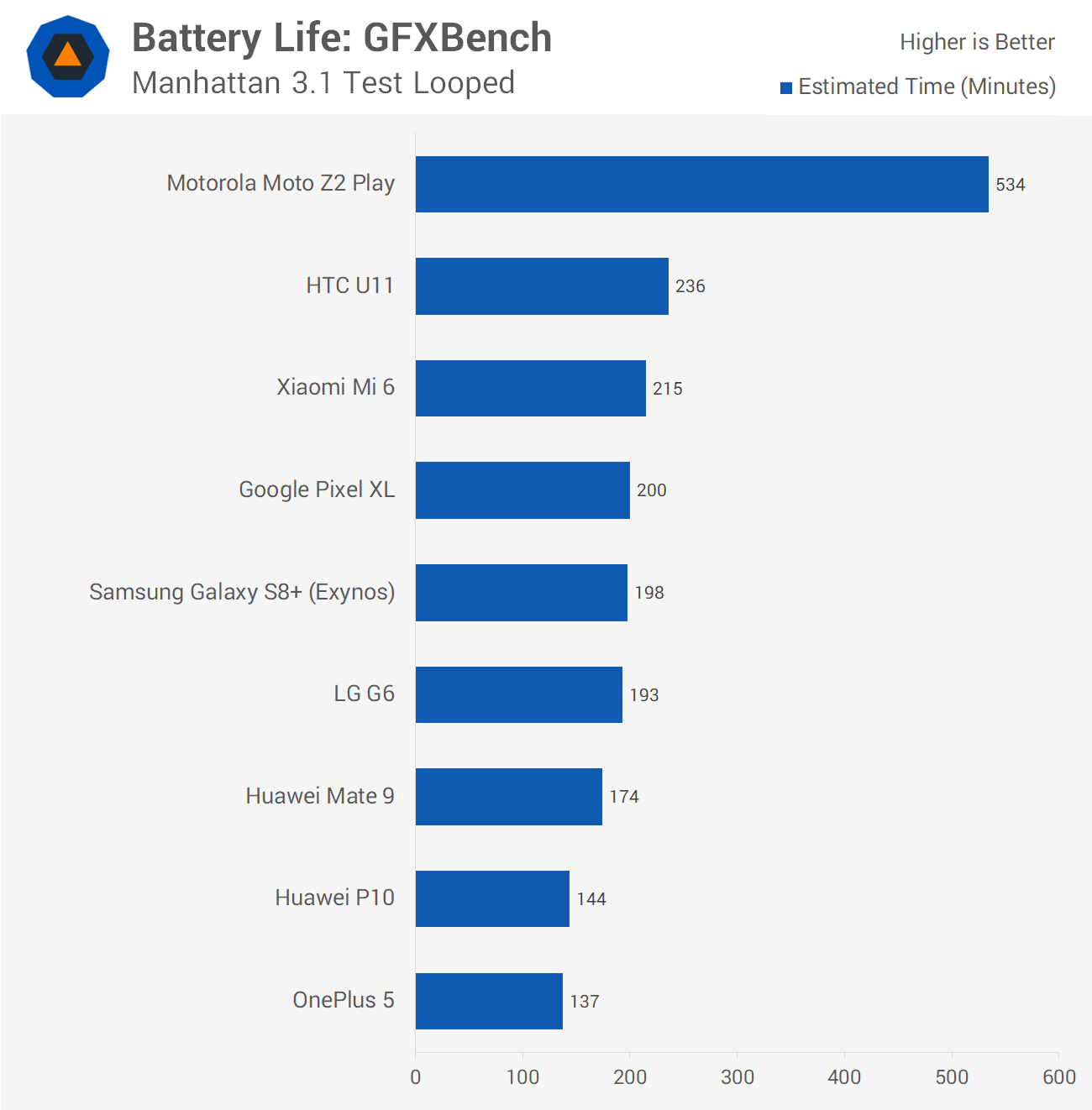 GFXBench Manhattan 3.1 is a much, much more intensive test that sucks up battery life and throttles SoCs like nothing else. Interestingly, there is not necessarily strong correlation between a greater level of throttling and longer battery life. The U11 lasts the longest of the Snapdragon 800-series flagships, however the Xiaomi Mi 6 throttles more and the LG G6 throttles around the same amount.
There are two notable results here: the Exynos-powered Galaxy S8+ and Huawei P10 both throttle significantly, but neither can match the HTC U11 or Xiaomi Mi 6.
The Huawei P10 in particular throttles by nearly 50 percent yet it falls almost at the bottom of the chart. Clearly the GPU in the Kirin 960 is not efficient.