Posts: 9,340 +119
Staff member
What just happened? Do foldables represent the future of phones? Google, the maker of one of these devices, knows that they will start to see more widespread adoption among consumers (at least once the prices come down), and is revamping the Play Store to reflect this.

After talking about making changes to the Play Store for large-screen devices at Google I/O last year, the company is now introducing four major updates to help users find high-quality apps for their foldables, tablets, and Chromebooks on the digital storefront.
The first change is a revamp of the store listing page. Games with high-quality videos will show a video banner at the top of their page. Google has also reorganized apps and games details pages into a column layout, bringing more content higher up.
Not all apps work seamlessly with large-screen devices. To promote those that do, such as apps that resize well across displays, aren't letterboxed, and support both landscape and portrait orientations, Google is ranking them higher in search. The company says Editors' Choice and other curated collections and articles will consider these criteria going forward, which should incentivize developers to make their apps more large-screen-friendly.
Furthermore, Google will also show a warning on an app's details page if it is likely to crash often or not work on phones or other Android devices with large screens.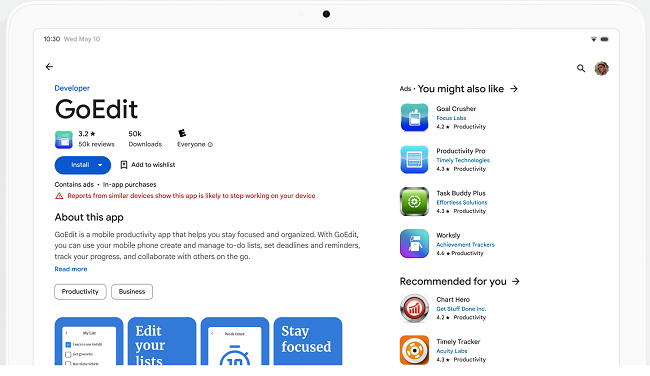 Another major change involves moving to a left-side navigation rail on larger screens, meaning users can easily access menu items with their thumb while in landscape mode.
The final change is split-screen search. This displays search results and app details pages side by side, meaning users don't have to keep switching back and forth while searching for apps.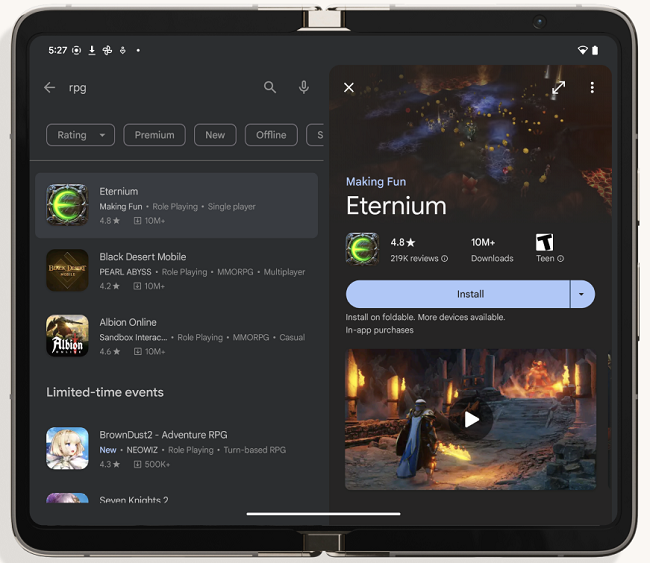 The changes to the Google Store will be rolling out over the coming weeks, which means that they should be in place in time for the Galaxy Z Fold 5's arrival. Samsung unveiled its latest foldable earlier today, and you can watch the whole thing right here.
https://www.techspot.com/news/99550-google-changing-play-store-foldable-phones-large-screen.html