Posts: 9,359 +119
Staff member
What just happened? Intel's Raptor Lake Refresh processors are set to arrive next month, which means the number of leaks is increasing. The latest of these involves the Core i7-14700KF, which has been spotted on Geekbench 6 reaching an impressive clock speed of almost 6 GHz.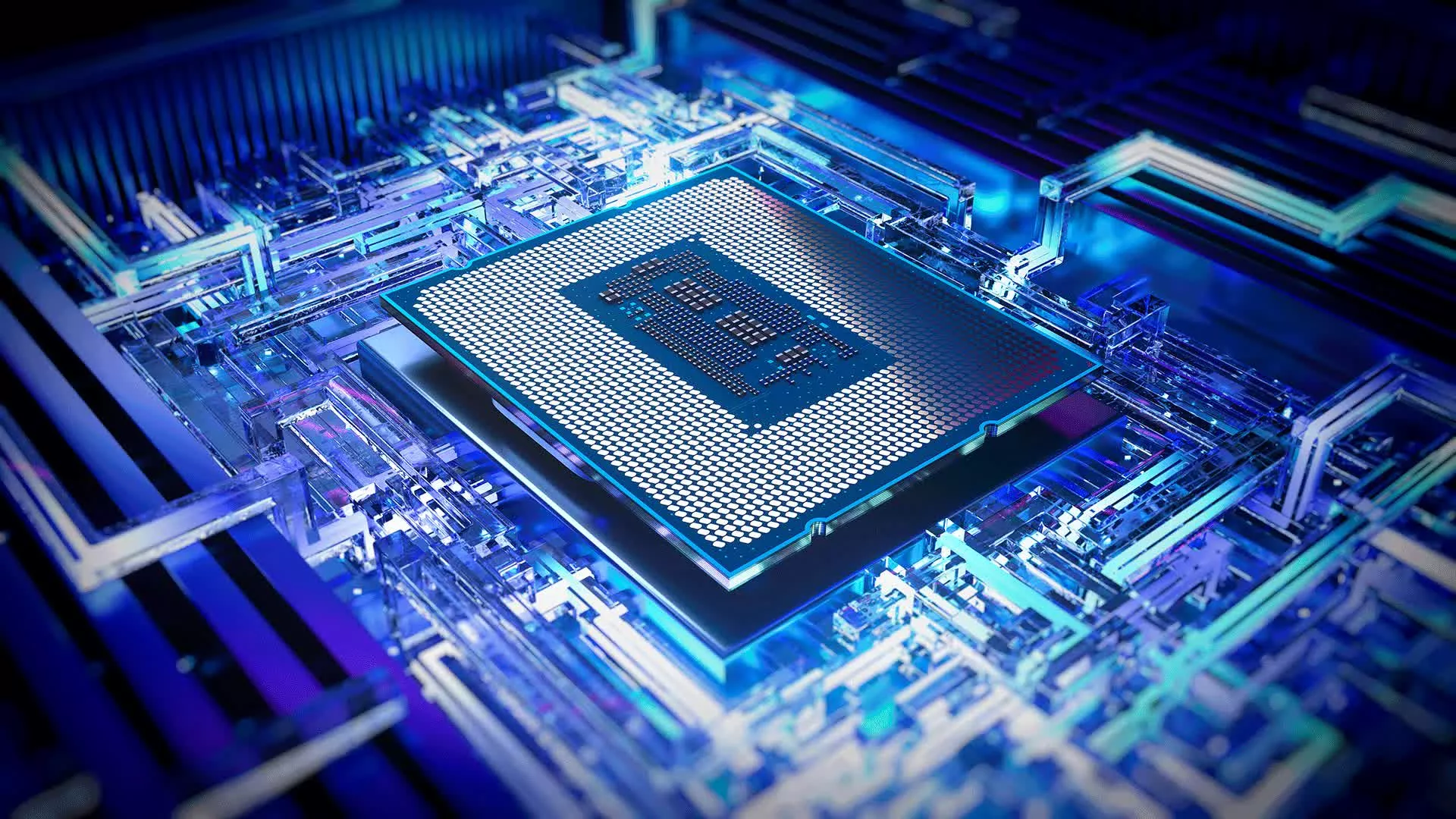 Benchleaks posted the Geekbench 6 results for the Core i7-14700KF on X/Twitter, confirming its 8 Performance-core and12 Efficient-core setup (28 threads).
[GB6 CPU] Unknown CPU
CPU: Intel Core i7-14700KF (20C 28T)
Min/Max/Avg: 5467/5985/5902 MHz
Codename: Raptor Lake
CPUID: B0671 (GenuineIntel)
Single: 3097
Multi: 21196https://t.co/BP5xRy767Q

– Benchleaks (@BenchLeaks) September 27, 2023
The chip was tested on a Gigabyte Z790 AORUS Master X, which is one of the Z790 series motherboards to have been refreshed for the 14th-gen Intel processors. They include the likes of enhanced DDR5 frequency support, better M.2 mounting, and improved VRM cooling. The test mobo also packed 48 GB of DDR5 memory (24 GB x 2)
In its Geekbench 6 benchmark, the Core i7-14700KF scored 3,092 points in the single-core test and 21,713 points in multi-core. That makes it 9% quicker than its Core i7-13700K predecessor in single-core performance and 18% quicker in the multi-core benchmark. The results don't show the temperatures or power consumption levels of the Core i7-14700KF, though.
The most interesting part of the results is the CPU's clock speed. It shows a maximum frequency of 5.985 GHz, virtually the same boost clocks as the Core i9-14900K, which suggests it's been overclocked manually or via the BIOS settings. We already know that motherboard makers are introducing BIOS tuning features for Raptor Lake Refresh that can push the chips over 6 GHz, so the Core i9-14900K should be able to hit well above that figure.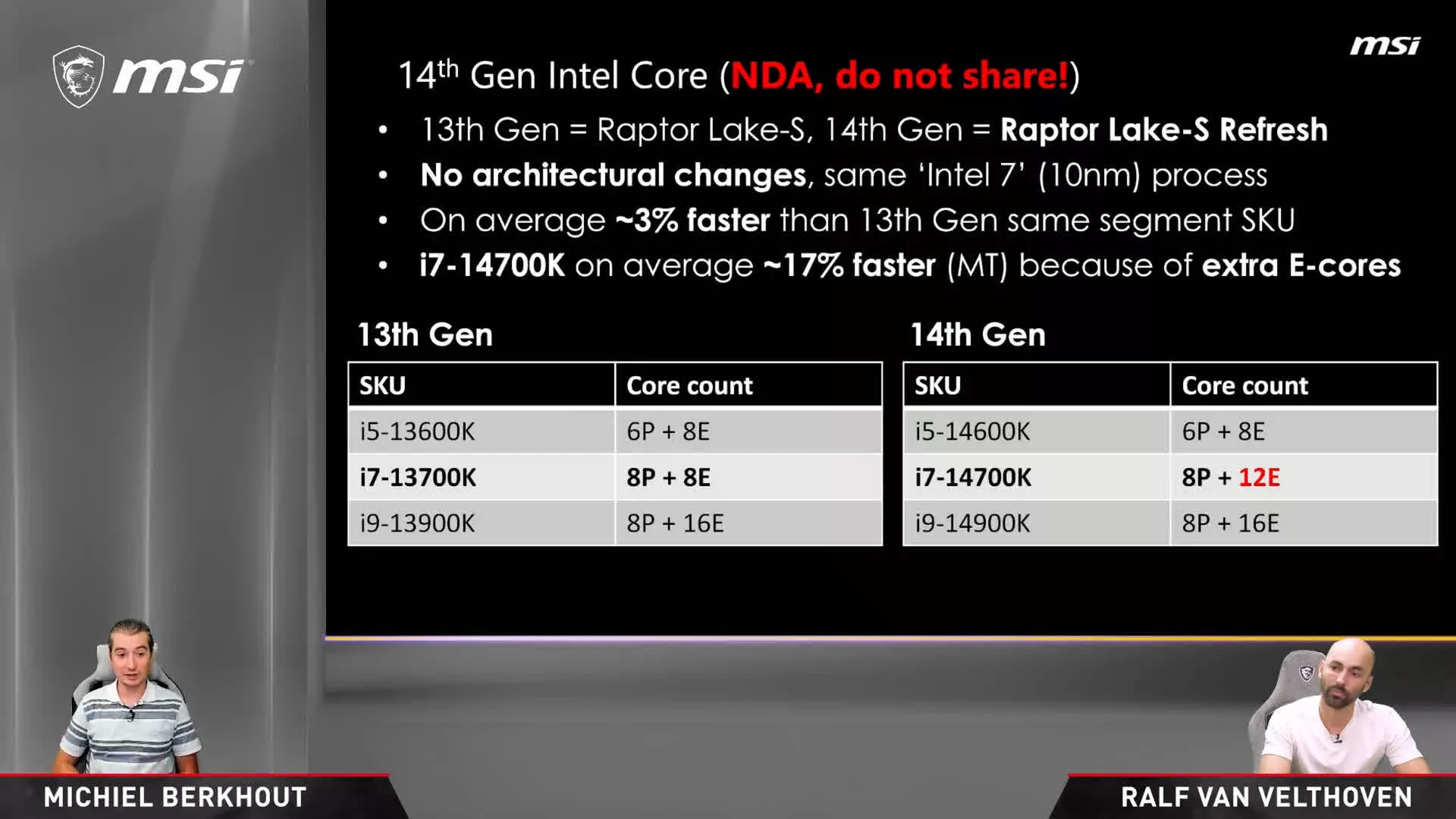 It was previously reported that the Raptor Lake Refresh processors could cost 15% more than their equivalent predecessors despite offering only a minor speed boost, around 3% in most cases. But one exception is the Core i7-14700K/KF, which according to an MSI presentation is 17% faster because of its 12 E-cores.
August 27, 2023
It'll be interesting to see whether consumers feel the Raptor Lake Refresh price hikes are worth it or if they decide to wait for Arrow Lake, which is expected to come with a 20% performance uplift vs. the Core i9-13900K in the case of the top-end 15th-gen chip.
https://www.techspot.com/news/100311-intel-core-i7-14700kf-reaches-almost-6-ghz.html