What just happened? American DRAM and NAND flash supplier Micron has announced two new products to expand its data center SSD portfolio. Designed to address write-intensive workloads, the 6500 ION and the XTR NVMe SSDs come with high-capacity and high-endurance levels that the company says would help data centers lower their operating costs and improve storage efficiency.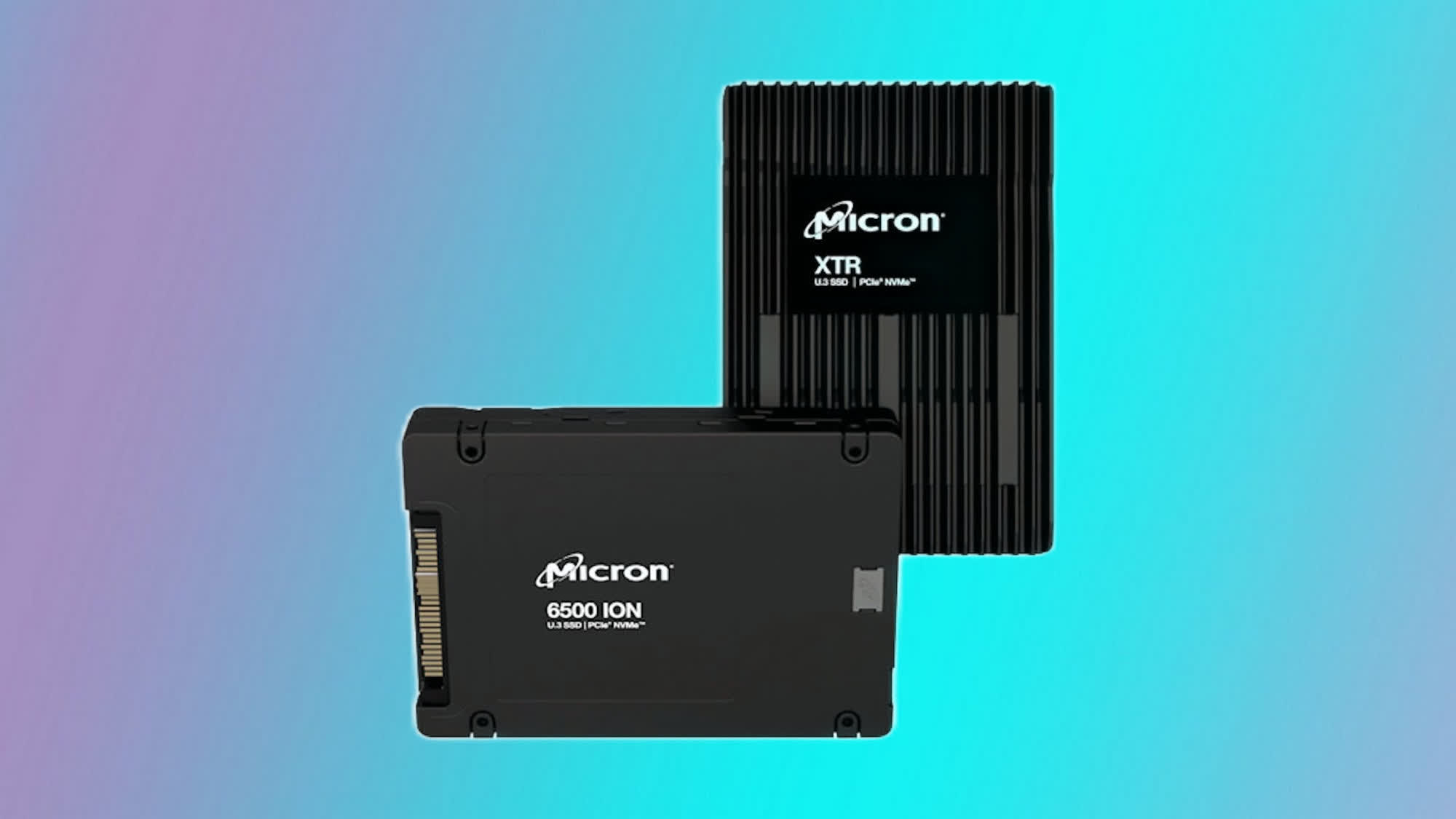 Aimed at the high-capacity market, the 6500 ION is a TLC drive with Micron's 232-layer technology node, making it the world's first 200+ layer NVMe SSD. It is said to offer up to 34 percent better average read latency than QLC SSDs, up to 58 percent faster sequential writes, up to 62 percent more 4KB random read IOPS, over 30 times more 4KB random write IOPS, and 10x more 4KB random write endurance for improved longevity and flexibility.
The 6500 ION drives are only available in 30.72TB capacity for now, in both U.3 and E1.L form factors. Micron claims that they offer the value of QLC flash with all the advantages of TLC. In terms of performance, they offer up to 6.8 / 5GB/s of sequential read/write throughput and up to 1 million / 200,000 random read IOPS. The drives also use just 20W of power, which is less than the 25W used by existing products.
Coming to the XTR, they are targeted at the endurance market and are available in 960GB and 1.92TB capacities. They offer sequential read speeds of up to 6,800MB/s and sequential write speeds of up to 5,600MB/s and 5,300MB/s, respectively. Both offer up to 900,000 random read IOPS, while the random write speeds range from 250,000 IOPS for the 960GB drives to 350,000 IOPS for the 1.92TB SKUs. Both have a 60 µs read latency and 15 µs write latency.
The XTR drives offer up to 60 DWPD of endurance in sequential workloads and 35 DWPD in random 4K workloads, both of which are substantially higher than regular NAND-based SSDs. Given that Intel has discontinued its Optane line, it will be interesting to see if these drives will be able to offer similar endurance levels in real life, and at a lower price point.
Both the 6500 ION and the XTR are entering volume production later this month, and despite being enterprise products, they are expected to be available in retail channels at some stage. However, there's no concrete information on their availability and pricing for now.
https://www.techspot.com/news/98718-micron-launches-high-capacity-6500-ion-ssds-high.html