Why it matters: Sam Altman, who co-founded well-known artificial intelligence firm OpenAI, was fired as CEO on Friday in a move that sent shockwaves through Silicon Valley. His sudden departure seems to have prompted other senior figures at the company to quit, which is a huge blow to companies like Microsoft which are deeply invested in using and building OpenAI tech as part of their wider strategy.
On Friday, OpenAI announced a "leadership transition" that would see Sam Altman depart the company and be immediately replaced by appointed interim CEO Mira Murati, previously chief technology officer. The company says the decision was made following a review process by the board of directors who no longer have confidence in Altman's ability to lead OpenAI and stay "consistently candid in his communications with the board."
Update (Nov 20): Altman is joining Microsoft.
Sam Altman is definitely not returning to OpenAI following his shock firing a few days ago. Instead, he will be joining Microsoft as the head of a new artificial intelligence research team. Satya Nadella moves fast.
Update (Nov 18 - 19): Possible board resignation, Sam Altman could be back
The abrupt OpenAI leadership shake-up on Friday has not rested during the weekend. Following the unexpected removal of CEO Sam Altman, there was a strong reaction from various stakeholders. Investors, partners, and many employees were surprised and uncomfortable with the board's exercise of its power, particularly given Altman's prominent role and influence in the tech industry. This led to discussions about possibly reinstating Altman as CEO just a day after his firing.
Microsoft CEO Satya Nadella, representing a major partner and investor in OpenAI, was reportedly furious about Altman's departure, which he learned of only minutes before it happened.
There has been notable unrest within OpenAI. Following the resignation Greg Brockman, OpenAI's president and a co-founder, three senior OpenAI researchers, including the director of research Jakub Pachocki and head of preparedness Aleksander Madry, also left the company. More resignations from employees were reported.
Meanwhile, the board faces an uncomfortable decision given the strong reactions from investors, partners, and employees.
The situation is perceived as a power struggle within the organization, particularly between two board members, Quora CEO Adam D'Angelo and Ilya Sutskever, and Altman. Sutskever, during a company meeting, expressed that removing Altman was necessary to uphold OpenAI's mission of making AI beneficial to humanity, hinting at concerns regarding Altman's commercial ambitions for the company. The board might have felt justified in their decision to fire Altman, but the backlash suggests that their decision may not have been entirely within their discretion.
This is a developing story. The situation facing one of tech's hottest startups is likely to be defined in the coming hours and days. In the meantime, let's enjoy the memes...
"No one person should be trusted here. The board can fire me, I think that's important."

-Sam Altman, ex-CEO of OpenAI
June 2023 pic.twitter.com/BXt5X69aOP

– Hakan Ozturk â¡ (@thecscafe) November 18, 2023
November 18, 2023
Exclusive: Footage of Sam Altman returning to OpenAI as CEO pic.twitter.com/jwD6rEZEMY

– Daniel ∞ (@danielmerja) November 18, 2023
POV: Sam Altman returning to the OpenAI office on Monday pic.twitter.com/2qBmWsePis

– Niels Rogge (@NielsRogge) November 19, 2023
The original story follows below:
The board decided to fire CEO Sam Altman, who had become a prominent figure in generative AI, due to issues with his candor in communications, which allegedly hindered the board's ability to perform its duties. This decision surprised many, including Altman and Greg Brockman, OpenAI's president and co-founder, who subsequently resigned. Mira Murati, OpenAI's Chief Technology Officer, was appointed as the interim CEO. Despite these changes, Microsoft, a major backer of OpenAI, affirmed its commitment to the company and its new leadership under Murati. Analysts expressed concerns about OpenAI's short-term fundraising abilities without Altman, but were optimistic about the long-term prospects, noting that the innovation at OpenAI surpasses any individual leadership figure.
Hours after the news broke about Altman's abrupt exit, OpenAI co-founder Greg Brockman revealed on X that he was leaving the company in light of this development. And if a report from The Information is to be believed, three senior researchers at the AI firm have also quit for the same reason.
One of them is said to be none other than Jakub Pachocki, the director of research at OpenAI who has been recently credited by Altman for his contribution to the development of GPT-4.
After learning today's news, this is the message I sent to the OpenAI team: https://t.co/NMnG16yFmm pic.twitter.com/8x39P0ejOM

– Greg Brockman (@gdb) November 18, 2023
Interestingly, Altman found out he was fired during a Google Meet call that took place on Friday, just as OpenAI was getting ready to make that decision public. Minutes later, Brockman was invited to join the call, only to be told he would have to step down from his chair on the board. Unlike Altman, the board wanted Brockman to retain his role as president since he was considered "vital" to the company.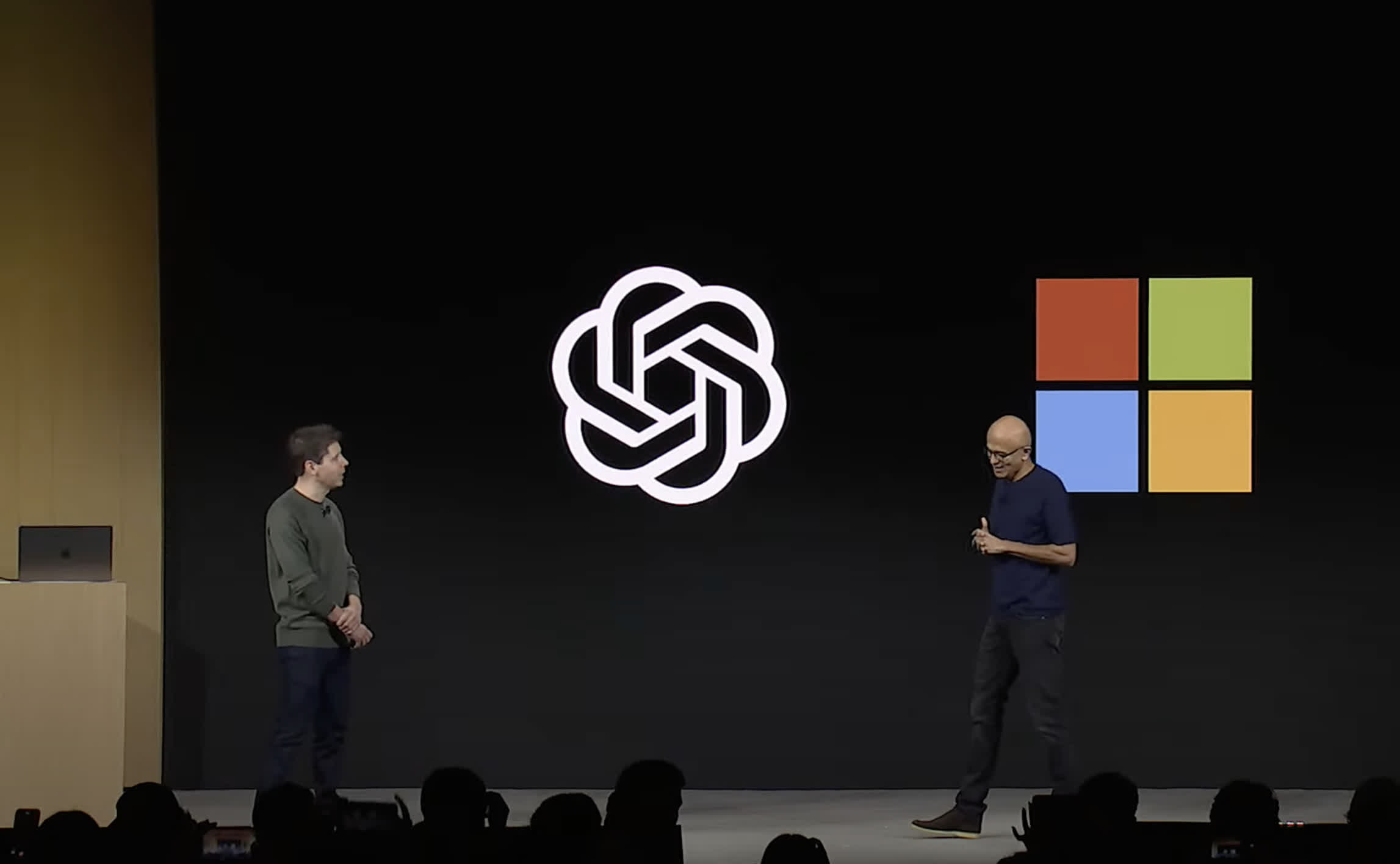 Sam Altman and Satya Nadella at the OpenAI DevDay event
The departures didn't just send a series of shockwaves through Silicon Valley, but they also caught many of OpenAI's investors by surprise. That includes senior figures at Microsoft, which notably invested over $13 billion into spearheading the development of large language models like GPT-4. The Redmond giant has even developed its own AI processors and plans to infuse OpenAI's tech into nearly all of its products and services, from Windows and Office, to the Bing search engine and the humble Microsoft Teams.
In a statement, Microsoft CEO Satya Nadella said "we have a long-term agreement with OpenAI with full access to everything we need to deliver on our innovation agenda and an exciting product roadmap; and remain committed to our partnership, and to Mira and the team. Together, we will continue to deliver the meaningful benefits of this technology to the world."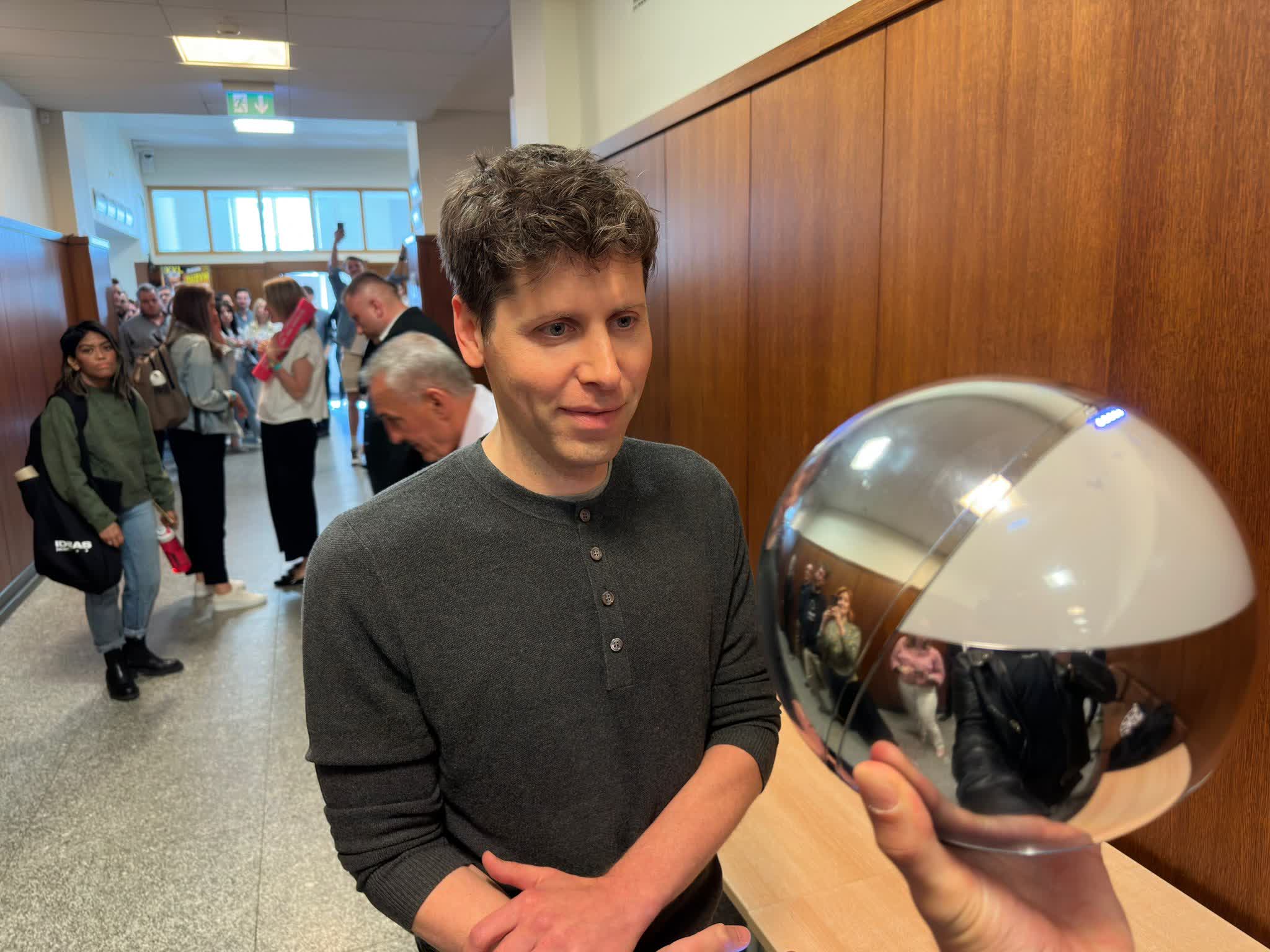 When he's not busy with artificial intelligence ventures, Altman is busy creating novel cryptocurrencies, among other things
The 38-year-old Altman co-founded OpenAI in 2015 and presided over its big successes like ChatGPT, which is arguably the most popular consumer-facing AI service out there. As you'd expect, Altman found his boardroom knifing to be a "weird experience in many ways" and said it was "like reading your own eulogy while you're still alive." After all, it was only two weeks ago that Altman was proudly discussing ambitious plans to take OpenAI's tech into the mainstream.
It's still unclear what led to Altman's sudden exit, but it is widely speculated that he pushed too hard for unsustainable growth strategies that were seen by other board members as too far removed from the original, non-profit mission and goals of the company.
In any case, the OpenAI schism will no doubt cause ripples in the AI industry and open the door for other organizations to shine either by themselves or through new strategic partnerships. Microsoft insists this is business as usual, but it's entirely possible we will see a greater upheaval at OpenAI that will eventually spawn a new AI venture. Both Altman and Brockman seem determined to build a new chapter, with "greater things coming soon." We'll have to wait and see how it all plays out.
https://www.techspot.com/news/100893-openai-fires-ceo-sam-altman-other-senior-figures.html