Posts: 9,340 +119
Staff member
In brief: There has been a lot of talk about North American industries showing signs of recovery over the last few months, but it seems nobody told the smartphone market. The segment's second quarter has been described as the "worst quarterly performance for over a decade," and the full-year outlook is just as grim. The only company to have a positive quarter was, surprisingly, Google.
The latest Canalys report on the state of the North American smartphone market shows that overall shipments were down 22% in the second quarter. The finger of blame is being pointed at macroeconomic challenges such as rising interest rates and persistent inflation, which have led to a drop in consumer demand.
The second half of the year is predicted to be slightly better, thanks to the launch of new models in Q3 such as the iPhone 15 Pro series – though Apple might want to address those overheating issues ASAP.
Despite people trying to rein in their spending during these economically challenging times, the premium segment - those phones costing more than $1,000 - is expected to remain solid as people turn to early trade-ins and financing options. Apple and Samsung actually boosted their premium segment shipments with 25% and 23% growth, despite overall YoY declines.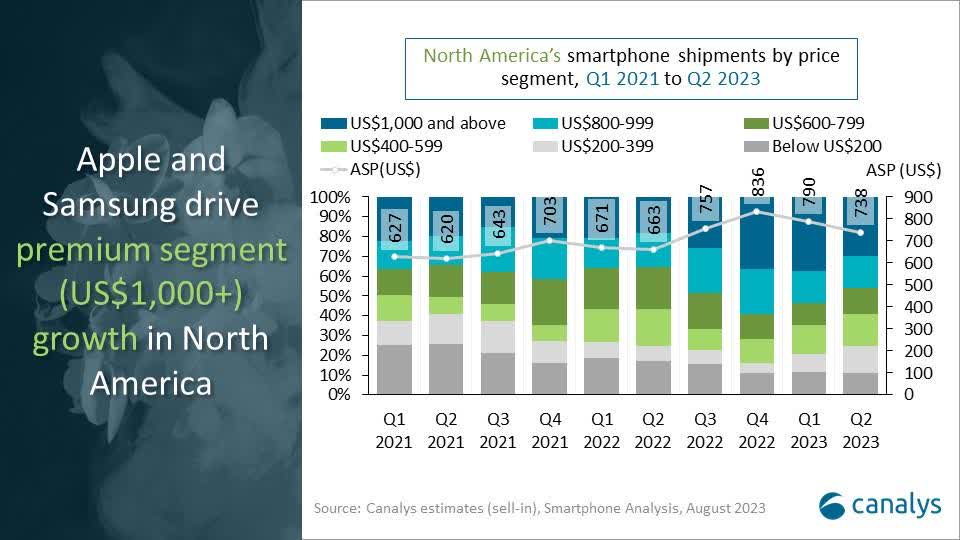 "Smartphone vendors are banking on the premium segment to navigate uncertainties," said analyst Lindsey Upton. "The ASP of North American smartphones increased to US$738 in Q2 2023, up from US$663 in Q2 2022."
The same can't be said for the budget sub-$200 section, which is expected to struggle as prepaid demand falters.
Also read: The once revolutionary mobile phone industry is in complete stagnation
Looking at individual brands, Apple remains at the top of the pack with 14.8 million shipments during Q2, down 20% compared to a year earlier. Second place Samsung fell 27% from 9 million to 6.6 million. Motorola was down 25% to 2.3 million. And TCL dropped 30% to 1.3 million. The only company that saw positive growth was fifth-place Google, up 59% from 0.8 million shipments to 1.2 million.
The biggest decline (43%) is in the "Others" section, which covers the previously mentioned sub-$200 devices like pre-paid phones. It was recently reported that many of these smaller companies are shuttering rather than continuing to struggle – nearly 500 brands have left the smartphone market since 2017.
Canalys expects year-on-year shipment growth for 2023 to be down 12%. Looking further ahead, 2024 is predicted to see a slight recovery (3%), while 2025 is up 7%. The analyst does warn, however, that shipments are unlikely to break the 150-million-unit mark before 2027.
https://www.techspot.com/news/100309-smartphone-market-sees-worst-quarterly-performance-over-decade.html