Posts: 4,046 +1,362
Staff member
In context: One thing that was glaringly absent from Apple's demo of the Vision Pro was AR gaming. While it can play over 100 Mac and iOS-compatible games via Apple Arcade, it only acts as a large virtual monitor. There was no mention of any augmented reality gaming possibilities.
That situation changed Thursday when Resolution Games announced it would port its VR/AR game Demeo to the Apple Vision Pro. Demeo is the first and only mixed-reality game revealed for the headset, but it's not a new IP.
You may have already seen Demeo as far back as May 2021, when Resolution released it for the Oculus Quest. It is a role-playing game similar to Magic: The Gathering. A board is laid out on a virtual tabletop with players rolling dice and racing through the path, encountering and killing enemies with their deck of cards. The ultimate goal is to make it to the catacombs at the end of the board to fight the boss.
Resolution ported it to the PlayStation VR2 as a launch title in February 2023. In 2022, it added AR support for headsets with passthrough cameras like the Meta Quest 2 and Quest Pro. This feature allows the game board to be virtually placed on the floor or a real table, extending the illusion that you are playing a tabletop game.
The studio recently released its Mixed Reality 2.0 update, adding hand-tracking support and a feature called "co-location." Co-location allows the game to place AR objects in the same area on multiple headsets. It ensures that each player has a realistic view of where things are on the table.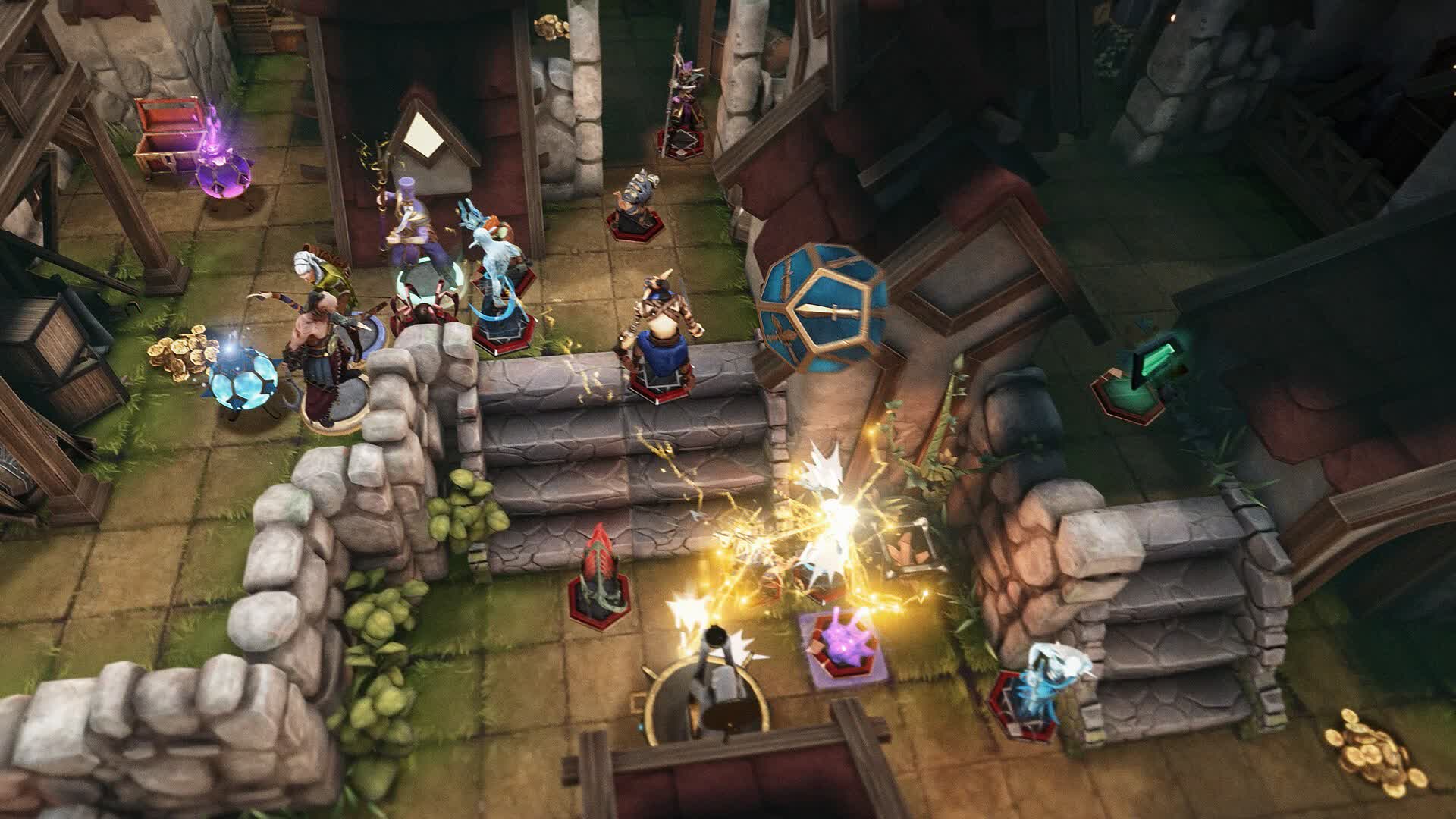 The VR version of Demeo (above) is more of a closed environment compared to the AR version (masthead video).
These new features will be essential for the Vision Pro since it primarily relies on controller-free hand-tracking for most of its functions and is strictly a mixed-reality device with no native VR mode. To that end, Resolution says it has developed a way to play Demeo in a software-generated VR mode that foregoes using the Vision Pro's passthrough cameras. This technique could be a game-changer for the Vision Pro, potentially allowing developers to port VR games to the AR-only system.
However, the studio believes Demeo is best enjoyed in mixed-reality mode.
"It's the interaction between the real and the virtual that truly makes MR magical, and few real-world things are quite as interactive as the human hand," said Resolution Games cofounder and President Paul Brady. "Advances in hand-tracking have made a controller-free future not only possible but incredibly appealing. We're quickly entering into an era where your body is a far more effective controller than a handheld piece of plastic could ever be."
Resolution did not have a time frame for release, so it's unclear if the port will be ready when the Vision Pro ships in early 2024.
https://www.techspot.com/news/100077-first-arvr-game-apple-vision-pro-questps-vr2.html