RIM releases PlayBook OS 2.0 upgrade, finally adds messaging features
By Lee Kaelin
TechSpot is celebrating its 25th anniversary. TechSpot means tech analysis and advice
you can trust
.
PlayBook maker Research in Motion has released the long awaited BlackBerry PlayBook OS 2.0 update for tablet users, which finally adds native support for important features like email, a better browser and support for some Android apps. The 505MB update is available for free to all existing PlayBook owners.
The PlayBook 2.0 OS looks very much like the original version at first glance and operates in exactly the same way as it did previously. Rather disappointingly it still doesn't include RIM's BBM software, but it does finally offer tablet users the ability to add POP3, IMAP and Microsoft Exchange ActiveSync email accounts.
Also present is an encrypted enterprise mail channel using BlackBerry Mobile Fusion, which has been modified to handle connections to enterprise mail systems.
RIM maintains their BBM service will be added in a future update to PlayBook 2.0. The Canadian company has clearly worked hard with the messages, contacts and calendar applications and the end result shows them to be tightly integrated to the OS. You can access contact information as well as social updates directly from email and calendar entries, providing the sort of integration you would expect from a firm that has built a strong legacy of offering great solutions for business users.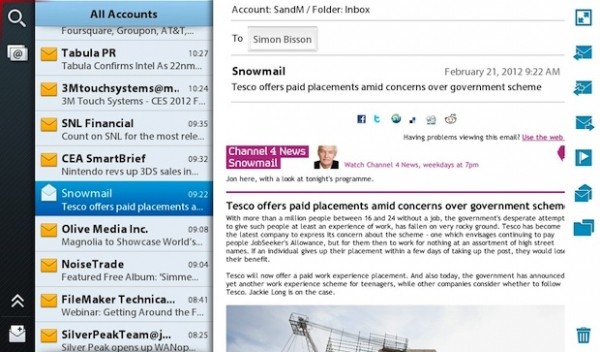 One drawback, however, is that it appears to be missing the ability to search mail when connected to Exchange servers. The way typography has been integrated into the calender to make the day number appear larger the more appointments you have is a nice touch.
The built-in Documents To Go tools have been revised as well, and now offer support for the latest Microsoft Excel, PowerPoint and Word formats. You can create or edit documents on the tablet using well thought out drop-down menus providing a wide selection of formatting tools in Excel and Word.
A new Print To Go utility turns the tablet into a virtual document folder. It just requires the user to connect to an office Wi-Fi network, install drivers onto their work computer and they can then print files directly to the PlayBook to read at their leisure. It will be especially useful for grouping project files for example, in one location inside a folder on the tablet.
The BlackBerry Bridge application has also been updated, offering those using a BlackBerry phone and PlayBook tablet the ability to use the phone as a remote control, as well as the keypad as a keyboard for the tablet via Bluetooth. Handsets with touchscreen displays can be used to control tablets when they are connected to HDMI displays and a new "open on PlayBook" option lets you take advantage of the tablet's larger screen size when reading documents as well.
ZDNet found that all upgrades on test devices appeared to go smoothly and without major fault. The installation does take some time, and the first boot appears to take considerably longer than you would expect, but all apps and user data were preserved during the upgrade. 
Forgiving the still absent BlackBerry BBM service, RIM has finally delivered an OS deserving of the PlayBook tablet, and it should be considered an essential upgrade for owners. The work integrating the contacts, calendar and messages service alongside social network updates has created a OS release that appears more suited to their roots and will appeal to business users. Developers will also welcome the upgrade, as they can now build and test applications in advance of the BlackBerry 10 OS release.
Image Credit: ZDNet.