TechSpot is celebrating its 25th anniversary. TechSpot means tech analysis and advice
you can trust
.
Apple's new iPad is facing yet more scrutiny for being advertised as a 4G device, this time by the UK's Advertising Standards Agency (ASA). According to the BBC, ASA has widened their inquiry into the Cupertino-based firm's product advertising after receiving further complaints from British consumers.
Although Apple had previously complied with ASA requests to amend the claims about 4G on the tablet, the watchdog is still unhappy despite the removal of several 4G references from its product webpage, and the editing of a promotional video to remove the 4G advertising.
The UK currently has no national 4G service. Although trials are underway, which will eventually spread country-wide, those will remain incompatible with the iPad's 4G hardware due to operating on a different frequency band to the tablet's 4G LTE based hardware. The same is true for the rest of Europe, which will use different network frequencies to those used in the US and Canada.
It appears the ASA is still less than impressed with the network data enabled model being listed as a "WiFi + 4G" device, especially since the major UK network operators logos appear right beside the 4G text. "If it appears that the problem claims we asked Apple to remove are still appearing, we will investigate these new complaints,," the regulator said in a statement.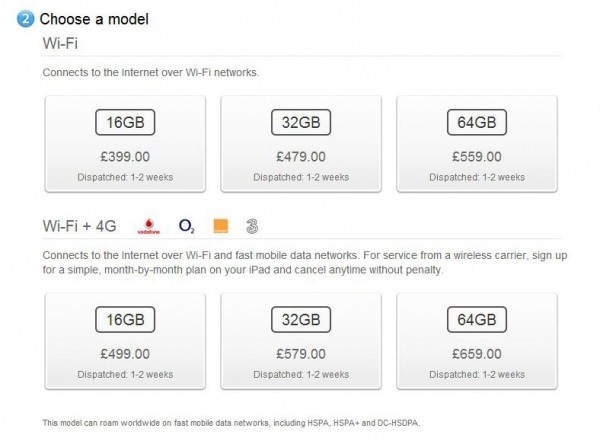 Most of the complaints are focusing on this, although a source for Apple speaking to the BBC made it clear they didn't have plans to remove all traces of 4G from the UK website. As it currently stands however, people could potentially be duped into purchasing the popular tablet with 4G hardware expecting it to work with Vodafone, O2, Orange and Three at higher speeds when that isn't really the case.
Apple has similar problems in Australia, after industry regulators sued Apple, accusing them of misleading consumers with its iPad's 4G claims. In a recent hearing, Apple offered to give refunds to any iPad owner that felt they had been mislead by the company's advertising regarding 4G data speeds. The trial between the Australian Competition and Consumer Commission and Apple is due to start tomorrow.
It's currently unclear if the refund offer will be extended to those in the UK. Apple did not respond to requests for further comment.