TechSpot is celebrating its 25th anniversary. TechSpot means tech analysis and advice
you can trust
.
Apple kicked off today's media event with a handful of updates to the Mac lineup, as company executives warmed up the crowd leading up to the main focus of the event: the iPad. But other than the Mac mini, which received a minor spec bump, these weren't ordinary updates: an all-new 13.3-inch version of the MacBook Pro with Retina display was announced as well as a revamped iMac lineup.
13.3-inch MacBook Pro with Retina display
As rumored, the company introduced a smaller 13.3-inch variant of the MacBook Pro with Retina display laptop, complete with a 2560 x 1600 resolution screen and an aluminum body that's 20% thinner and almost a pound lighter than its predecessor. It's the world's 2nd highest resolution notebook display, Phil Schiller joked during the announcement, in reference to the 15-inch MacBook Pro's 2880 x 1800 resolution.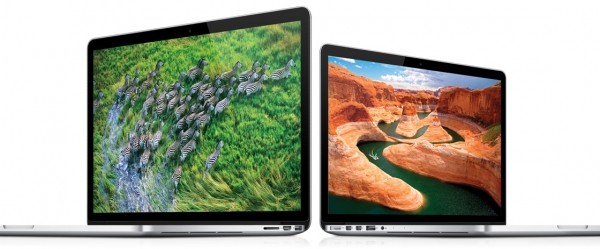 Like its larger sibling, the new 13-inch MacBook Pro does away with the optical drive to achieve its slender figure. It also includes the newer MagSafe 2 connector, a pair of Thunderbolt ports, dual microphones, a pair of USB 3.0 ports, HDMI-out as well as the usual SD card reader, webcam and backlit keyboard.
The base model starts at $1699 equipped with a 2.5GHz dual-core Intel Core i5 processor, 8GB of RAM, and 128GB of flash storage. That starting price represents a $500 bump over the older MacBook Pro, which will continue to be offered. The higher end $1,999 configuration comes with a 2.9GHz dual-core Intel i7 processor and 256GB SSD, while an optional upgrade to 768GB of flash storage will also be available.
Mac mini
Although it didn't get as much time on stage, Apple's Mac mini also received a long overdue update to Ivy Bridge. It sports the same form factor, 500GB hard drive, and $599 starting price, but now includes a newer a 2.5Ghz dual-core i5 processor with built-in Intel HD 4000 graphics and comes with 4GB of RAM.
There's also a $999 server version, which will packs a 2.3GHz quad-core i7 processor and two 1TB drives, and configuration options for up to 16GB of RAM and up to a 256GB solid-state drive. Ports remain mostly the same with Thunderbolt, HDMI, Gigabit Ethernet, FireWire 800, SD card slot and four USB ports updated to 3.0.
iMac 21.5- and 27-inch
Apple has also revamped its iMac line with new 21.5- and 27-inch models that feature thinner bodies and new options including hybrid storage. The updated all-in-ones have an "edge" that measures 5mm thick, or 80% thinner than the previous generation systems. "Edge" seemingly refers to the entire screen assembly, but the display itself contributed to that shrinkage, as it's 45% thinner than last year's models. Apple says the screen is fully laminated so graphics look like they're sitting on the glass, and there's 75% less reflection than before.
Both new iMacs will offer the option for hybrid storage – or a "Fusion Drive," as Apple calls it. You'll be able configure the systems with 128GB of flash storage and 1TB or 3TB of mechanical storage, and this combo will act as a single volume, but software will logically place your apps on the SSD and documents on the HDD. Apple says this hybrid solution performs nearly as well as a standalone flash drive, though the company only gave one example and this performance may not hold up across the board. We'll learn more soon enough.
The 21.5-inch iMac will start shipping in November for $1,299 with a 1920x1080 IPS display, a 2.7GHz quad-core Core i5, 8GB of RAM, a GT 640M and a 1TB HDD. The 27-incher will arrive in the following month with pricing starting at $1,799 for a 2560x1440 IPS panel, a 2.9GHz quad-core Core i5, 8GB of RAM, a GTX 660M and 1TB of storage. Both feature four USB 3.0 ports, an SD card slot, dual Thunderbolt ports, gigabit Ethernet, an HD FaceTime webcam, dual microphones, stereo speakers and they ship with a keyboard and mouse.