Nest announces dev API and partnerships with Jawbone, Mercedes, LIFX and more
By Justin Kahn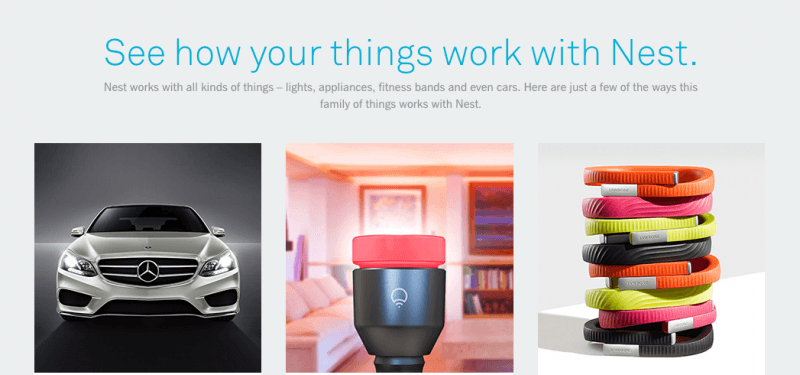 TechSpot is celebrating its 25th anniversary. TechSpot means tech analysis and advice
you can trust
.
Google and Nest have recently announced a new developer program known as "Works With Nest" that looks to be aimed at furthering Mountain View's smart home initiatives after acquiring Dropcam for $555 million. The Wall Street Journal reports the program will allow for Nest smart thermostats and smoke/carbon monoxide detectors to integrate with Google apps and services as well as third party devices to allow for much deeper smart home features.
The report says Nest can link up with a Google mobile app, allowing users to issue voice commands to the Nest system as well as set room temperature via a device's location tracking using Google Now. 
It isn't just Google that will be able to talk with Nest products though, companies like Jawbone, Mercedes Benz, Whirlpool, LIFX, and IFTTT are all said to be integrating with the Nest smart home products. Integration with those companies will include things like Jawbone's UP24 fitness wrist band allowing Nest thermostats to set a certain temperature for you when you wake up, for example. Nest owners will also be seeing energy consumption benefits with Whirlpool washer and dryer integration and interesting safety features with LIFX LED light bulbs. Normally, only controlled via your smartphone, LIFX bulbs will now integrate with the Nest Protect to offer bright flashing red visual indicators throughout your home once the smoke detector has gone off.
But with all of this integration comes the question of how Nest will be handling personal data, for this deep level integration to work the company will seemingly need to provide its third party developers with it. However, the company is saying users will have the choice as to whether or not their data gets passed on to Google and other companies. "Most of the data that Nest will share - with Google and others - will focus on whether users are at home or not, as detected by sensors on the thermostat. When people link a home device and related account with Nest, the company will not share their email address, name or home address with other companies," Nest co-founder Matt Rogers said.
The Works With Nest program seemingly puts Nest and Google in direct competition with Apple's new HomeKit initiative, a home automation developers platform for iOS that appears to be offering much of the same functionality. Apple has announced partnerships with Philips, Honeywell and others and to find out more about Nest's partners, check out the Works With Nest video below.