Apple Watch pre-orders go live April 10: $349 for Sport, $549 for Steel and $10K+ for Gold Edition
By Shawn Knight 12 comments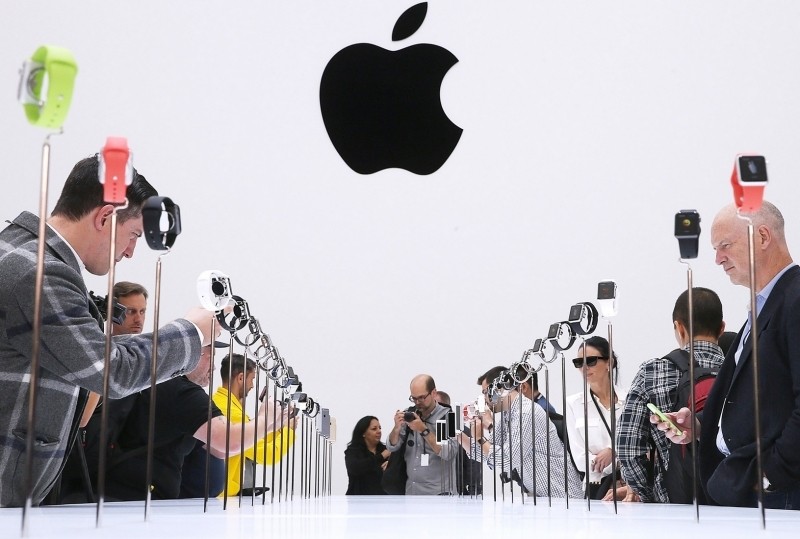 TechSpot is celebrating its 25th anniversary. TechSpot means tech analysis and advice
you can trust
.
Following announcements of a price cut to its Apple TV (along with becoming the exclusive launch partner of HBO Now) and a brand-new MacBook, Tim Cook and company turned their attention to what everybody showed up to see. I'm of course referring to Apple Watch.
As anticipated, Apple spent some time showcasing many of the watch's capabilities although much of it was a rehash from the unveiling last September during its iPhone event. For that reason, I'll only briefly touch on the main features here today and highlight the new information.
For starters, users will be able to fully customize the watch face to show as little or as much information as desired through the use of widgets. Examples shown ranged from a very minimalistic approach that only displayed a clock's hands to information-packed faces with time, a stopwatch, reminders and more.
A feature called Glances allows users to check things very quickly. Simply swipe up from the bottom to see details regarding weather, calendar, music and even your heart rate.
In terms of communication, users will be able to field calls on Apple Watch using its built-in speaker and microphone. Of course, all of the magic is happening on the iPhone which serves as the watch's primary companion.
Wearers can also receive messages and use a feature called Digital Touch to keep in close contact with a friend or family member that also has Apple Watch. For example, you can tap your watch to get the attention of another person - perhaps ideal in a quiet setting like a meeting or in the library. You can even send your heartbeat to show you're thinking of them (queue the cheesy music now).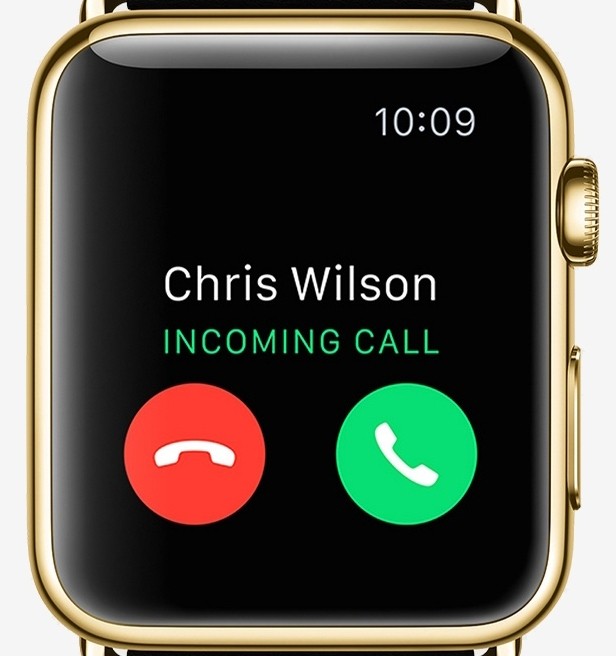 Aside from key information like pricing and battery life, demonstrations and discussions of apps and services created through WatchKit took up most of Apple's presentation.
Apple Watch wearers will be able to receive notifications about sports scores, breaking news, social media happenings, flight information, Uber car updates and more. The wearable will also allow users to bypass hotel check-ins and use the device to unlock their room door.
Siri will also be a big part of Apple Watch as it powers the hands-free aspect of the device and as you likely already know, Apple Pay is integrated into the wearable.
While health isn't as big of a focus as Apple initially wanted, there are still some useful health-related features to take note of. The watch can track your daily movement and generate weekly reports that suggest new target goals for the upcoming week. Apple likened it to a coach on your wrist.
It also promotes good health by subtly remind you if you've been sitting too long and a new workout app can track an array of metrics while you're working out on various equipment at the gym.
A user's iPhone will be imperative to the Apple Watch; it's where you see apps, browse apps and download apps. The phone will also serve as the location where you adjust app settings and control notifications. The Apple Watch app will arrive in iOS 8.2 which is being made available today.
Apple Watch is rated for "all day" battery life of 18 hours, far less than some of its competitors. A magnetic power cable will handle recharging duties each night.
Apple Watch is being offered in three different collections designed to appeal to different tastes, preferences and budgets.
The Apple Watch Sport is constructed of anodized aluminum with magnesium and zinc added to harden the metal. Offered in space grey and silver color schemes with a strengthened Ion-X glass covering over the display, it starts at $349 for the 38mm version and $399 for the larger 42mm variant and comes with your choice of colorful fluoroelastomer band.
The mainstream model is built using stainless steel that has been treated with additives to minimize impurities and polished to a mirror finish. Apple also used a cold forging process to increase its strength by up to 80 percent, making it less susceptible to scratches and nicks. Available in traditional or space black finishes with a sapphire crystal display cover, this collection features the widest array of bands which will ultimately dictate cost.
Expect to pay anywhere between $549 and $1,049 for the smaller 38mm casing and $599 to $1,099 for the 42mm version.
If money is no object, Apple's high-end Watch Edition features a strengthened 18K gold chassis as well as matching clasps and buckles (and sapphire crystal display covering). Buyers can also choose from custom bands with pricing starting at $10,000. Note that it'll be offered in limited quantities at select retail stores although it's unclear if Cook meant select Apple stores or high-end jewelry stores.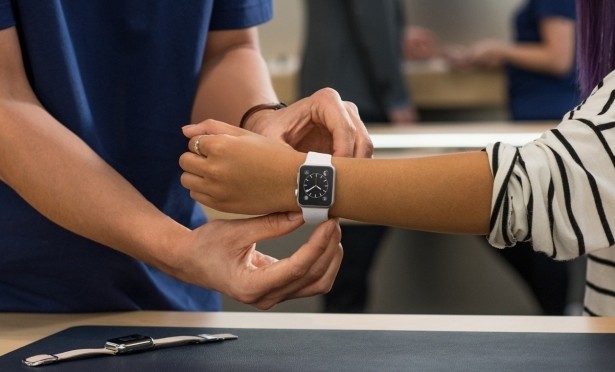 It's worth clarifying that every Apple Watch comes with the same internal hardware. The difference in pricing only reflects the size of the watch face, the materials used to construct the case, the glass covering material and the type of band selected.
Apple Watch will go up for pre-order starting April 10. From that day, prospective buyers can also head to their local Apple retail store to see the device in person, try it on in both left- and right-hand orientations and so on. It'll ship starting April 24 in nine countries including the Canada, China, the UK and the US.