Samsung completes installation of massive 46.2-foot Onyx Cinema display
"The Wall" TV no longer seems so big
By Greg Synek
TechSpot is celebrating its 25th anniversary. TechSpot means tech analysis and advice
you can trust
.
The big picture: Bigger and brighter cinema displays are available now that can eliminate the need for traditional movie projectors. Samsung's latest installation features a 46.2-foot LED display in one of China's most popular theaters.
LG and Samsung are fierce competitors in the consumer display market, but hardly at all where large format displays exist. Samsung has just finished installing an impressively large 46.2-foot LED display in Beijing, China that gets far brighter than most projectors can.
The Onyx Cinema LED screen is being marketed to movie theaters as a projector replacement option. After launching a 33.6-foot model in July of 2017, Samsung had the opportunity to sell to smaller movie theaters, but still could not fill the needs of larger venues with a need for even bigger options. At almost double the surface area of the original model, the 46.2-foot display is a true replacement for traditional cinemas.
One sacrifice made is that Samsung is only offering the larger Onyx display in 4K resolution. It is also a 3D-ready display that comes along with DCI certification to ensure movies are viewed as intended.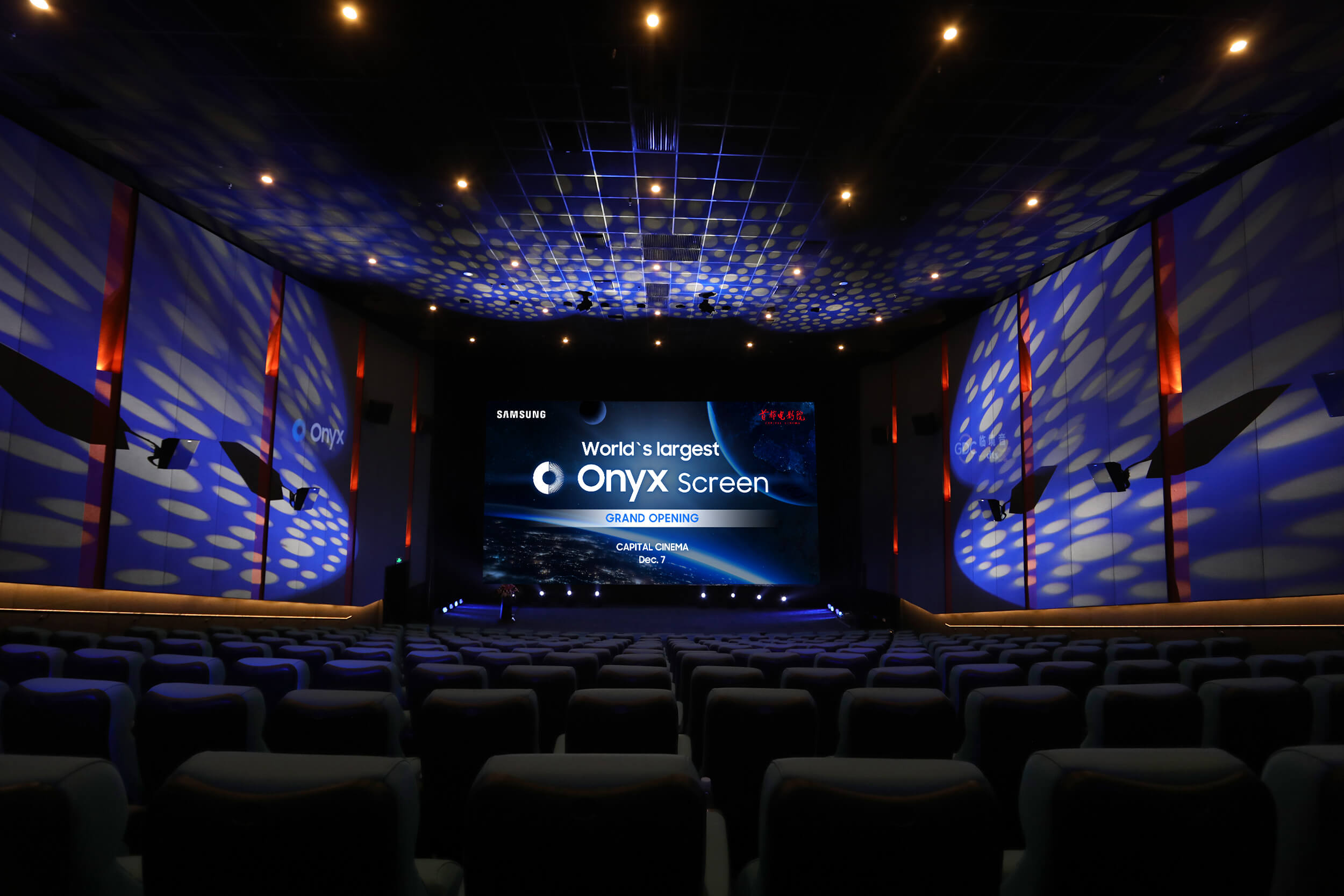 Equipped with HDR, the Onxy display reaches a luminance of 88 footlambert. This is slightly over six times the perceived brightness of commonly used projectors, but with all the added benefits of an LED display. Deeper blacks and brighter whites allow range from pitch black to audience blinding.
Capital Cinema is the home of the new Onyx display in Beijing, ranking as one of the top five theaters in China by ticket sales. Although this is the first 46-foot display installed, Pacific Theatres in Los Angeles, California, and Arena Cinemas' Sihlcity theater in Zurich, Switzerland feature smaller Onyx Cinema displays.