TechSpot is celebrating its 25th anniversary. TechSpot means tech analysis and advice
you can trust
.
When you buy through our links, we may earn a commission.
Learn more
.
Performance: Intel Atom Inside
Intel and Asus recently struck a deal so that nearly every one of Asus's products is powered by an Intel chip, including their line of Android devices. It's not often you see an Android tablet packing an x86-based SoC - instead typically you'll find an ARM chip for cost, efficiency and optimization reasons - which is what makes running performance tests more interesting than it otherwise would have been.
Asus MeMO Pad 7: $150
7", 1280 x 800 IPS LCD display (215 ppi)
Intel Bay Trail Z3745 SoC
1.86 GHz quad-core CPU, HD Graphics, 1GB RAM
16 GB internal storage, microSD card slot
5 MP camera, f/2.4 lens, 1080p video
2 MP front camera
15 Wh battery
Wi-Fi a/b/g/n, Bluetooth 4.0
Android 4.4.2 'KitKat'
300 grams, 10.0mm thick
The MeMO Pad 7 features an Intel 'Bay Trail' Atom Z3745 SoC, with a quad-core Silvermont CPU clocked up to 1.86 GHz, and a 7th Generation Intel HD Graphics GPU clocked up to 778 MHz. This chip is very similar to the Z3740 seen in several of the budget 8-inch Windows tablets I reviewed at the start of the year, except it's six months newer, comes with a 111 MHz faster GPU and costs $2 less per part.
Alongside the Z3745 we see 1 GB of LPDDR3-1066 memory connected to the SoC through a dual-channel memory controller supporting 17.1 GB/s of bandwidth. Atom chips have always packed in lots of memory bandwidth, but it's usually other areas of the chip that hinders performance.
Other specs include 16 GB of internal storage plus a microSD card slot, Wi-Fi 802.11 b/g/n, and Bluetooth 4.0. As we're dealing with an entry-level tablet, there's no premium connectivity features inside such as LTE, NFC or fast Wi-Fi 802.11ac.
As the MeMO Pad 7 uses an x86 chip rather than ARM, it uses an Intel-optimized build of Android 4.4.2. Because Android was built primarily for ARM chips, and for a variety of other reasons, this build of Android is inherently not going to be as optimized as the main version for ARM systems.
Android L will bring proper support for multiple architectures through Android RunTime (ART), including support for 64-bit x86 chips like the very Atom processor used in the MeMO Pad 7. Unfortunately Android L isn't ready for public release, so for now we're stuck with what's essentially a custom build of Android.
There's nothing glaringly bad about running an x86 build of Android on this tablet, but it doesn't feel like it's harnessing all the raw power of the Atom SoC. On a comparable Windows system powered by a Z3740, it just feels faster throughout the OS and its apps, which can be attributed to the fact Windows is built from the ground up for the x86 architecture.
In previous benchmarks I've established that the Atom Z3740 powering a Windows tablet is around 10-20% slower than a Qualcomm's flagship ARM-based Snapdragon 801 powering an Android tablet. The Z3745 in the Android-based MeMO Pad 7 doesn't feel like it's 10-20% slower than a flagship product when using it, more like it's competing with mid-range and entry-level SoCs like the Snapdragon 400.
Generally the MeMO Pad 7's performance is adequate enough for browsing around the operating system and loading basic apps like Twitter and Facebook. Occasionally I experienced stutter swiping application panels or scrolling in the browser, but it wasn't often enough to severely hinder the experience. Let's not forget this a $150 tablet either, so entry-level performance is to be expected.
More troubling were infrequent crashes, such as Chrome crashing under heavy load or the operating system freezing up when you try to multi-task after opening many apps. Again, the infrequent nature of these performance hitches isn't hugely annoying, although it's something you wouldn't get from a highly-polished device.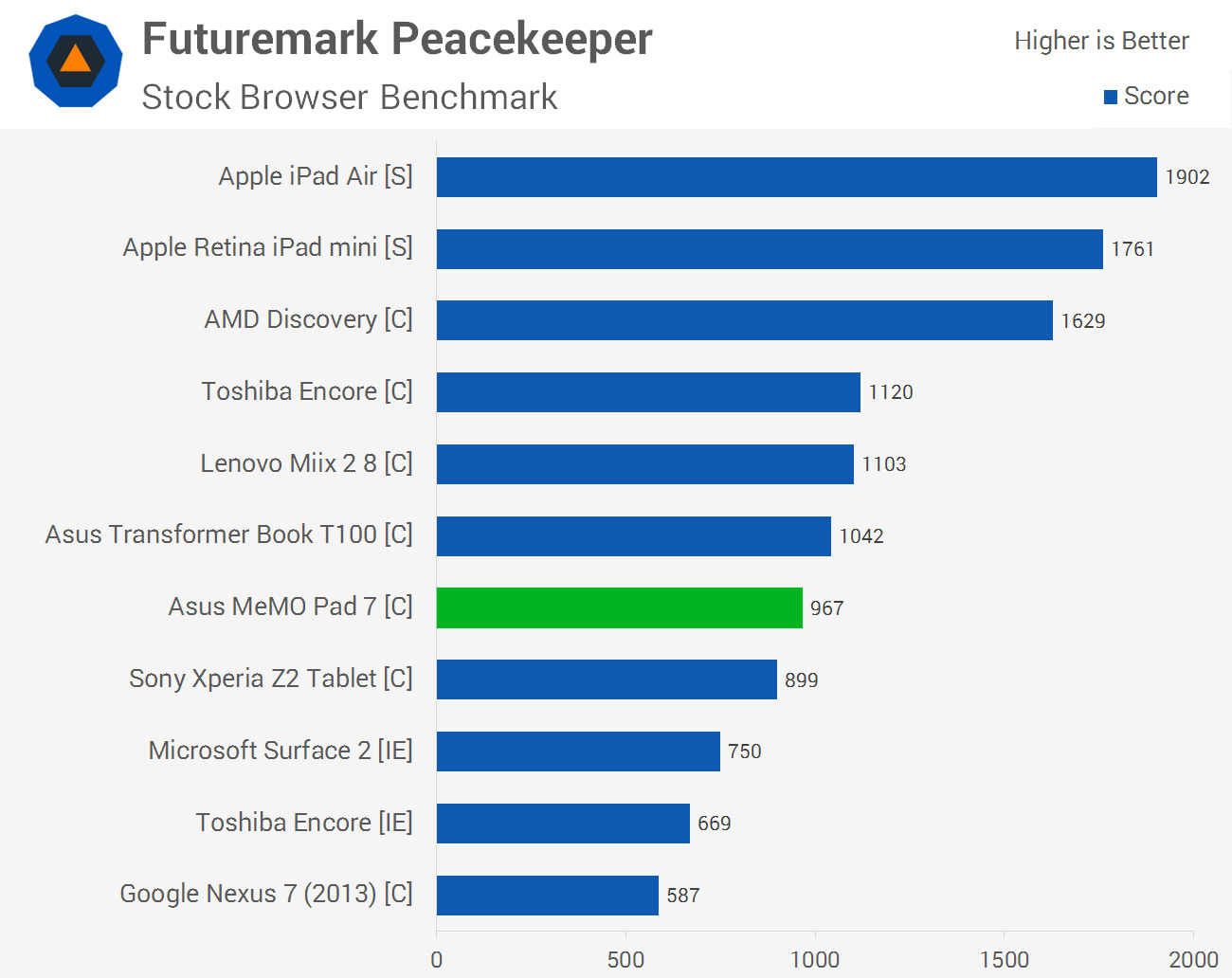 The interesting part of our browser benchmark is that the Asus MeMO Pad 7, on paper, performs between a high-end tablet such as the Sony Xperia Z2 Tablet, and a mid-range Windows device like the Lenovo Miix 2 8. This can be attributed to the Atom's fantastic single-core performance. But there's a catch.
For both Peacekeeper, Octane and Kraken, I struggled to get the benchmarks running without them terminating themselves prematurely. So while the performance is good when you get the browser working correctly, it doesn't always work correctly, and that's a problem. Unfortunately the stock Android browser is only slightly more reliable than Chrome, which I normally use for benchmarking.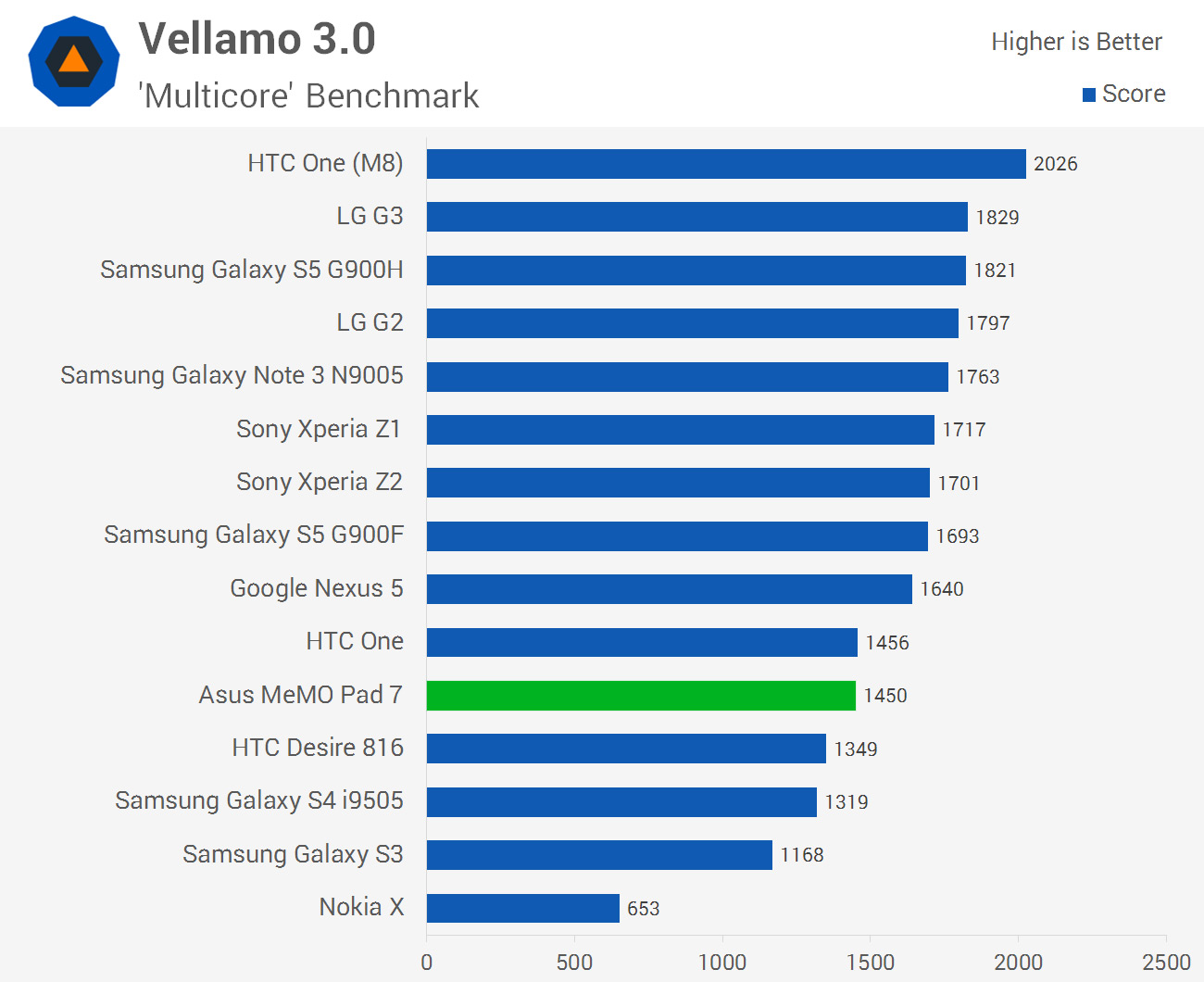 While browsing performance can be good from the MeMO Pad 7, general performance doesn't fare as well. Vellamo places the tablet firmly in the mid-range in terms of performance in its tests.
The MeMO Pad 7 is perfectly capable of playing 3D games such as EA's popular Real Racing 3, however other titles like Grand Theft Auto: San Andreas crash instantly. This is likely a product of using an x86 chip to run apps usually designed for ARM processors, so be aware that not everything will run as well as you might hope on this tablet.
3D performance from the Intel HD graphics is good, mostly because it only has to drive a WXGA display. You'll see from 3DMark results that the device still performs within the raw performance levels we've seen previously from Atom SoCs, but GFXBench reveals good onscreen performance. If this were a device with a 1080p display, a more powerful SoC would be necessary to achieve as good levels of performance.
NAND performance is quite good, above what you'd expect from an entry-level device.