The clipboard is a fundamental part of any modern operating system that even the least tech inclined are familiar with.
It is one of the greatest features the point and click interface brought to personal computers, and you don't need to understand the mechanics behind this invisible, temporary storage system in order to copy and paste your way through text, images, files and folders.
The act of transferring text from one part of a computer-based document to a different location within the same or different computer-based document was a part of the earliest on-line computer editors in the mid to late 1960s, though it was all command based.
Engineers at Xerox PARC later coined the names "cut" and "copy" for the first step and "paste" for the second step of the process and implemented it into several text editors, while Apple mapped the functionalities to key combinations consisting of the Command key held down while typing the letters X (for Cut), C (for Copy), and V (for Paste), widely popularising its use through the Lisa and Macintosh operating systems in the early 1980s.
Another factoid: Appropriately for this article, I copied, pasted, and edited bits and pieces from this Wikipedia page and this Quora answer to bring you that nugget of computer history.
The clipboard has evolved significantly throughout the years, but for all its usefulness, operating systems like Windows and macOS seem content with offering basic functionality and letting power users with more specific needs use third party clipboard managers.
So who needs a clipboard manager?
The main use case for a clipboard manager is to keep a history of what you've copied and being able to keep dozens or hundreds of clips readily available for pasting as long as you need them, even after rebooting your computer.
They're useful when researching online to collect snippets of texts and useful URLs in a central place before organising your thoughts or anything you're working on.
A word of caution, though. While saving the contents of your clipboard to your hard drive for days, weeks, even years might be convenient it can also be a potential security risk if someone gains access to your computer. It's a good idea not to store passwords and other sensitive information in there.
With that said once you've added a clipboard manager into you workflow you'll see that they can be major time savers and can offer a big productivity boost, especially if you routinely have to re-copy snippets of text. Here are our favorite options in a few distinct categories for both desktop and mobile.
Best Open Source: Ditto
Ditto has been around for years and still ranks among the best clipboard managers for Windows. It's simple yet powerful, fast and light on resources despite packing a decent amount of features. You can sort your clips into groups, search for specific keywords through its ridiculously long history, and make use of multiple hot keys to make copying and pasting. Ditto supports files, images, and text and offers encrypted, cloud-syncing for using a single clipboard across multiple computers.
ClipboardFusion is another simple but powerful clipboard manager that's actively maintained so it'll work well and won't look outdated on the most recent versions of Windows. It's headlining feature is the ability to scrub text copied to the clipboard so that it can be pasted into different applications without formatting -- it can be done automatically or with a customizable HotKey so you can retain formatting if you want to.
It also comes with a text replace feature that allows you to easily find and replace all instances of a specific text string in your clipboard manager. A preview feature to get a quick glimpse at clipboard images and color coded HTML with a toaster pop-up, and has full support for macros to perform completely customized transformations on your text.
ClipboardFusion is free to use but offers a paid subscription for advanced syncing features across multiple devices -- including Android and iOS.
No Frills, Better Privacy: ShapeShifter
ShapeShifter is more of a clipboard extender rather than a full fledged manager as it just takes the native clipboard functionality and makes it more capable without adding too many bells and whistles.
One key difference next to other clipboard managers is that Shapeshifter stores clipboard contents in memory instead of the hard drive, so while you can have multiple clippings readily available, everything will be cleared when you restart the computer. If you want the convenience of a more powerful clipboard but don't care about fancy features or keeping months long history of clippings, this one's for you.
ShapeShifter supports files, text, and images and sports a modern dock-like interface. Unfortunately development came to a halt a few years ago so Shapeshifter doesn't play well with Windows 10. A new open source version currently in beta is being written from the ground up but it's still very buggy and we're not sure if it's being actively worked on.
Best for Mac Users: Paste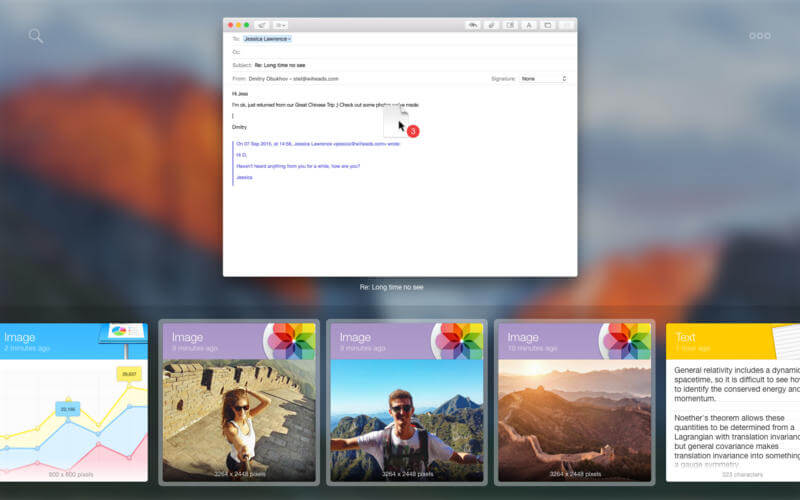 Paste is an impressive clipboard manager that uses a colorful interface with large previews to make it easy to identify the item you want to paste. It'll automatically add anything you copy to its clipboard history, which you can access though a keyboard shortcut or the Paste icon in the menu bar.
By default it'll keep the last 100 items on the clipboard but you can can configure this number all the way down to 10 and up to unlimited. There's a powerful search function that's especially handy as your number of snippets grows, and besides searching for text within a clipping it can also find file types such as 'photo' or 'video', for example. Paste also offers Pinboards, which are effectively folders that you can organize your snippets into, such as code snippets, and URLs.
You can setup rules so that Paste doesn't save anything that's copied in certain apps. By default, it doesn't store anything copied from Keychain Access, and it will recognize if you use a third party password manager and automatically exclude that, too.
Native Clipboard automatically saves everything you copy onto the clipboard and gives you tools to easily manage things. It has a handy floating interface that's summoned by double-tapping on any text field. From there you can insert the text you're looking for, swipe on one of the saved copies to delete it, or long-press it to pin it to the top of the list if it's something you think you'll need often.
Native Clipboard uses a Material Design UI that can be customized to your liking. It's also free and open-source, compatible with Android 4.0 or later. You will need to give it access to your accessibility settings for the double tap functionality to work properly.
For those with an iPhone, Copied is a clipboard manager for iOS that keeps track of everything you copy, lets you easily edit clippings, share links and text, and has an excellent batch feature. The app offers a handy Today Widget for fast access to clippings, and if you choose to enable auto-save, what you have in the clipboard will be automatically added to Copied as soon as you open the widget.
Clippings can be copied and saved from any app with the iOS Share Sheet and you can use the Copied Keyboard to input saved text into other apps. Copied is also available on iPad, has a more feature packed macOS version and you can keep everything in sync with iCloud.