Posts: 15,105 +191
Staff member
Highly anticipated: The new Apple iPhone 15 Pro and iPhone 15 Pro Max feature 6.1-inch and 6.7-inch displays, and utilize a grade 5 titanium alloy that's stronger, more durable, and lighter than the stainless steel used in the previous flagships phones.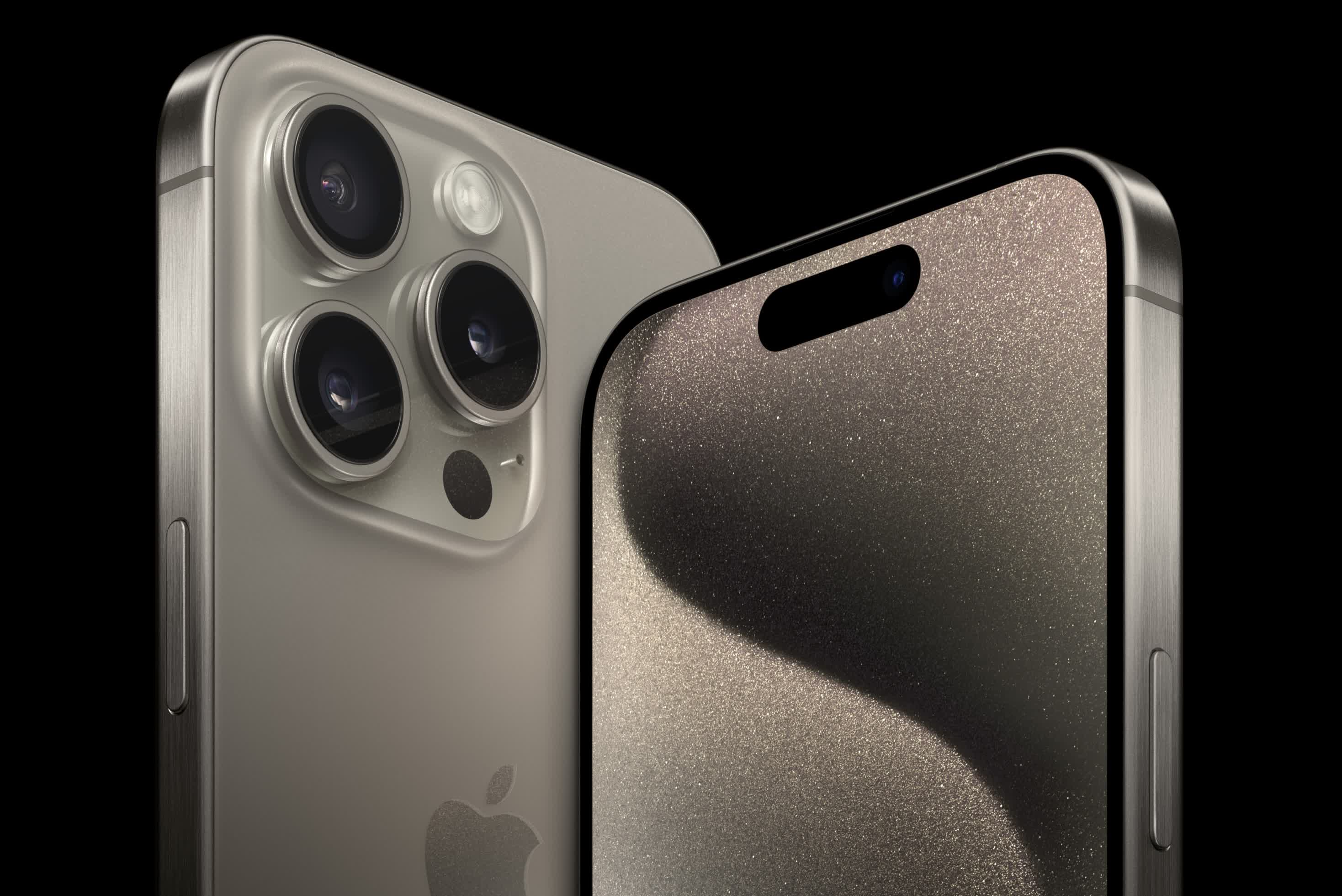 The titanium alloy makes this the lightest iPhone Pro lineup ever at 187 grams (6.60 ounces) and 221 grams (7.81 ounces), respectively. For comparison, last year's Pro and Pro Max models weighed 206 grams (7.27 ounces) and 240 grams (8.47 ounces).
Apple has also replaced the ring / silent switch with a customizable action button. This new button can still function as a ring / silent switch by simply pressing and holding the button to toggle between the two modes, but can also be programmed to perform a variety of other tasks such as launching a voice memo, bringing up the camera, activating an accessibility feature, or launching a specific app.
Powering the iPhone 15 Pro is an all-new A17 Pro SoC, the industry's first 3nm chip. It features 19 billion transistors and is comprised of a six-core CPU (two performance cores, four efficiency cores) alongside a 16-core neural engine that can process up to 35 trillion operations per second, and a six-core GPU with hardware-accelerated ray tracing that is said to offer up to four times faster ray tracing compared to software ray tracing on the A16 Bionic.
A phone's camera system is one of its key selling points, and Apple reserved the very best for its iPhone 15 Pro Max. The star of the show here is the 12-megapixel telephoto with a 5x optical zoom (120mm), an f/2.8 aperture, and 3D sensor-shift optical image stabilization.
All new iPhones for 2023 have made the switch from Apple's proprietary Lightning connector to USB-C.
All new iPhones for 2023 have made the switch from Apple's proprietary Lightning connector to USB-C. The Pro-grade models feature an improved USB controller that enables up to 10Gb/s transfers. Battery life is rated at up to 23 hours of video playback on the iPhone 15 Pro and up to 29 hours on the iPhone 15 Pro Max, and you can get up to a 50 percent charge in ~30 minutes using a 20W adapter or better (sold separately).
Both models also feature MagSafe wireless charging at up to 15W, and carry an IP68 rating against dust and water.
Apple's iPhone 15 Pro and iPhone 15 Pro Max will be available to pre-order starting September 15 in four colors: natural titanium, blue titanium, white titanium, or black titanium. The phones will launch and ship to customers a week later on September 22.
Pricing starts at $999 for an iPhone 15 Pro with 128 GB of storage, or $1,199 for a Pro Max with 256 GB of space. The iPhone 15 Pro Max is $100 more expensive than last year's iPhone 14 Pro Max, but you do get an extra 128 GB of storage.
https://www.techspot.com/news/100125-apple-introduces-titanium-clad-iphone-15-pro-pro.html