Hello everyone. I have recently encountered a network obstacle that is beyond my experience. I hope that my question is not too complicated and I have made drawings in ms-paint to best describe my network setup and the exact problem.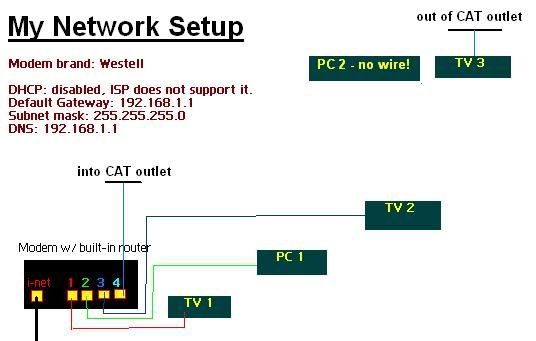 (old setup)
As you can see, I have 3 televisions and 2 PCs that require a connection. The problem can be immediately classified as not having enough ports in the back of my modem. I have a television and second PC in the back room that I need both functioning simultaneously; however only one wire, so I'm having to switch the ethernet cord from the PC to the television depending on which one I'm using. As you can probably imagine this is a hassle, I want them both working at the same time.
I asked my ISP what to do, and they told me to purchase another router and split the connection again. So I went to wal-mart and purhcased a $99 Linksys Wireless-G Broadband Router, model WRT54GS. I ran the Linksys autoconfiguration setup which guided me through plugging everything in and auto-configured the new network settings for the router and this is the new setup: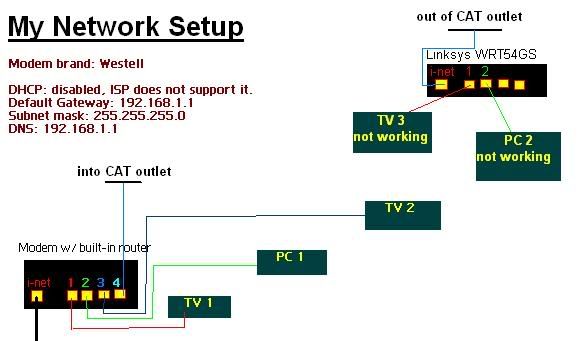 (new setup)
The WLAN, Internet, 1, and 2 lights on the Linksys router
are blinking
, but both TV3 and PC2 are not working! (note: TV3 does get a listing of channels but everything says temporarily unavailable) I have no idea what to do next. I could call my ISP and have them come out and set it up for me, but they charge outrageous fees just to do simple tasks that I could probably manage myself. Is everything hooked up correctly? Is there something I must manually configure in the Linksys configuration settings? Any help would be greatly appreciated, and if there's anything else you need to know just ask.
Thanks,
Jacob.