Facepalm: New mid-range RTX 4000 Ada graphics cards are increasingly appearing as mediocre offerings, with their prices being the main disappointment. Customers had hoped for a variant of the 4060 Ti with more VRAM, but a $500 price tag is scaring off AIB vendors.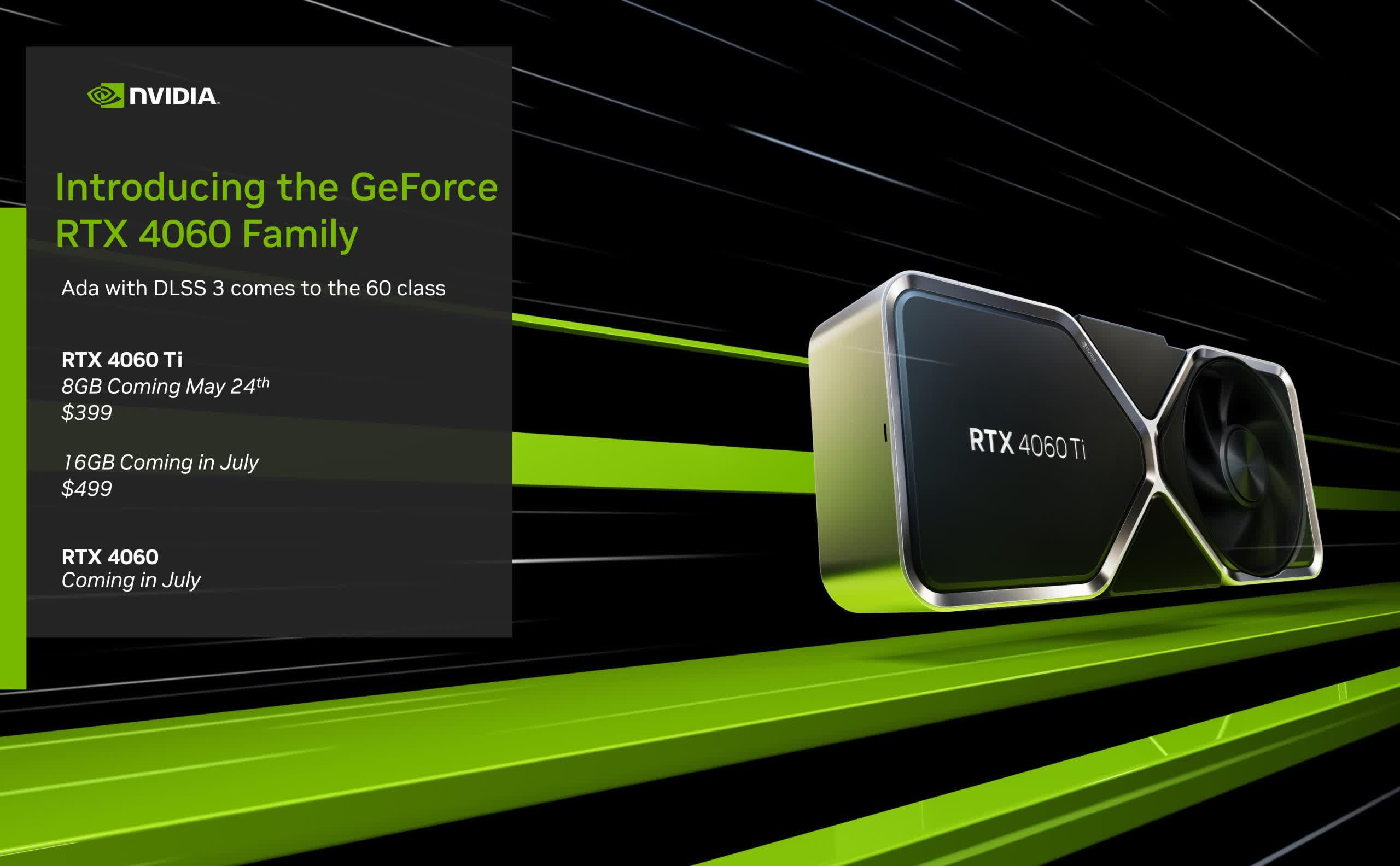 Reputable leakers indicate that a new GeForce RTX 4060 Ti model with 16GB of VRAM could launch as soon as next week. Users who were disappointed with the variant released at the end of May have requested a model with more memory. However, Nvidia and its board partners reportedly predict that the new version's price tag will limit its success.
Most recent information suggests that the 16GB RTX 4060 Ti will be available on July 18. However, HardwareLuxx editor Andreas Schilling is saying that add-in-board (AIB) companies are offering relatively few models of the card because its $500 price is too close to the 12GB 4070, which will likely easily outperform it. A leak from ITHome suggests that at least one Asus ROG Strix 16GB 4060 Ti could cost more than the most affordable 4070.
So the RTX 4060 Ti '16GB' is meant to be arriving this month, word on the street is the 18th. I can't confirm nor deny that, as I don't actually know, but Nvidia has already announce a July release.

Now there's no official review program for this model, there will be no FE…

– Hardware Unboxed (@HardwareUnboxed) July 10, 2023
Hardware Unboxed reports that there won't be any reviews for the upcoming GPU at launch because AIBs won't provide samples. Nvidia has so little faith in the card that it won't even release a Founders Edition.
In our review of the 8GB 4060 Ti, we called it a perfectly capable GPU with the wrong price. Mid-range products from Nvidia's last-generation RTX 3000 series or AMD's Radeon RX 6000 line offer comparable performance at much better prices. Our RTX 4060 Ti vs. RTX 3060 Ti 40 game benchmark shows that the newer card barely outperforms its predecessor – and in a few cases is actually slower.
The RTX 4060 (non Ti) didn't fare much better. Its 8GB of VRAM – an amount customers have been criticizing since Nvidia included it in the RTX 3070 – undermines the card's value at its $300 price tag. European retailers seem to agree, as its lukewarm reception in that market has led to price drops. Furthermore, the 128-bit wide memory bus doesn't help. Overall, the GPU feels as though it should have been named the RTX 4050. As it stands, the only Lovelace card with a solid price-performance ratio is the $1,600 flagship 4090.
https://www.techspot.com/news/99362-geforce-rtx-4060-ti-16gb-reportedly-coming-july.html