Posts: 9,340 +119
Staff member
What just happened? Remember those 55-inch 4K TVs that startup Telly said it would give away free to people who could stand watching constant ads on a second screen? The company has now started shipping the first units to customers and hopes to give away half a million by the end of 2023.
Back in May, we reported on Telly's radical new business model: it is giving away 55-inch 4K HDR TVs packing Harman Kardon-powered soundbars. The catch is that they come with an always-on secondary screen below the main unit that shows ads and promotional content - the 9-inch-high display can also be used to show widgets for sports scores, news, the weather, and more. You can't install streaming apps on the TV, but you do get a free Chromecast with a Google TV adapter, and it can be used with a Roku device, Amazon Fire Stick, or Apple TV.
The TV also has a built-in camera. While that sounds concerning in this context, it is designed for fitness programs and games, and it does have a privacy shutter.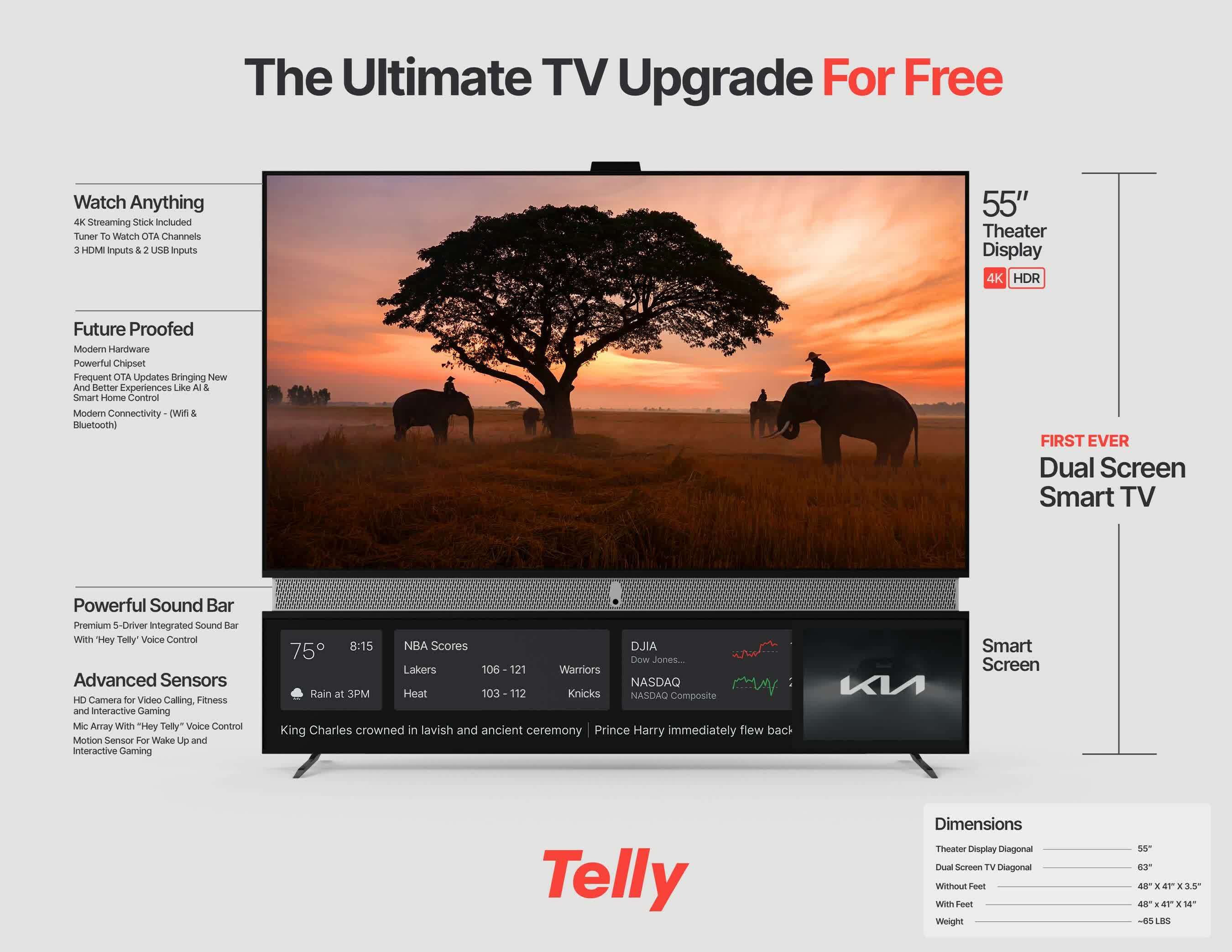 It's not just a case of getting a free TV if you're willing to watch ads, though. Users must hand over their personal information, including name, age, gender, home address, and ethnicity. And being advertising-focused means Telly wants to know viewing habits – the company is working with Nielsen - and purchasing behaviors. Moreover, people must agree to let their data be used for serving targeted ads, too.
Variety writes that the biggest caveat is that users must agree to several conditions under the company's terms of service. If someone doesn't adhere to the TOS, Telly reserves the right to ask for the TV to be shipped back. If someone refuses, a $1,000 charge will be added to the credit card associated with their account.
Some of the requirements include using the TV as the primary television in a household, keeping it connected to the internet at all times, and not installing any ad-blocking software. You're also not allowed to make any physical modification to the TV, attach any peripheral devices, or open it up, so no trying to cover that second screen.
Telly says more than 250,000 people had signed up to receive a free TV a month after the waitlist opened, so there will likely be a lot more on the list now. In addition to the 500,000 units it aims to ship in 2023, Telly hopes to ship "millions" more next year.
Those taking part in the first round of free TVs will get to participate in the beta program, giving them access to features such as Spotify, LiveOne, and Zoom integration.
"We are thrilled to begin shipping what is by far the smartest television ever built to consumers," Telly CEO and founder Ilya Pozin said in a statement. "Our disruptive ad-supported business model makes the television completely free to consumers, but the most exciting thing about Telly is the technology that enables our dual-screen television to get better with every update."
https://www.techspot.com/news/99394-free-55-inch-4k-tvs-show-nonstop-ads.html