Through the looking glass: There's a new entrant in the TV market that wants to disrupt the traditional business model behind it at the cost of user privacy. Telly's bold plan is to convince you that a free TV is worth the inconvenience of a second screen showing persistent ads. TV makers already pre-load their TVs with ad-supported services to compensate for slim profit margins, so it will be interesting to see if Telly's ambitions come to fruition.
The world of TV tech has seen a lot of innovation over the past several years, from new display technologies to new broadcasting standards, gaming features, "Eco Remotes", virtual TV on augmented reality glasses, and even things like kill switches and non-fungible tokens.
However, a company called Telly believes it can build an entirely new TV category and disrupt the traditional business model of TV manufacturers like Samsung, Vizio, LG, and others. Instead of having you pay for a large slab of glass, it will give it to you for free if you accept a slightly different concept than the one you've grown accustomed to.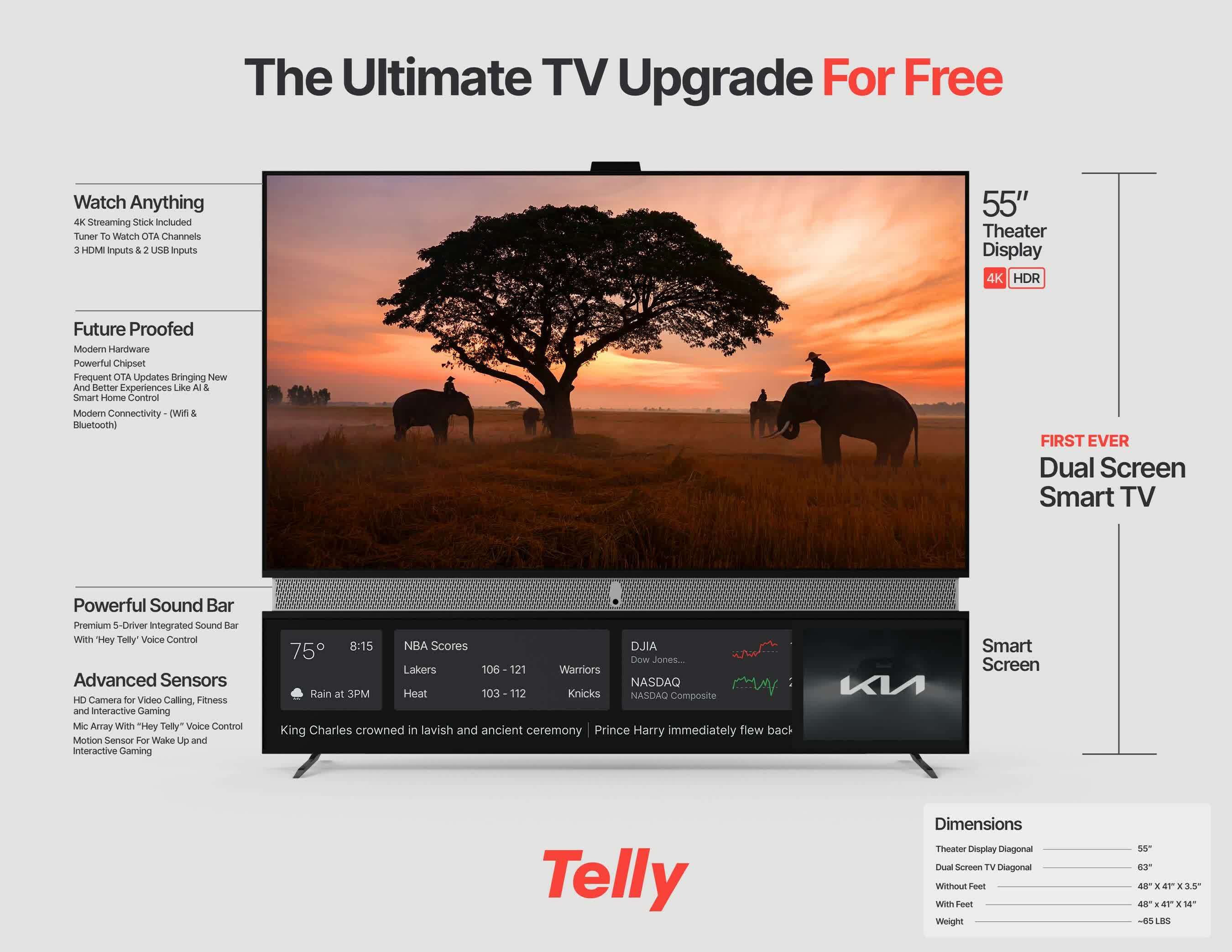 Simply put, Telly has built a TV that has two screens separated by a soundbar that doesn't cost you anything other than your privacy. The larger screen is essentially a 55-inch 4K HDR TV that offers a traditional TV experience. Below the soundbar, there's a smaller screen whose main purpose is to show you ads and promotional content.
In a statement, Telly founder Ilya Pozin explained that "when I co-founded Pluto TV, we created an entirely new model that offered amazing TV content to viewers for free. Now, with Telly, we are providing the actual television for free as well."
The thinking behind this new business model is rooted in studies that show a large percentage of adults often look at a second screen while watching TV. If Telly wants to succeed, that second screen will have to be the "Smart Display" on its new TV, which is designed to show various widgets with sponsored news, sports scores, stock prices, and, of course, ads.
To that end, the company needs to tailor the ads appearing on that screen to your preferences, which is why you'll need to agree to share some information about you and your family that can help advertisers target you with relevant ads. In addition to that, the TV will collect data about the content you watch, the length of your viewing sessions, and more. This is bound to raise some privacy concerns, and to some, it may well be a deal-breaker.
Furthermore, the company may at times utilize both screens to show you ads. When you're not watching anything on the main "Theater" display, it will be used to show you different types of promotional content, including interactive polls that reward you for participating with things like gift cards for services like Netflix and Starbucks.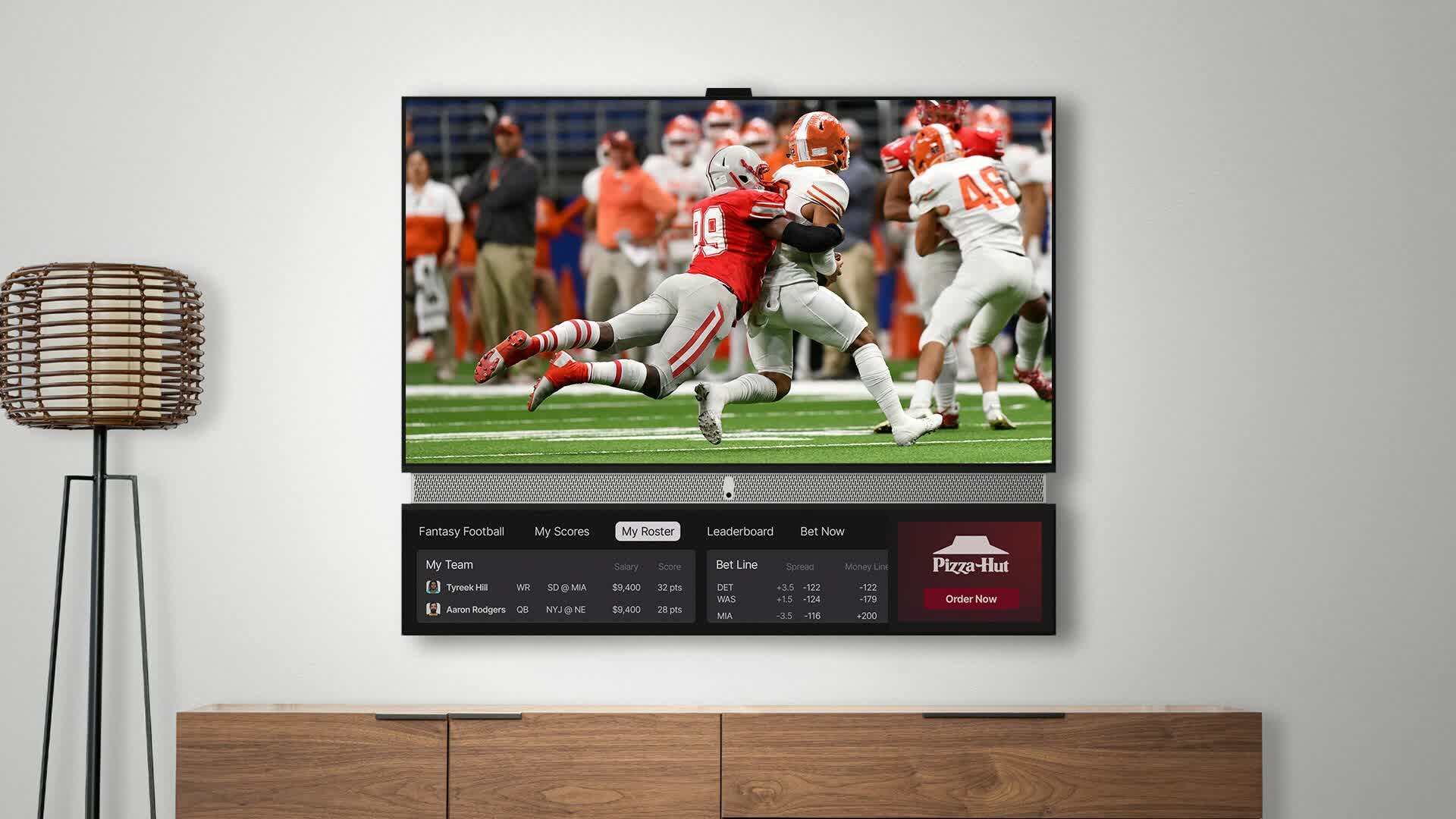 Powering the entire "experience" is Telly OS, but oddly enough the TV also ships with an Android TV dongle that you can plug into one of the three HDMI ports to get access to popular streaming services. You also get a camera and microphone that allow you to make video calls, use an AI-powered assistant, or access one of several "free advanced motion-tracking fitness programs."
We're told the camera has a privacy shutter that will be closed when you receive your TV, which is arguably a must on a device that needs to learn a great deal about you through various means to subsidize the cost of the hardware and generate a profit for Telly and its advertising partners.
Speaking of profit, Telly will only be able to ship 500,000 devices this year. The company plans to ramp up to millions of TVs shipped in the coming years, which is an ambitious goal. Pozin says his ad-supported streaming service Pluto TV has 80 million users – a small success that has convinced him to try reinventing the business model of smart TVs.
Telly claims the TV would retail for $1,000, which we're assuming is due to the added cost of the soundbar and the second screen. It's worth noting you can opt out of the data collection, but you'll have to pay $500 in order to keep the device. The $500 figure is likely closer to the actual production cost, so Telly would have to generate hundreds of millions of dollars in ad and affiliate revenue just to break even on this first batch of 500,000 TVs.
The concept itself is certainly intriguing, though we'll have to wait and see if it turns out to be a working business model. Telly says it was able to find a few bullish investors earlier this year that will back its efforts, but it has yet to explain how it will deal with any attempts to circumvent the persistent ads on the second screen.
If the idea of an ad-supported TV sounds appealing, you can reserve one here. There is no clear shipping date, but Telly says it will start shipping the new TV sometime this summer.
https://www.techspot.com/news/98693-startup-give-you-4k-tv-free-if-youll.html