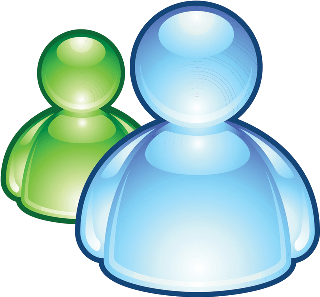 Windows Live Messenger 8.5.1302 (MSN Messenger)
The popular MSN instant messaging client, the last version released on the 8.x branch.
Call their phones. Call their PCs.
Call your friends' mobile or landline phones.* It's affordable, both within the US and internationally. And calling someone's PC is always free.
See them on the screen
Show and tell: Grab a webcam and start a video conversation within minutes.
Share stuff
Set up a Sharing Folder with a friend. Drop in photos and other stuff, as many as your computer can handle. See your Sharing Folder even when one of you is offline.
Now: Talk to your Yahoo! friends, too
The world's largest IM network has just gotten bigger---and better. With Windows Live Messenger you can now connect with your Yahoo! IM contacts. Forget about using multiple accounts to talk to your friends---IM them all with Windows Live Messenger.
System Requirements:
Computer and processor: Multimedia PC Pentium 233 MHz process (500 MHz recommended)
Operating system: Microsoft Windows XP
Memory: Minimum 128 MB of RAM (256 MB recommended)
Hard disk: Up to 50 MB of hard disk space for installation, 15 MB to run the program
Display: Minimum 800 x 600 screen resolution
Browser: Microsoft Internet Explorer version 6 SP1 or later must be installed on your computer, though it does not need to be your default.
Internet connection: Internet functionality requires dial-up or broadband Internet access (provided separately). Local or long-distance charges may apply.