Micron foresees new quarterly losses, bets on HBM3 Gen2 tech and Nvidia partnership for the future
The US chip manufacturer is experiencing its mid-life (business) crisis
By Alfonso Maruccia
TechSpot is celebrating its 25th anniversary. TechSpot means tech analysis and advice
you can trust
.
Forward-looking: Like other memory chip manufacturers, Micron is trying to ride the current AI craze to boost business prospects and increase revenues. Quarterly results aren't that good for now, but the company is optimistic about the performance of its latest HBM3 products.
Micron officially closed the fourth quarter of fiscal year 2023 with $4.0 billion in revenue, recording a 40-percent drop year-over-year. The company confirmed that it expects to experience another loss next quarter while expressing confidence about a return to positive (gross) margins in the second half of FY2024.
Reuters notes that Micron's forecast for the next three months is for "wider than expected" first-quarter losses, with revenues of $4.4 billion plus or minus $200 million. Stock market shares sank 2.4 percent after the announcement. Meanwhile, the business is preparing for newly designed product lines to sate the growing need for powerful GPU accelerators for high-bandwidth memory.
The company is working with Nvidia to complete the qualification phase of its latest HBM3 Gen2 memory chips, which are expected to bring a 50 percent increase in capacity (24GB) and bandwidth (more than 1.2TB/s). The company is incredibly proud of the improvements in power consumption (more than 2.5x). It said that customers were "blown away."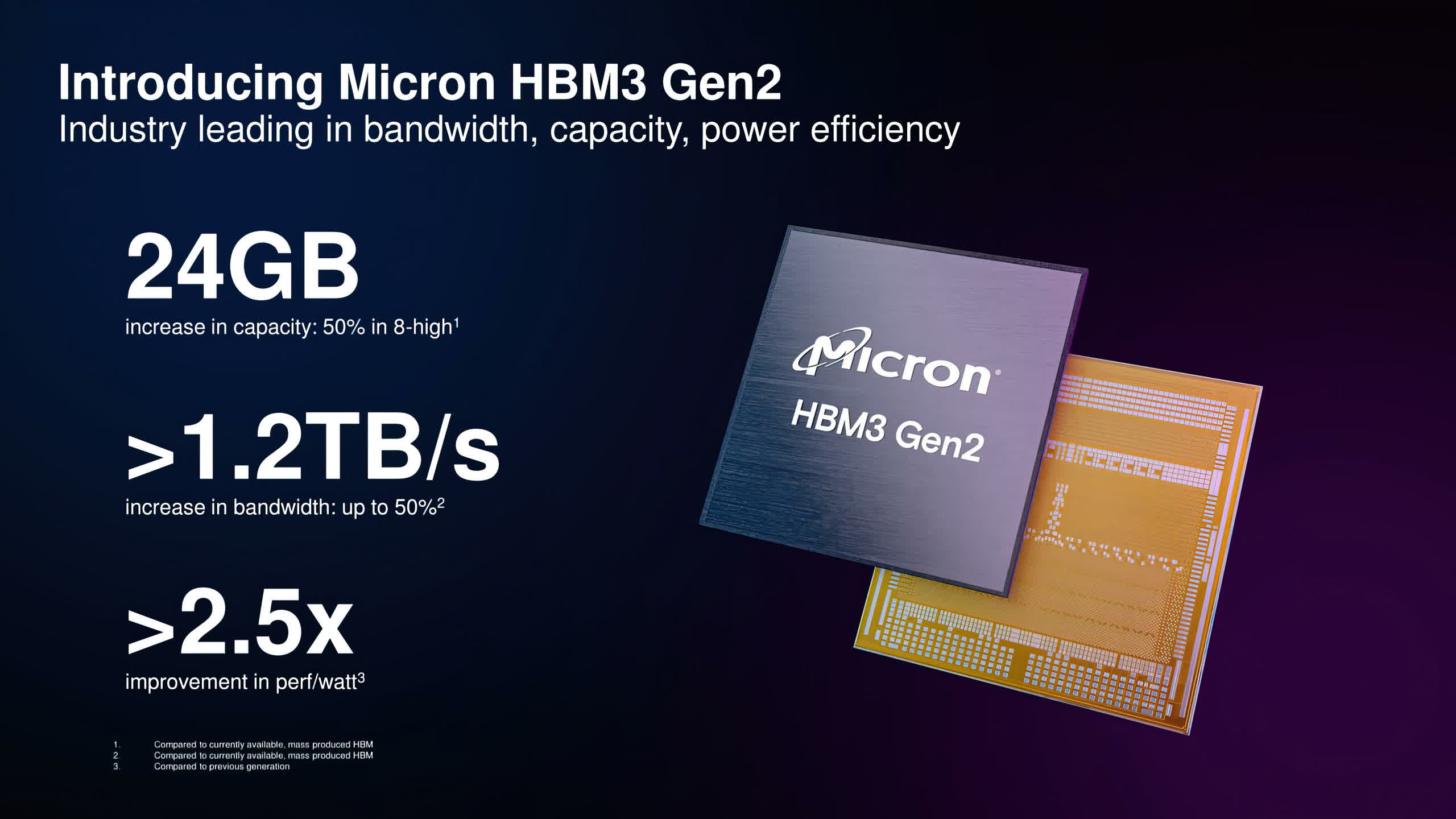 According to Micron CEO Sanjay Mehrotra, the power consumption of the new HBM3 Gen2 chips was so much lower that some customers had to test the chips for themselves before believing the data written on paper. Micron hopes to become one of Nvidia's leading suppliers of memory chips for AI HPC accelerators and other GPU-based products. Thanks to its high-bandwidth chips, the company expects to add "several hundred million" dollars of revenue next year.
Micron's increasing chance for success – or at least for a return to positive gross margins – is aided by a growing influx of subsidies from government agencies. In Japan alone, the corporation will receive up to 192 billion yen ($1.3 billion) to fuel its plant in Hiroshima Prefecture. The government grants will be in addition to the ¥46.5 billion in aid previously announced by Tokyo.
Japan provides substantial financial support for Micron and other chip manufacturers with local plants and infrastructure. Rising tensions between the US and China threaten the Asian country's economic security, Industry Minister Yasutoshi Nishimura suggested during a recent news conference. Hence, it's "important to make investments" in growing areas now.