US government reaffirms commitment to BlackBerry smartphones
By Lee Kaelin
TechSpot is celebrating its 25th anniversary. TechSpot means tech analysis and advice
you can trust
.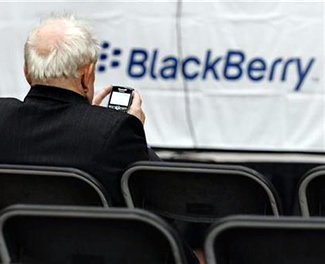 It has been a troubling couple of years for smartphone maker Research in Motion, whose BlackBerry line of smartphones has been suffering with continually declining sales, executives leaving en-mass, and the recent loss of their number one position as the top smartphone supplier in their home country, Canada.
Despite the mass exodus by consumers to more compelling alternatives, it would seem Washington and their army of half a million federal workers are still perfectly happy with their BlackBerry smartphones. Even more interestingly, the number supplied to federal agencies hasn't dipped over the last couple of years, despite them plummeting in every other sector RIM sells to.
"We appreciate RIM's focus on security, which is paramount for government use," said Casey Coleman, the chief information officer at the General Services Administration when speaking with the Washington Post. The agency admits it does now allow some staff to choose iPhones and select Android smartphones, but the vast majority of the 12,000 smartphones issued to staff are BlackBerry handsets.
The figures would suggest the US government hasn't joined the smartphone revolution so far. But other agencies and big contractors are also keen to point out the price difference between BlackBerry and those of iPhones and Android handsets as another important factor. Those staffing the multiple governmental IT departments are being trained to repair BlackBerry devices, too, which combined make for compelling reasons to remain loyal to RIM.
Security is also high on the list of priorities, and those calling the shots believe RIM offer an inherently more secure platform for communications than rival smartphone OS solutions. RIM responded to the news with the following statement. "The federal government is a very important market to us and will continue to be. It is our core strength," said Scott Totzke, a RIM senior vice president.