TechSpot is celebrating its 25th anniversary. TechSpot means tech analysis and advice
you can trust
.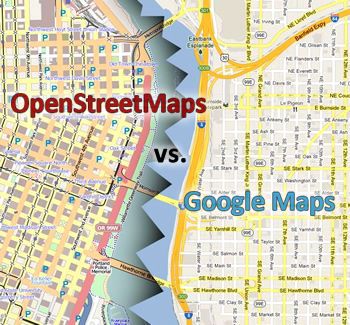 Citing synergistic principles with OpenStreetMaps and an end to Google's free ride for high-volume map users, Wikipedia has dropped Google Maps. The foundation has instead turned to OpenStreetMaps for its mapping needs, a UK-based, open source mapping website which has fittingly been billed as the "Wikipedia of maps". OSM is completely free and relies on the support of its 400,000+ users who supply location data and updates.
Previous versions of our application used Google Maps for the nearby view. This has now been replaced with OpenStreetMap - an open and free source of Map Data that has been referred to as 'Wikipedia for Maps.' This closely aligns with our goal of making knowledge available in a free and open manner to everyone. This also means we no longer have to use proprietary Google APIs in our code, which helps it run on the millions of cheap Android handsets that are purely open source and do not have the proprietary Google applications.

OpenStreetMap is used in both iOS and Android, thanks to the amazing Leaflet.js library. We are currently using Mapquest's map tiles for our application, but plan on switching to our own tile servers in the near future.

Source: wikimedia.org
In March, Google announced it would be charging high-volume users for its once gratis Google Maps service. Developer accounts which pull in fewer than 25,000 requests per month are not considered high-volume and thus have remained free. However, for accounts that exceed 25,000 views, developers must pay between $4 to $10 for every additional 1,000 views generated. For popular websites and apps that rely on Google Maps APIs, this can add up pretty quickly. 
Wikipedia joins a growing list of companies who are leaving Google Maps in what may become a mass exodus of its largest users. Some recent, high-profile defections include Apple and Foursquare. Both companies, much like Wikipedia, have enlisted the help of OSM to replace it. Don't be surprised to see other companies who've built their brand around Google's mapping service jump ship too, including mobile app makers and possibly web services like PadMapper.
Although some may be quick to call out Google for its decision to charge a premium, Google Maps has really been the only mapping service to offer its product to everyone without cost. Traditionally, companies like NavTeq and TeleNav have always licensed their map data to third parties. It costs a lot of money to put together accurate maps and Google took some risk offering theirs free of charge. As a result, Google Maps has become the go-to place for many companies and users alike. In fact, comScore found that over 71% of Americans had used Google Maps in February.
One thing that is particularly interesting about OSM is Microsoft's interest in the community-created cartographical project. Steve Coast, OSM's founder, actually landed a job at Microsoft and as fortune would have it, the software company has supported OSM with map data and other resources.