Mega Man-inspired Mighty No. 9 smashes through Kickstarter stretch goals
By Shawn Knight
TechSpot is celebrating its 25th anniversary. TechSpot means tech analysis and advice
you can trust
.
Earlier this month we profiled a Kickstarter campaign for a game called Mighty No. 9. Created by Mega Man illustrator and co-designer Keiji Inafune, the game quickly surpassed its initial goal of $900,000 and has been smashing its way through a series of stretch goals ever since.
Before we get too far ahead of ourselves, let's backtrack and take a look the stretch goals that have been achieved thus far. Starting at the $1.2 million mark, the first stretch goal added two additional stages to the game. From there, Mac and Linux versions were promised followed by a new game and turbo mode, a making-of documentary and a bonus rush mode that allows players to battle all of the game's bosses back-to-back in a race against the clock.
The most recent stretch goal - surpassing the $2.2 million mark - means the game will be coming to the PlayStation 3, Xbox 360 and the Wii U.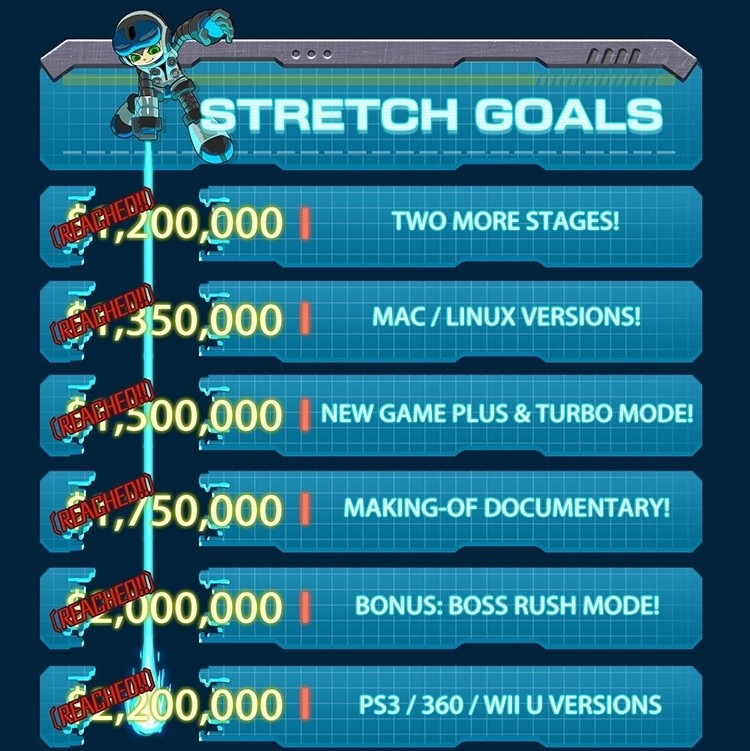 Looking forward, there are still seven additional stretch goals that could be achieved over the remaining 14 days. Considering how well the campaign has done thus far and the feedback and support it has received from fans, it's entirely possible that at least a few more goals will be met before it's all said and done with.
If you were a fan of the original Mega Man series, there's a lot to get excited about with Mighty No. 9 as the title essentially follows the same story arc as the original franchise. Inafune says it combines the best aspects of the 8- and 16-bit era classics and freshens them up with modern technology and fan input.
A $20 pledge is all that is needed to secure a digital download of the game when it becomes available in April 2015.