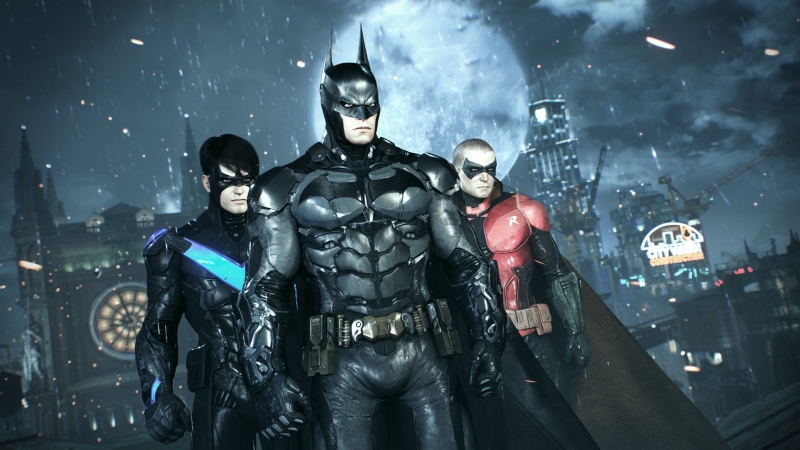 TechSpot is celebrating its 25th anniversary. TechSpot means tech analysis and advice
you can trust
.
Update: Warner Bros. has released an interim patch for those who already have Batman: Arkham Knight for PC. Remember you can no longer buy the game on PC after it shipped with so many performance issues, WB was forced to pull the game from sale. It was also reported that the company knew of Arkham Knight's technical issues months before its launch, but chose to ignore them in order to focus on improving the console version. As reported yesterday, the patch seems to be solving many of Arkham Knight's most glaring performance issues. Here's the changelog and what remains to be fixed:
Reduced frame rate hitches
Optimizations for system memory and VRAM usage
Improved performance on all GPUs (requires the latest drivers)
More Comprehensive In-Game Settings
Fixed low resolution texture bugs
Fixed hitches when running on mechanical hard drives (HDD)

In addition to the above, we're continuing to work on the following for future updates:
Adding support for SLI and Crossfire
Adding support for the latest DLC & Season Pass content
Adding support for additional updates such as Photo Mode
Continued improvements and bug fixing for a Windows 7 specific memory issue that occurs on configurations with 8GB of system RAM and some NVIDIA GPUs during extended game play
Continued improvements for Windows 10 specific issues on systems with some AMD GPUs
Could the ongoing saga of the Batman: Arkham Knight PC release finally have an end in sight? Perhaps, as it's been reported that a patch hit Steam yesterday that made numerous improvements to the game. Unfortunately, it was removed not long after it arrived.
The patch was released to owners who had opted into the beta version of the game on Steam. Those who managed to test out the update reported the most obvious improvement was that it fixed Arkham Knight's notorious low, stuttering frame rate issues. One user published a screenshot (below) showing the array of new graphics options that had been added; the patch introduced the ability to select a higher texture filtering as well as disable the Chromatic Aberration and Film Grain effect, and the amount of VRAM used by the game was now visible. There were also reports of graphical glitches being fixed, more stability, and driving the batmobile was no longer the performance killer it once was.
Another beta user, going by the name 'Saerydoth', wrote: "Holy...wow. Just opted into the beta patch. EVERYTHING maxed, all gameworks settings on. 4GB used out of 6 (980ti). Constant 60fps. I think I might've dropped to 55 once when driving but it's butter smooth."
Soon after this patch hit Steam, Warner Brothers released yet another patch that effectively removed the first one. Whether this was because the original update wasn't quite ready or the first release was simply an accident is unclear. Warner Brothers did return to their previous form with the second patch, as it actually caused some crash issues for those who downloaded it.
Warner Brothers had promised to release an "interim" patch for the PC version of Arkham Knight in August, but that failed to appear. It's possible that this update is the patch they were promising, in which case it may be about to finally get an official release.
The story of Batman: Arkham Knight on the PC began when game's recommended minimum specs were changed just hours before its release, something that was initially blamed on "issues with AMD hardware." This was a sign of things to come, as the huge number of people who bought the game and reported it to be unplayable due to performance issues forced Warner Brothers to take the almost unprecedented step of suspending all sales of Arkham Knight. Just after June's announcement that a fix for the game would "take some time," it was revealed that Warner Brothers had known about the technical issues on the PC but chose to ignore them in favour of polishing the console release. Almost two and a half months after it was pulled, the PC version of Arkham Knight still remains off sale.