TechSpot is celebrating its 25th anniversary. TechSpot means tech analysis and advice
you can trust
.
When you buy through our links, we may earn a commission.
Learn more
.
Usability, Data, Messaging
Usability
Though the Kindle Fire runs the Android 2.3 Gingerbread operating system, it shares nothing with Android smartphones and tablets when it comes to the user interface. Amazon has gone completely custom in that regard, and the results are a mixed bag of cool and confounding.
The main screen of the device features a book shelf look that is dominated by a scrolling carousel of recently accessed content, a row of links to content sections above it (web, books, music, video, etc), and shelves for favorite items below it. Anything you do on the tablet results in a large icon showing up on the recently accessed shelf. This seems like a decent idea at first, but you'll quickly find that the shelf gets cluttered with things that you really don't need to go back to, or simply don't want visible.
Instead, I found that I was always scrolling down the home page to access the smaller Favorites shelves, where you can place icons for things that matter to you most. You can add as many items as you like (more shelves will be added), and you can rearrange them as needed.
What Amazon will need to do in the future is allow users to rearrange and resize the actual shelves to what suits them best, because this default layout certainly won't suit everybody.
I like the notification area at the very top edge of the display, and the quick access to the most used settings that it provides. I also like the links to the main sections of the tablet's software that are at the top of the home screen. They make it easy to get to the right section from the home screen. What's not so easy, however, is getting from one section to another. There's no quick-switch gesture or control, so all navigation requires that you go back to the home page and start from there. This reminds me of how we had to navigate on older iPhones, using the home key to basically start over from the home screen every time you wanted to do something new. An additional problem here, though, is that you don't always have access to that home button.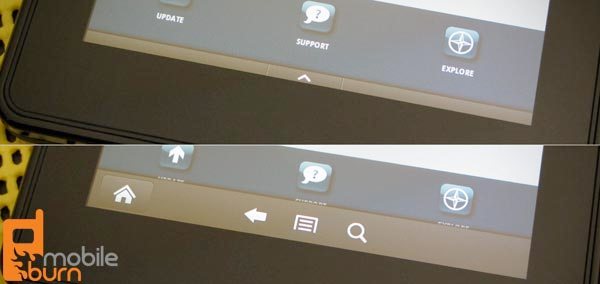 As I mentioned earlier, there are no hardware buttons for home, back, or search. Instead you must use on-screen controls that appear at the bottom of the display. Except when they don't, of course. Sometimes you have to close the on-screen keyboard first.
Other times you have to tap on a thin bar at the bottom of the display (a bar that interferes with some full screen games). Other times, such as within the Wired Magazine app, you have to tap the screen, hit the home button that appears at the top of the page to get to the main Wired Magazine screen, and then find and tap the home button at the bottom of the screen. That's way too obtuse for my liking.
Beyond that, I found the the scrolling on the Kindle Fire to be a bit out of control. Web pages scroll too quickly, the recent content carousel and the home screen itself seems to bounce around a bit if you don't move your finger just the right distance. There were also plenty of lags in the software and general kinks in the system. It's not awful, but it certainly has enough room for improvement to keep Amazon working for some time.
Data
The Amazon Kindle Fire relies on a Wi-Fi connection for its network access. I found the Wi-Fi setup to be painless, and noted that the tablet can make use of even weak Wi-Fi signals with no real problem. I was able to connect to a router located in my basement while I was on the third floor of my house with no trouble at all, for example. If you are just looking to copy over photos or music from a computer, you can do that easily enough with a micro-USB cable (not included).
Messaging
The Kindle Fire is only a potentially good messaging device at this point. The built-in email application supports most mail services (though not Exchange), and can even pull down contacts from certain services, like Gmail. But the application is not well implemented, and doesn't support split-screen viewing.
The potential is there, since you can get third party apps. You won't find any instant messaging support at all, though, and there's no built-in social networking support at all at this time, apart from web page shortcuts. The official Facebook and Twitter apps are not even available in the Amazon Appstore. LinkedIn is there, though, and you can download the free Seesmic app for basic Twitter and Facebook use.
As it stands, messaging is weak on the Fire, but it will likely improve.