Intel Z97 Motherboard Roundup: Asus, Asrock, EVGA, MSI & Gigabyte
Page 4 :

Gigabyte Z97X-UD5H-BK By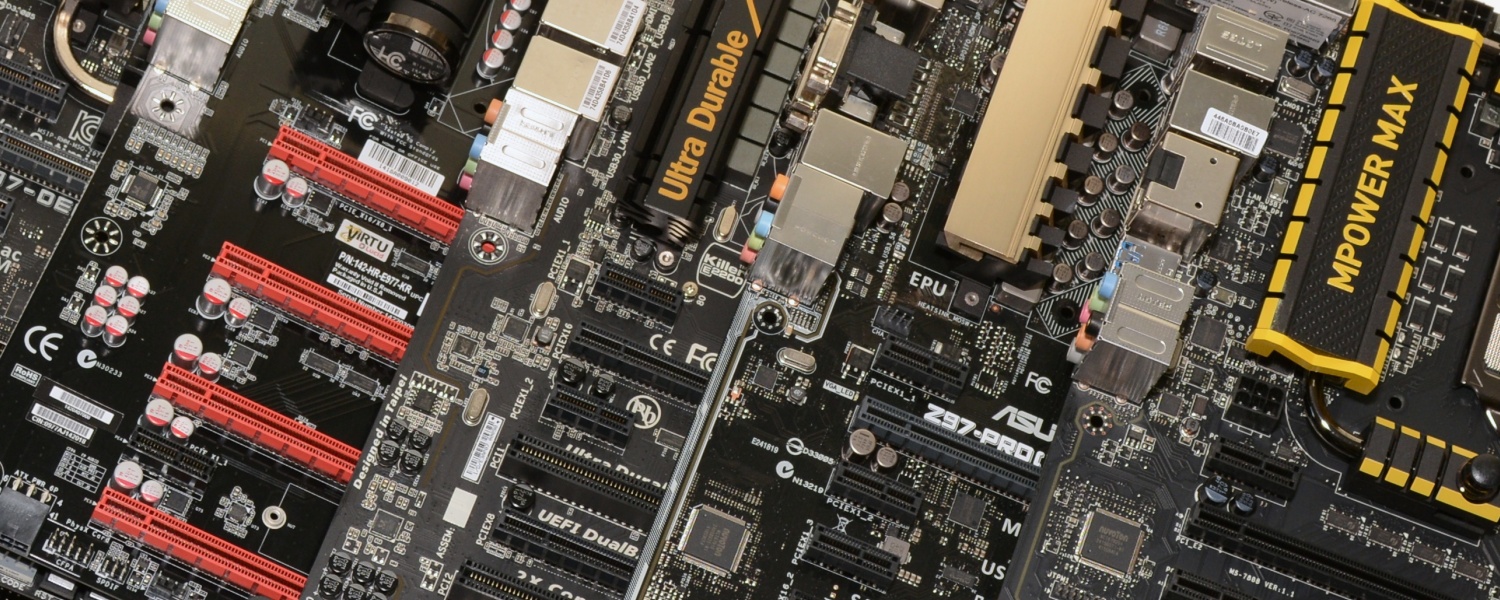 TechSpot is celebrating its 25th anniversary. TechSpot means tech analysis and advice
you can trust
.
When you buy through our links, we may earn a commission.
Learn more
.
Gigabyte Z97X-UD5H-BK
When it comes to consumer grade computer parts, it'all about the marketing and that couldn't be truer when talking about motherboards. There are more marketing buzz words associated with motherboards than any other computer part.
Once motherboard makers started to run out of fancy new features they could give elaborate names, they moved to 'purpose'-built motherboards focused on overclocking or gaming. Now Asrock, Asus, MSI and Gigabyte all have special overclocking and gaming motherboards.
Being the motherboard giant that it is, Gigabyte has its 'Ultra Durable Series', 'G1 Gaming Series' and 'Overclocking Series', with certain models now wearing a 'BK' (Black Edition) badge that makes them even more elite.
Black Edition motherboards have sustained and passed an extended server level 168-hour (7-day) durability test carried out at a custom facility based in Taiwan (Nanping) where men in while lab coats do nasty things to motherboards to ensure their stability.
The idea behind this rigorous testing is that you end up with a motherboard that has almost no chance of failing and that is worth paying a price premium for. How much of a premium? Around 10% more than a non-BK board.
The Z97X-UD5H-BK we have for example costs $200 while the standard version costs $180, which is a fair price hike for some extra testing. The Z97X-UD3H-BK is even worse costing 23% more than the standard Z97X-UD3H.
Apart from the extra testing, the Z97X-UD5H-BK and Z97X-UD5H are the exact same motherboard minus the change in color for the heatsinks. Personally, I wouldn't spend $20 more on the Black Edition for the simple reason that Gigabyte boards are of the highest quality anyway – I can't recall the last time I saw one fail.
So although we have the Z97X-UD5H-BK on hand, the results will be the same as the Z97X-UD5H model, which will be handy if you prefer to save the money and get the non-Black Edition model.
When it comes to features, the Gigabyte Z97X-UD5H-BK isn't overly impressive, which is another reason why we prefer it at the $180 price point. Compared to the Asus Z97-Pro Wifi/AC it offers the same PCI Express x16 configuration, which means it is best suited for 2-way configurations.
There are eight SATA 6Gb/s ports on offer, which is two more than the Asus Z97-Pro Wifi/AC has but two less than found on the Asrock Z97 Extreme6. The extra two ports are provided by the Marvell 88SE9172 controller which supports RAID1 and RAID0. There is also support for a single SATA Express device as well as a single M.2 (NGFF) device measuring either 42mm, 60mm or 80mm long.
Gigabyte has also used the Realtek ALC1150 codec, though shockingly there is no marketing term attached to it like Asrock's Purity Sound or Asus' Crystal Sound 2. Despite its marketing team's oversight here, Gigabyte's implementation is just as good, promising 115dB SNR HD audio with a built-in rear audio amplifier supporting 600Ω loads.
Gigabyte has also provided a dedicated audio hardware zone just as Asrock and Asus did. The separation on the PCB layer protects the board's sensitive analog audio components. They have also used separate analog and digital ground to protect against Electromagnetic Interference (EMI). Also like Asus, Gigabyte has separated the left and right audio channels to try and eliminate channel crosstalk.
The Z97X-UD3H-BK out does the Asus Z97-Pro WiFi/AC's wired network solution by including dual Gigabit Ethernet using the Intel i217V and overhyped/marketed Killer E2201. The inclusion of Qualcomm Atheros' Killer E2201 LAN chip was a poor choice in our opinion, and while we do welcome a second Gigabit Ethernet controller, boards such as the Asus Z97-Deluxe or Asrock Z97 Extreme9/Extreme 6 which used two Intel controllers are better off.
The Killer E2201 is in no way better than Intel's solutions and it means features such as teaming are not supported. Gigabyte has also skipped over a wireless solution for the Z97X-UD5H-BK.
Gigabyte has upgraded the USB 3.0 support offering a total of eight ports thanks to the use of a Renesas uPD720210 USB 3.0 hub which provides four ports on the I/O panel.
The Z97X-UD5H-BK provides HDMI, VGA and DVI outputs while DisplayPort is missing. Overall the Z97X-UD5H-BK is well equipped, though at $200 it does lag behind the competition, at $180 the non-BK edition provides a better value.