The big picture: Microsoft continues to add new features to Paint, a program the company had considered discontinuing some years ago. Now, Paint is receiving updates that include some intriguing new tools that were previously only available in more advanced image editors.
Microsoft isn't finished with Paint just yet. In addition to planning generative AI features and a one-click background removal option, one of Windows' oldest applications is now receiving support for layers and transparency. This news was announced on the official Windows blog for Windows Insider users, who will soon gain access to some highly advanced features for Windows' most basic image editing program.
With the introduction of layers, users can stack shapes, text, and other image elements on top of each other. The updated Paint app, available to Windows Insiders in the Canary and Dev Channels (version 11.2308.18.0 or higher), now boasts a new "Layers" button in the toolbar. Clicking this button opens a layer panel on the side of the canvas, where users can add new layers, adjust layer order, and duplicate or merge individual layers as needed.
Layer management is a critical feature in both free applications like Paint.NET and GIMP, as well as commercial image editing software. Microsoft suggests that with a layer-powered version of Paint, users will be able to create "richer and more complex digital art." But that's not all; the latest preview version of Paint is also introducing support for transparency.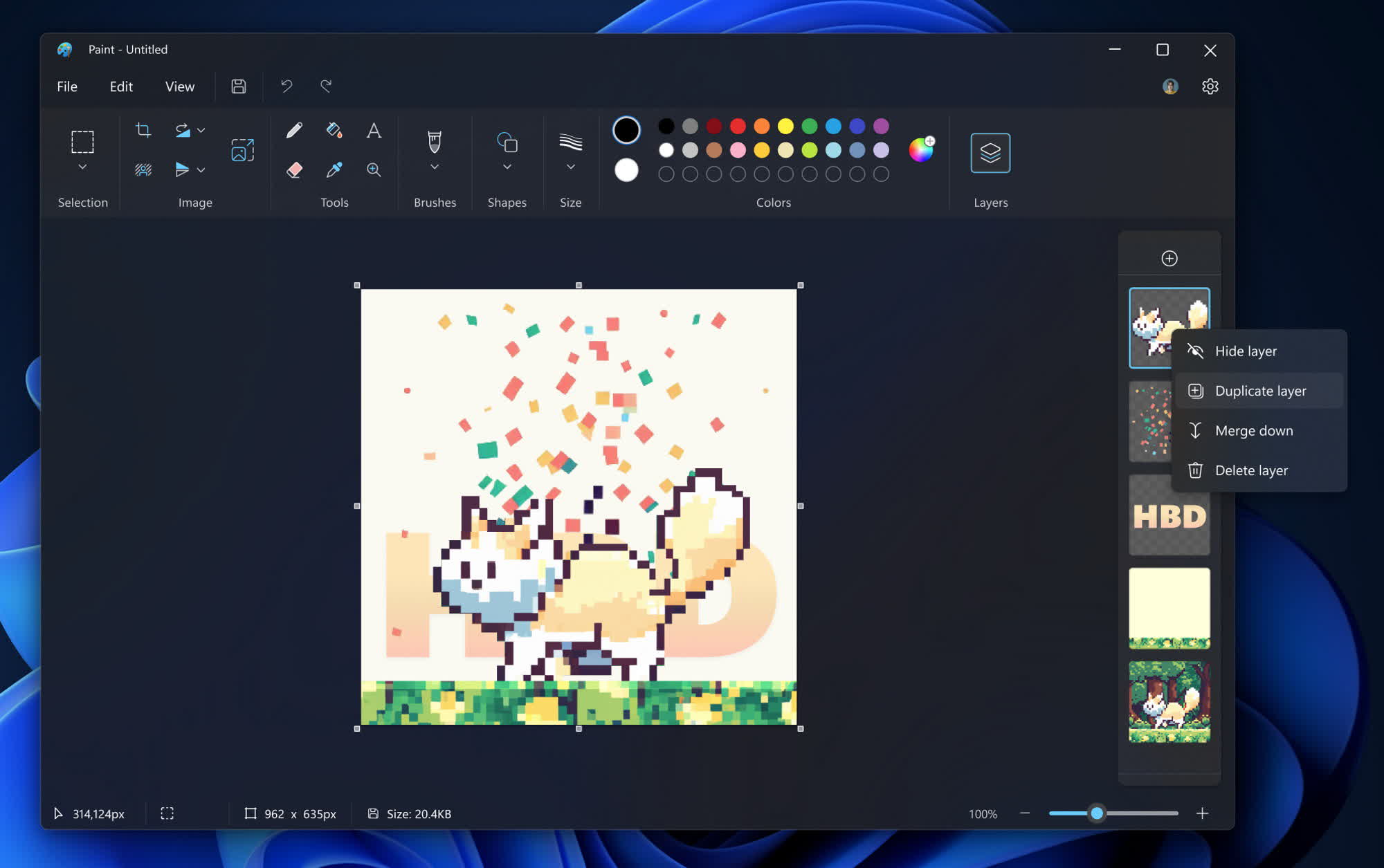 While working on a single layer, Microsoft says users will notice the traditional checkered pattern on the canvas where the transparent portion of the image resides. Erasing any content from the canvas now "truly erases the content" instead of painting the area white, the company states. If some content is erased in a layer, the content in layers underneath will be revealed.
In addition to transparency support, the upcoming version of Paint will also include the ability to open and save transparent images in PNG format. Microsoft suggests that layers and transparency will work well with the previously announced background removal feature, providing Windows users with a quick and easy way to create "interesting layered compositions" without the need for external programs.
While the upcoming Paint app could provide most of what users need to edit and manipulate images, it seems that the process doesn't consistently deliver desired results yet. Paint still lacks some essential features, such as a "Magic Wand" selection tool, filters, and drop shadows. Therefore, more capable image editing applications remain essential for now.
https://www.techspot.com/news/100202-microsoft-adding-layer-transparency-support-paint.html